May 1, 2016
By Alanna Mitchell Illustration by Pete Ryan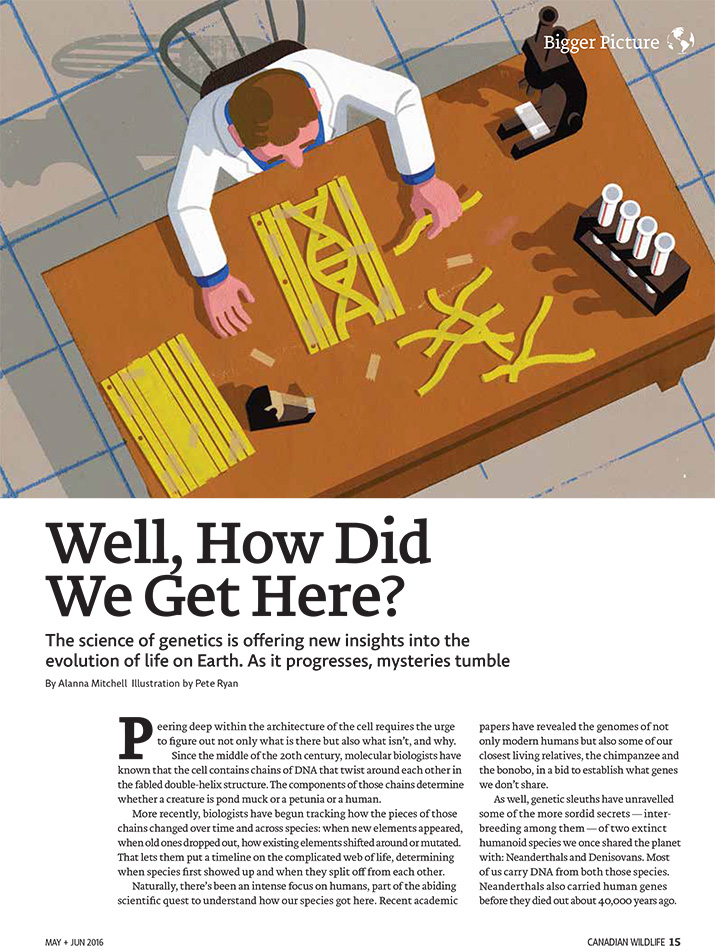 The science of genetics is offering new insights into the evolution of life on Earth. As it progresses, mysteries tumble.
Peering deep within the architecture of the cell requires the urge to figure out not only what is there but also what isn't, and why. Since the middle of the 20th century, molecular biologists have known that the cell contains chains of DNA that twist around each other in the fabled double-helix structure. The components of those chains determine whether a creature is pond muck or a petunia or a human.
More recently, biologists have begun tracking how the pieces of those chains changed over time and across species: when new elements appeared, when old ones dropped out, how existing elements shifted around or mutated. That lets them put a timeline on the complicated web of life, determining when species first showed up and when they split off from each other.
Naturally, there's been an intense focus on humans, part of the abiding scientific quest to understand how our species got here. Recent academic papers have revealed the genomes of not only modern humans but also some of our closest living relatives, the chimpanzee and the bonobo, in a bid to establish what genes we don't share.
As well, genetic sleuths have unravelled some of the more sordid secrets — interbreeding among them — of two extinct humanoid species we once shared the planet with: Neanderthals and Denisovans. Most of us carry DNA from both those species. Neanderthals also carried human genes before they died out about 40,000 years ago.
But after such excitements, which genome to map next? Well, why not some of New Zealand's kiwis? They are curious creatures, to be sure — chicken-sized, nocturnal, ground-living, flightless, wingless, big-egg-laying birds with obtrusive nostrils at the tip of their beaks. But the quest to discover how a kiwi became a kiwi is not quite as random as it might seem.
For one thing, theses odd birds are confined to the islands of New Zealand. Just like the Galapagos Islands of Ecuador, which gave Charles Darwin his first clues about how creatures adapt, isolated islands are fascinating in evolutionary terms. Geneticists can easily track the steps creatures took to survive in whatever living conditions they encountered.
New Zealand is a beautiful case because it separated from the ancient supercontinent Gondwana about 80 million years ago. Kiwis showed up there about 30 million years later. Back then, however, they could fly, and that's how they arrived on the islands. (Their nearest relative was the Madagascan elephant bird, a vast creature three metres tall that towered over humans, weighed in at as much as 500 kilograms and went extinct in the 17th or 18th century.)
The New Zealand of 50 million years ago was also home to the moas, huge flightless birds that dominated the islands. In fact, until humans arrived in about the 13th century, swiftly pushing the moas into extinction, birds were the big wheels in New Zealand, taking the domineering places that mammals such as bison and wolves used to take in North America.
With such strong competition for food, kiwis were forced to become nocturnal. So, no more blithe day flights in search of sustenance. Instead, they needed to become adept at foraging for food on the ground in the night. That required them to change.
It happened extraordinarily quickly, at least in evolutionary terms. Between 30 million and 38 million years ago, the North Island brown kiwi (Apteryx mantelli) lost the ability to see in colour. As well, the birds' retinas adapted to low levels of light, all of which presumably helped them see in the dark with such small eyes. (This adaption contrasts with owls, which developed big round eyes to cope with living at night.)
Kiwis also developed a superior sense of smell, allowing them to find insects at night by rooting around with their beaks, nostrils to the fore. Not only that, but kiwis also developed low metabolic rates and all but lost their wings, likely to help them conserve energy.
This is strikingly similar to how mammals adapted to a world dominated by dinosaurs. For about 160 million years, mammals evolved into small, nocturnal creatures with excellent sniffers and poor colour sight. Kiwis, such inspired survivors, made the changes in about a fifth as much time.
Today, just 68,000 kiwis remain on Earth, spread across five species. All are endangered. They are not nimble breeders, not good at getting away from predatory humans, dogs, cats and stoats, and not good at moving to safety. Whether they survive in centuries to come remains to be seen. Either way, pioneering work in genetics today will enable future scientists to see the hows and whys in kiwi DNA that sealed their fate.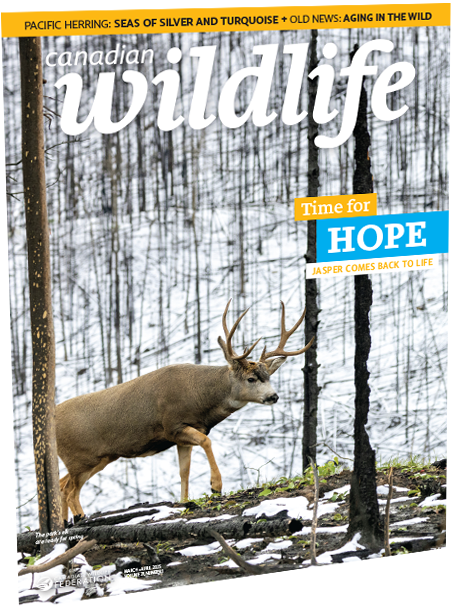 Reprinted from Canadian Wildlife magazine. Get more information or subscribe now! Now on newsstands! Or, get your digital edition today!