May 1, 2015
By Jay Ingram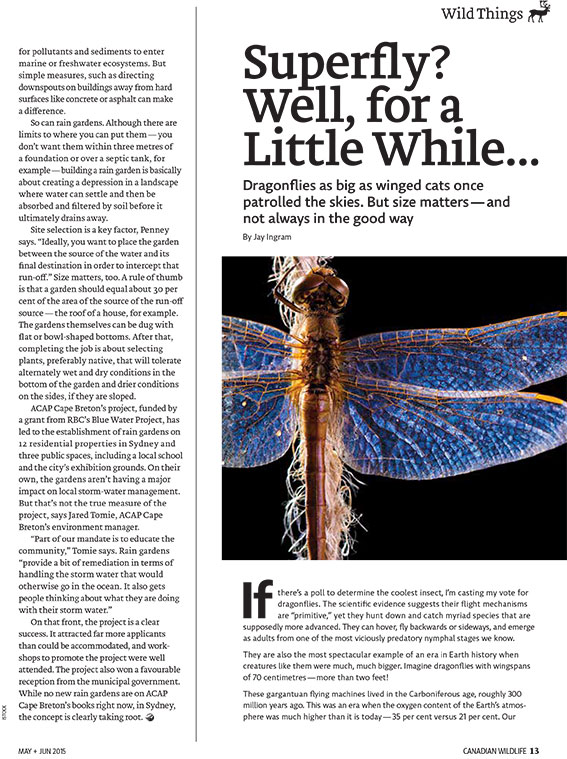 Dragonflies as big as winged cats once patrolled the skies. But size matters — and not always in the good way

If there's a poll to determine the coolest insect, I'm casting my vote for dragonflies. The scientific evidence suggests their flight mechanisms are "primitive," yet they hunt down and catch myriad species that are supposedly more advanced. They can hover, fly backwards or sideways, and emerge as adults from one of the most viciously predatory nymphal stages we know.

They are also the most spectacular example of an era in Earth history when creatures like them were much, much bigger. Imagine dragonflies with wingspans of 70 centimetres — more than two feet!

These gargantuan flying machines lived in the Carboniferous age, roughly 300 million years ago. This was an era when the oxygen content of the Earth's atmosphere was much higher than it is today — 35 per cent versus 21 per cent. Our planet was a much different world back then. Consider this amazing fact: if the percentage of oxygen in the Earth's atmosphere had gone any higher, it actually would have risked what some have called the "spontaneous combustion of the biosphere."

Into that precarious situation soared the giant dragonflies, more properly known as the "griffinflies." (Named after the half lion, half eagle creatures of myth, griffinflies are ancestors of dragonflies but are not identical.)

The superabundance of oxygen in the Carboniferous age is suspected to be the factor that permitted the existence of griffinflies and other giant organisms of the era, including enormous mayflies, millipedes a metre long (!) and even giant arachnids.

All of these species — both yesterday and today — share one fundamental piece of physiology: they have no circulatory systems to distribute oxygen via blood. They rely instead on oxygen from the outside air that's delivered directly to internal organs and tissues. In dragonflies, this is accomplished by a system of tubes called tracheae in which one end (the "spiracle") is open to the air, while the other penetrates deep into the body. This internal end is closed, but when the air arrives, the oxygen it contains diffuses directly into the cells clustered around.

This system for delivering oxygen is effective enough. But it is limited by a simple relationship: as an organism gets bigger, its increase in volume (and weight) rapidly outstrips the growth in surface area. The biologist J.B.S. Haldane put this relationship most vividly in his essay On Being the Right Size: "You can drop a mouse down a thousand-yard mine shaft; and, on arriving at the [bottom], it gets a slight shock and walks away. A rat is killed, a man is broken and a horse splashes."

The surface area-to-volume conundrum plays a role in insect size because oxygen can diffuse only so far into the body at the end of a trachea. A scaled-up dragonfly requiring oxygen for tissues embedded deeper in the body (especially hard-working and oxygenconsuming tissues like flight muscles) needs more tubes, travelling deeper, with each one still connected to the outside air. So there's a limit: either the surface of a super-sized dragonfly would be completely honeycombed with spiracles, or its insides completely stuffed with tracheae, or likely both.

Recent experiments have demonstrated exactly this: Scientists examining three species of darkling beetles (which have an incredible range of volumes) found that the space occupied by tracheae in the hardest-to-reach parts of the beetles' bodies increased dramatically from the smallest to the largest specimens. Linking back to griffinflies, it wasn't so much their huge wingspread that mattered to their survival. It was their midsection, the thorax, which preserved impressions of the beasts prove was five times as long and twice as wide as those of today's dragonflies.

But these Antonovs of the insect world didn't last. And while it's tempting to see their gradual extinction as a reflection of decreasing oxygen concentrations in the atmosphere, there are other possibilities. For instance, their last hurrah occurred at roughly the same time as the rise of the first birds. Big insects would have been tempting prey, not only for their size but also for their reduced manoeuvrability. Selective culling may have driven down the size of griffinflies.

Still, it's hard to be sure of anything. There is uncertainty everywhere one looks. After all, we're talking about 300 million years ago: the number of dragonfly fossils from the Carboniferous era is relatively small, there are multiple mechanisms that can affect the size of insects, and there are huge variations in estimates of oxygen concentrations in the past.

We have to admit that our window on that era is tiny and frustratingly smudged. But at the same time, what we glimpse is so very tantalizing.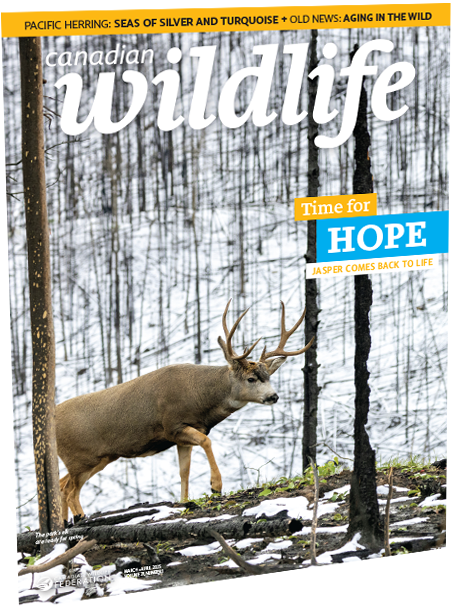 Reprinted from Canadian Wildlife magazine. Get more information or subscribe now! Now on newsstands! Or, get your digital edition today!