May 1, 2015
By Canadian Wildlife Staff, Photo by Corey Katz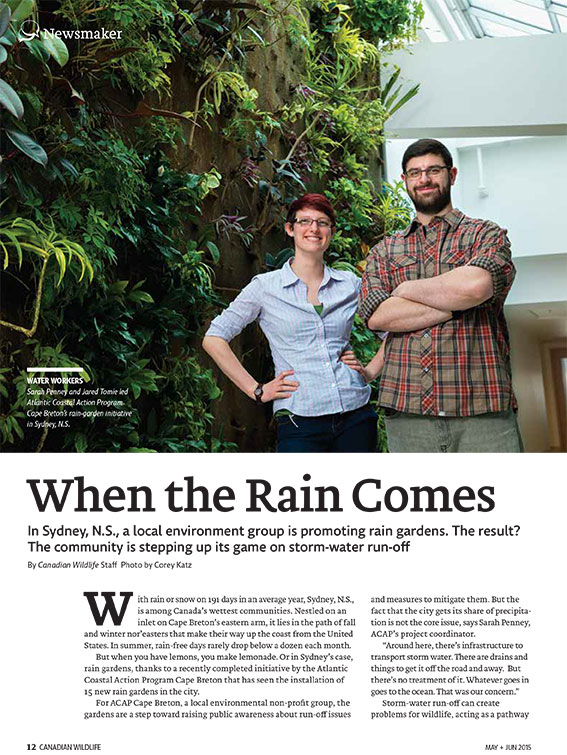 In Sydney, N.S., a local environment group is promoting rain gardens. The result? The community is stepping up its game on storm-water run-off

With rain or snow on 191 days in an average year, Sydney, N.S., is among Canada's wettest communities. Nestled on an inlet on Cape Breton's eastern arm, it lies in the path of fall and winter nor'easters that make their way up the coast from the United States. In summer, rain-free days rarely drop below a dozen each month. But when you have lemons, you make lemonade. Or in Sydney's case, rain gardens, thanks to a recently completed initiative by the Atlantic Coastal Action Program Cape Breton that has seen the installation of 15 new rain gardens in the city.

For ACAP Cape Breton, a local environmental non-profit group, the gardens are a step toward raising public awareness about run-off issues and measures to mitigate them. But the fact that the city gets its share of precipitation is not the core issue, says Sarah Penney, ACAP's project coordinator.

"Around here, there's infrastructure to transport storm water. There are drains and things to get it off the road and away. But there's no treatment of it. Whatever goes in goes to the ocean. That was our concern."

Storm-water run-off can create problems for wildlife, acting as a pathway for pollutants and sediments to enter marine or freshwater ecosystems. But simple measures, such as directing downspouts on buildings away from hard surfaces like concrete or asphalt can make a difference.

So can rain gardens. Although there are limits to where you can put them — you don't want them within three metres of a foundation or over a septic tank, for example — building a rain garden is basically about creating a depression in a landscape where water can settle and then be absorbed and filtered by soil before it ultimately drains away.

Site selection is a key factor, Penney says. "Ideally, you want to place the garden between the source of the water and its final destination in order to intercept that run-off." Size matters, too. A rule of thumb is that a garden should equal about 30 per cent of the area of the source of the run-off source — the roof of a house, for example. The gardens themselves can be dug with flat or bowl-shaped bottoms. After that, completing the job is about selecting plants, preferably native, that will tolerate alternately wet and dry conditions in the bottom of the garden and drier conditions on the sides, if they are sloped.

ACAP Cape Breton's project, funded by a grant from RBC's Blue Water Project, has led to the establishment of rain gardens on 12 residential properties in Sydney and three public spaces, including a local school and the city's exhibition grounds. On their own, the gardens aren't having a major impact on local storm-water management. But that's not the true measure of the project, says Jared Tomie, ACAP Cape Breton's environment manager.

"Part of our mandate is to educate the community," Tomie says. Rain gardens "provide a bit of remediation in terms of handling the storm water that would otherwise go in the ocean. It also gets people thinking about what they are doing with their storm water."

On that front, the project is a clear success. It attracted far more applicants than could be accommodated, and workshops to promote the project were well attended. The project also won a favourable reception from the municipal government. While no new rain gardens are on ACAP Cape Breton's books right now, in Sydney, the concept is clearly taking root.