May 1, 2015
By Canadian Wildlife Staff, Photo by Juan Luna
What do you do when you suddenly have to care for hundreds of garter snakes in mid-winter? Step one: buy lots of Rubbermaid containers.
The team at the Wildlife Rescue Association in Burnaby, B.C., usually deals with injured birds and small mammals. So there was a big change in the routine in late February when they suddenly found themselves caring for more than 500 garter snakes, unearthed from a hibernaculum during a nearby dyke-repair project. Wildlife Rescue's Janelle VanderBeek explains what happens when a slithering mass lands at your doorstep.
It sounds like the snakes were an unusual group of patients for you. It was very unusual. Normally, we'll admit two or three snakes a year. Some are fine and can be released right away. Others are in very critical condition. With February's snakes, we knew they were coming, but we weren't expecting to get so many.
The construction company that uncovered the hibernaculum was aware of the snakes beforehand. Some local kids had put up signs during the summer saying "save the snakes." The company did everything right during their project. Other companies should follow their example. They were working in an intertidal zone, so they could only do their work at a specific time of year. They got the right permits and consulted with a biologist, who then consulted with us to make sure we would be able to keep the snakes' brumation — their hibernation — going at our facility.
What was "snake day" like? When the work got underway, the biologist emailed us to confirm we'd be able to house the snakes. The next day, she called to say she was bringing 12 snakes to us. Later in the day, she called and told us she had at least 12 more. When we came in the next day, there were hundreds of snakes in assorted buckets on our front steps. It was quite a surprise.
How do you care for overwintering garter snakes? We did a physical examination on each one, put them in secured Rubbermaid bins lined with aspen shavings and gave them water. There were about 20 snakes in each bin, and caring for them took up a fair amount of staff time. Every other day, we opened the bins to refresh the water and do visual checks on the snakes to ensure no one was ailing. They were warm and active when they arrived, but they cooled off and calmed down after a couple of days.
What was it like working with hundreds of snakes? It was fantastic, although garter snakes are very squirmy. We were dealing with three species — the common garter snake, the northwestern garter snake and the western terrestrial garter snakes. They're all very good-looking snakes.
Were they in good health? Some were injured in the digging. About 10 were severely injured and they passed. We had another 10 snakes that we treated for lacerations. Working with them was labour intensive because we had to keep them awake and feed them. During brumation, their metabolism pretty much stops. They don't put anything into healing because they don't have energy to spend. So, we warmed them up, kept them in individual terrariums, fed them and treated their wounds.
What did you do when it came time to release the snakes? The government biologist was in charge of that, so I don't have all the logistics. But they built up a pile of rocks where the original hibernaculum was located. During the release, the snakes quickly slithered into the rocks, which were familiar habitat. We received a lot of inquiries from landscapers interested in the snakes because they're good for slug control. But we declined that because we do need to return them to the habitat they came from.
So, you must know a lot more about garter snakes now than you did before.
Yes, we definitely do — it has been a great learning experience.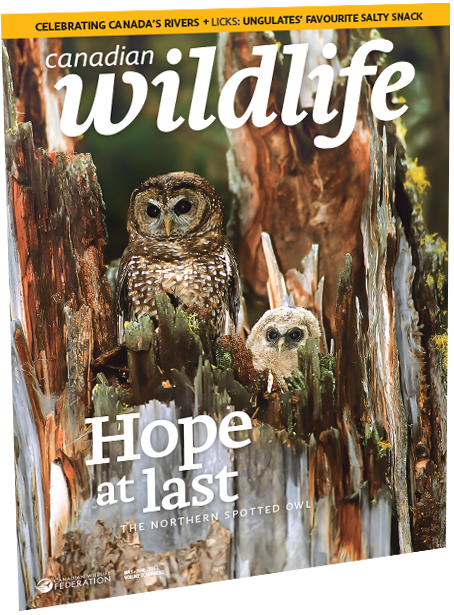 Reprinted from Canadian Wildlife magazine. Get more information or subscribe now! Now on newsstands! Or, get your digital edition today!