May 1, 2015
By Canadian Wildlife Staff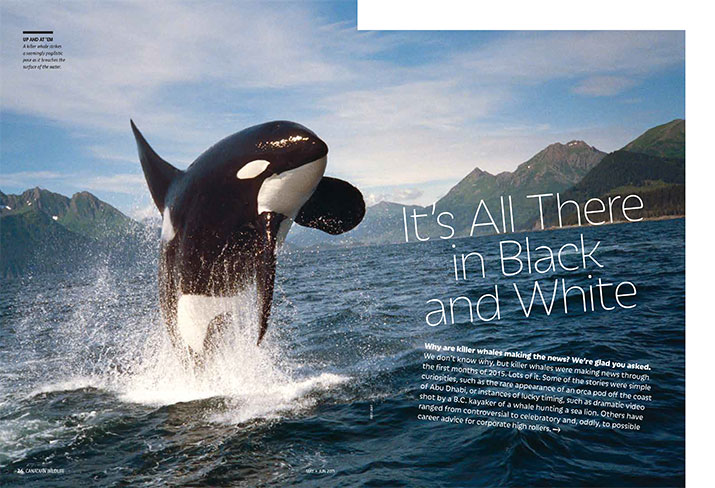 Why are killer whales making the news? We're glad you asked. We don't know why, but killer whales were making news through the first months of 2015. Lots of it. Some of the stories were simple curiosities, such as the rare appearance of an orca pod off the coast of Abu Dhabi, or instances of lucky timing, such as dramatic video shot by a B.C. kayaker of a whale hunting a sea lion. Others have ranged from controversial to celebratory and, oddly, to possible career advice for corporate high rollers.
The province of Ontario led the field for hard news when it steamed into the headlines in March, proposing an overhaul of rules that govern how marine mammals are to be treated in captivity. The proposed rules stem from a recent report that found provincial "standards of care for marine mammals in display facilities are insufficient."
The big takeaway was its call for an outright ban on buying, selling or breeding captive orcas. Their lives are simply too complex to allow for captors to keep them in ways that support their natural behaviours. That finding was echoed in Ontario's response to the study. "Orcas are an extraordinary animal given their size, given the manner in which they live," provincial Community Safety Minister Yasir Naqvi said in announcing the proposed rules. "They exist in pods numbering five to 30. They dive about 500 feet to get food. We feel strongly that it is difficult to develop a suitable habitat for an animal of that magnitude."
If the proposed rules pass, Ontario will become the first province in Canada to set specific standards for captive marine mammals. At the moment, it is also the only province that is home to a captive killer whale — Kiska, a now-retired performer that lives at the Marineland theme park and aquarium in Niagara Falls.
Over on the Pacific coast, killer whale news has been of a sunnier disposition. In late March, whale watchers welcomed the arrival of a new calf in the endangered southern resident population — the fourth born this year. The news was especially joyous considering that the southern resident population, which swims the Pacific Northwest between Canada and the United States, ended 2014 on a tragic note when a pregnant female washed up dead on Vancouver Island. Spirits lifted early in the new year, though, with the arrival of a new calf whose birth had apparently been midwifed by a second whale. A second calf followed in mid-February, and another at the end of the month.
With the arrival of the latest calf, the population of southern resident orcas stands at 81. Whether it stays that way remains to be seen, as mortality rates can run as high as 50 per cent in the first year of an orca's life. But so far, the young whales appear healthy and active. "The population could have turned a corner," Michael Harris, executive director of the Pacific Whale Watching Association, told the Victoria Times Colonist when the news of the latest birth was first reported. "The jury is still out, but we're thrilled that we have four new babies among a population that's highly endangered."
The final story that caught our eye was a study from the University of Exeter that concluded there's a reason why female killer whales often live for decades after their reproductive years. The phenomenon (which occurs in humans, too, but not many other species) doesn't make much sense in terms of evolutionary theory. But the researchers determined that aging female orcas play an important role in their societies: they are leaders. After studying 700 hours of video footage and 35 years of data, they found that postreproductive females are often at the front of groups during foraging, presumably making decisions about where the group should go based on their years of experience. This behaviour was more pronounced during years of scarcity.
The finding struck a chord with Shellie Karabell, a seasoned business journalist and contributor to Forbes.com, as she considered the issue of a new law in Germany that mandates corporate boards ensure at least 30 per cent of their members are women. "If whales put their older females at the head of the group, why don't humans?" Karabell asked, before listing examples — from Margaret Thatcher to Madeleine Albright — suggesting that maybe we already do so from time to time.
Either way, it's a good question. And combined with other recent news, it shows that we still have much to learn about killer whales — and more than a few things to learn from them. a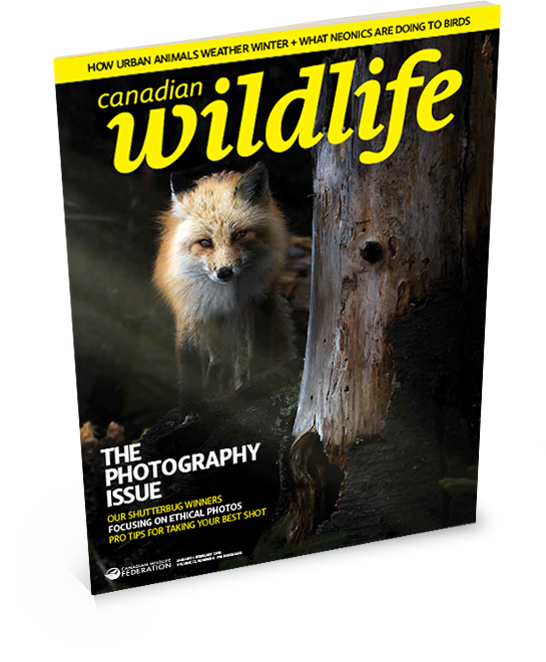 This content relates to Canadian Wildlife magazine. Now on newsstands! Get more information or subscribe! Or get your digital edition! Preview digital copy »