May 1, 2014
By Cooper Landford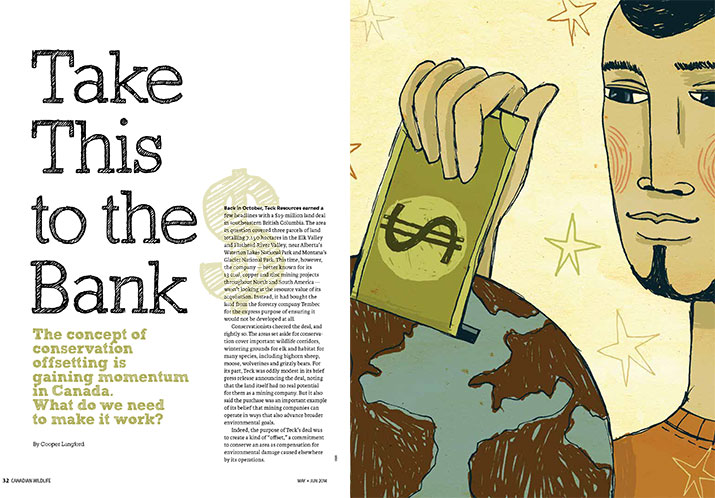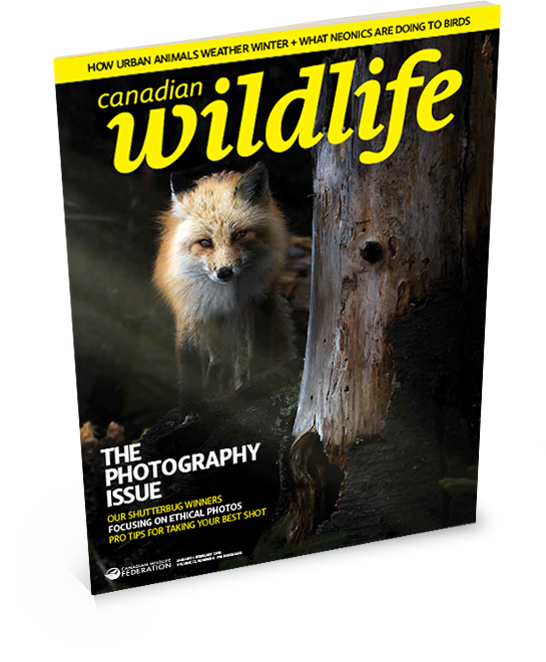 This content relates to Canadian Wildlife magazine. Now on newsstands! Get more information or subscribe! Or get your digital edition! Preview digital copy »
The concept of conservation offsetting is gaining momentum in Canada. What do we need to make it work?
By Cooper Langford
This is not a particularly new concept. It is well established in other countries and has been used many times in Canada, applied to areas ranging from the resource industry to urban development and transportation. What makes the Teck story timely is that it comes as the concept of conservation offsetting is gaining increased traction with governments here as a promising tool to mitigate harm to the environment in pursuit of our society's economic goals. New provisions in the federal Fisheries Act, for example, give more prominence to offsetting in instances where development causes unavoidable, serious harm to fish. Alberta, meanwhile, recently released offsetting provisions in its new wetlands policy, building on interim measures established a decade ago. In British Columbia, the provincial government is drafting its own policy. And the list goes on.
But this momentum has also been accompanied by a growing debate over what offsetting can achieve and its ultimate value as a tool for conservation. On the surface, the concept is simple enough: if habitat is destroyed by development, other habitat of equal — or greater — ecological value should be protected to compensate for the original loss. But that principle raises many questions. Who, for example, determines when conservation offsets should be options instead of direct measures to avoid or mitigate damage in the first place? How should such programs be implemented? And how do we know whether they are effective in maintaining or increasing the amount of quality habitat available to wildlife?
None of this is to say offsetting cannot be an effective tool in conservation. But in practice, it is more complex than it appears on the surface. For that reason, if we are going to advance the use of conservation offsets in Canada, the key issue is getting the framework right. Or as Stewart Elgie, director of the University of Ottawa's Institute of the Environment, puts it: "Like any policy tool, they have to be designed well to work well."
One of the first and foremost considerations in that design is the widely accepted view that offsets should only be used when all other options for mitigating damage have been exhausted. The top priority should be avoiding harm in the first place, followed by efforts to minimize damage and, ultimately, restore habitat that has been harmed. Only then does offsetting enter the picture as a useful mitigation technique. "An offset should be a last resort, not a first resort," Elgie says. "There are times when society chooses wealth over wildlife. In those cases, when you simply can't mitigate the damage, offsets are the best alternative."
But how to proceed? To date, most offsetting efforts in Canada have gone ahead on a case-by-case, sometimes voluntary, basis. Many have been successful, even in the absence of overarching regulator frameworks.
The Alberta Conservation Association, for instance, has partnered with several oil sands companies — including Suncor, Total E&P Canada and Albian Sands Energy — in recent years to buy land for protection to compensate for damage to habitat in the northern boreal forest. Better yet, it has followed a clear program in selecting lands, ranking potential offset areas for conservation values such as the amount of native vegetation at the site, distance from other protected areas, whether lands include habitat for at-risk species and the risk that habitat could be lost if left unprotected. The association develops ways to track the impact of offset programs with its partners. To top things off, it also involves external organizations such as the Pembina Institute in reviewing its work.
But even though projects can be successful independent of government frameworks, defined standards remain important. Port Metro Vancouver — the agency that runs the city's port — ran up against that issue in September when it became the subject of a protest over plans to restore a driftwood-littered beach to its former status as a salt marsh. Protesters challenged the plan, calling it an ill- conceived effort that would develop fish habitat at the expense of bird habitat, and an inadequate response to damage that has resulted from development at the port.
The criticism, though it generated local headlines for a brief time, wasn't exactly fair. For starters, Port Metro's project wasn't an offset in its own right. Rather, the company was undertaking the restoration work as a kind of "bank" against potential future compensation it may be required to undertake as a result of infrastructure projects. Those projects would be subject to their own environmental assessments, with no guarantee the work on the salt marsh would qualify as sufficient or appropriate offsets. In fact, Port Metro could have been credited for taking steps before any development — at a minimum, it would at least know whether its compensation efforts were successful and whether they would be real offsets in terms of mitigating further development. But the point here isn't whether Port Metro Vancouver deserved its protest. Rather, the story shows that a process without a clear playbook risks being inefficient and may fail to gain public confidence. For David Browne, director of conservation programs at the Canadian Wildlife Federation, a solid foundation is critical. "Infrastructure development and resource extraction is going to happen, in some cases despite major impacts on wildlife," he says. "What do we do about projects that get the green light, but will do harm? Offsets are an option that may at least get us to a no-net-loss situation. But if we go down the offsetting road, let's get the standards right so we see real additional benefits to wildlife."
The good news is that as governments and industries in Canada look deeper into offsetting, they have valuable case studies to help guide the way. In Australia, for example, the southeastern state of Victoria has been developing and applying a detailed offsetting system to protect native vegetation — and, thus, the wildlife that uses it for habitat — for more than a decade. The system is complex and evolving, but it contains many key ideas that have been recognized worldwide and are worth exploring.
One of the signature elements is the concept of measuring "habitat hectares." This is a way of determining the ecological value of areas harmed during development so that they can be compared, hectare by hectare, to the ecological value of lands in a conservation offset. If the land for the offset area is of less ecological value than the disturbed area, then the offset can be increased to achieve a net habitat gain.
Victoria's system also puts the idea of a market for offsets at the centre of its approach. This allows private landowners or organizations that manage lands for conservation to have their land rated for conservation "credits" that can then be sold to developers seeking to offset damage that can't be avoided or otherwise mitigated.
The concept of tradable credits is also at the heart of the U.S. system, which has been using offsets and offset trading since the 1990s to help achieve the no-net-loss goal of its national wetlands conservation policy. As with Australia, the practices and policies have been evolving — notably around planning and monitoring compensation projects — but offset trading has become an established practice. Today, the U.S. is home to roughly 800 "conservation banks" that conserve land and generate credits for purchase. There are several advantages to such credit and banking systems. For starters, as Elgie notes, they create economic incentives to support conservation. They also bring more certainty to the process because the success of conservation efforts can be measured before damage to other habitat begins.
But in Canada — for now, at least — such innovations may take some time in arriving. The practice of habitat banking is not as widely used here as in other jurisdictions, although interest is growing in government and industry circles. Moreover, our policies and guidelines around the idea of offsetting are not as advanced or consistent as they are in other countries.
But these are challenges that can — and ultimately should — be met. Offsetting is not a perfect tool for meeting conservation goals, but it can be an effective one. The issue is making sure we get it right.