May 1, 2014
By Andy Holloway Illustration by Tara Hardy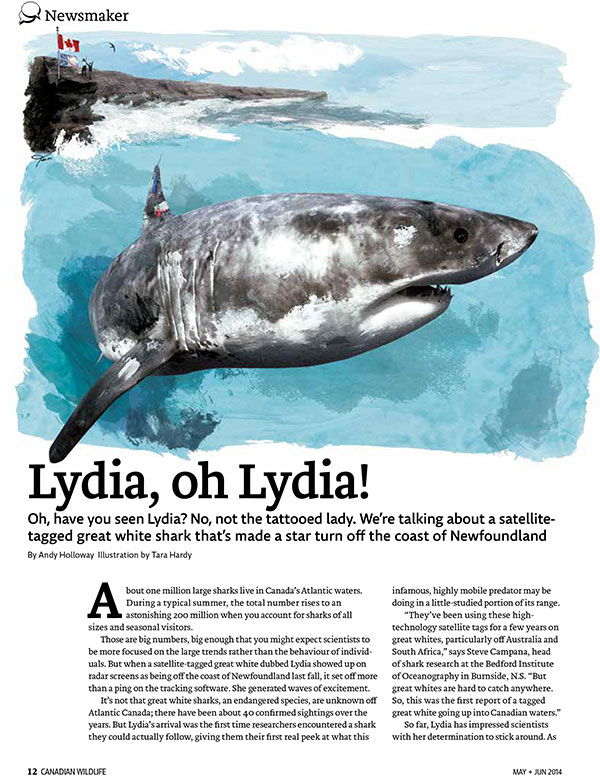 Oh, have you seen Lydia? No, not the tattooed lady. We're talking about a satellite-tagged great white shark that's made a star turn off the coast of Newfoundland.
About one million large sharks live in Canada's Atlantic waters. During a typical summer, the total number rises to an astonishing 200 million when you account for sharks of all sizes and seasonal visitors.

Those are big numbers, big enough that you might expect scientists to be more focused on the large trends rather than the behaviour of individuals. But when a satellite-tagged great white dubbed Lydia showed up on radar screens as being off the coast of Newfoundland last fall, it set off more than a ping on the tracking software. She generated waves of excitement.

It's not that great white sharks, an endangered species, are unknown off Atlantic Canada; there have been about 40 confirmed sightings over the years. But Lydia's arrival was the first time researchers encountered a shark they could actually follow, giving them their first real peek at what this infamous, highly mobile predator may be doing in a little-studied portion of its range.
"They've been using these hightechnology satellite tags for a few years on great whites, particularly off Australia and South Africa," says Steve Campana, head of shark research at the Bedford Institute of Oceanography in Burnside, N.S. "But great whites are hard to catch anywhere. So, this was the first report of a tagged great white going up into Canadian waters."

So far, Lydia has impressed scientists with her determination to stick around. As late as the end of February, she was still southeast of Newfoundland, around an area of warmer water known as the Flemish Cap.

That's a surprising finding, says John Chisholm, a biologist in the Shark Research Program at the Massachusetts Division of Marine Fisheries, who, along with fellow biologist Greg Skomal, was the first researcher to successfully tag and track great white in the northwest Atlantic. The sharks have been known to stick around Cape Cod, he notes, but for the most part they migrate for warmer waters in winter. "The fact that Lydia is hanging out east of the Flemish Cap is fascinating."

The big question is, of course: why? Chisholm says it's possible that the huge migratory distances covered by large female great whites such as Lydia — she has travelled more than 28,000 kilometres since she was tagged in March 2013 — could be related to their reproductive behaviour. Biologists, however, are still learning as they go.

Along with Lydia, scientists in the U.S. are monitoring a further 24 great whites carrying sound-emitting acoustic tags, six of which have shown up in Canada's Atlantic this year. That suggests the number of great whites coming to Canada may be in the hundreds, possibly even the low thousands, Campana says. "No shark biologist in the world had any idea there would be that many."

But that's just a start. Campana says further research may reveal when and where the critical parts of a great white's life cycle occur. That could be a big step toward stabilizing their populations, which have declined as much as 80 per cent over a single generation in areas of the northwest Atlantic outside Canada, according to the Committee for the
Status of Endangered Wildlife in Canada.

For that reason, Lydia's arrival in Canada is worth celebrating. "Every new shark we tag is like a Christmas present that we get to open because we just know so little about the movement of large sharks anywhere in the world, especially in Canada," Campana says. At the very least, it's a reminder that we are not alone at the top of the food chain.

Editor's note: You can follow Lydia's travels at www.ocearch.org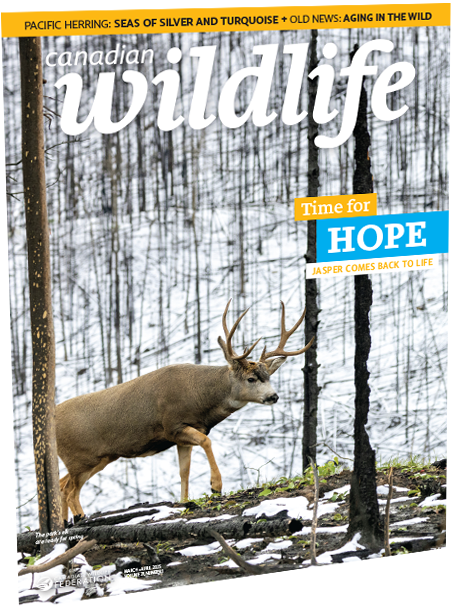 Reprinted from Canadian Wildlife magazine. Get more information or subscribe now! Now on newsstands! Or, get your digital edition today!