May 1, 2014
By Cooper Langford Photograph by Curtis Comeau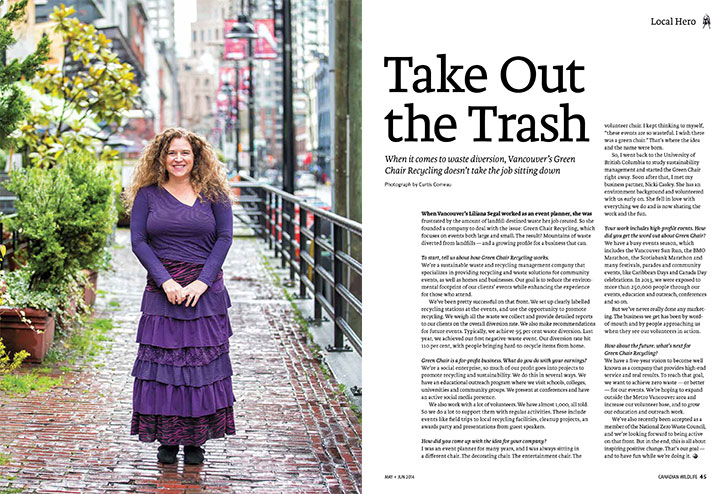 When it comes to waste diversion, Vancouver's Green Chair Recycling doesn't take the job sitting down.

When Vancouver's Liliana Segal worked as an event planner, she was frustrated by the amount of landfill-destined waste her job created. So she founded a company to deal with the issue: Green Chair Recycling, which focuses on events both large and small. The result? Mountains of waste diverted from landfills — and a growing profile for a business that can.

To start, tell us about how Green Chair Recycling works.

We're a sustainable waste and recycling management company that specializes in providing recycling and waste solutions for community events, as well as homes and businesses. Our goal is to reduce the environmental footprint of our clients' events while enhancing the experience for those who attend.

We've been pretty successful on that front. We set up clearly labelled recycling stations at the events, and use the opportunity to promote recycling. We weigh all the waste we collect and provide detailed reports to our clients on the overall diversion rate. We also make recommendations for future events. Typically, we achieve 95 per cent waste diversion. Last year, we achieved our first negative-waste event. Our diversion rate hit 110 per cent, with people bringing hard-to-recycle items from home.

Green Chair is a for-profit business. What do you do with your earnings?

We're a social enterprise, so much of our profit goes into projects to promote recycling and sustainability. We do this in several ways. We have an educational outreach program where we visit schools, colleges, universities and community groups. We present at conferences and have an active social media presence.

We also work with a lot of volunteers. We have almost 1,000, all told. So we do a lot to support them with regular activities. These include events like field trips to local recycling facilities, cleanup projects, an awards party and presentations from guest speakers.

How did you come up with the idea for your company?

I was an event planner for many years, and I was always sitting in a different chair. The decorating chair. The entertainment chair. The volunteer chair. I kept thinking to myself, "these events are so wasteful. I wish there was a green chair." That's where the idea and the name were born.

So, I went back to the University of British Columbia to study sustainability management and started the Green Chair right away. Soon after that, I met my business partner, Nicki Casley. She has an environment background and volunteered with us early on. She fell in love with everything we do and is now sharing the work and the fun.

Your work includes high-profile events. How did you get the word out about Green Chair?

We have a busy events season, which includes the Vancouver Sun Run, the BMO Marathon, the Scotiabank Marathon and many festivals, parades and community events, like Caribbean Days and Canada Day celebrations. In 2013, we were exposed to more than 250,000 people through our events, education and outreach, conferences and so on.

But we've never really done any marketing. The business we get has been by wordof- mouth and by people approaching us when they see our volunteers in action.

How about the future: what's next for Green Chair Recycling?

We have a five-year vision to become well known as a company that provides high-end service and real results. To reach that goal, we want to achieve zero waste — or better — for our events. We're hoping to expand outside the Metro Vancouver area and increase our volunteer base, and to grow our education and outreach work.

We've also recently been accepted as a member of the National Zero Waste Council, and we're looking forward to being active on that front. But in the end, this is all about inspiring positive change. That's our goal — and to have fun while we're doing it.