May 1, 2013
By Cooper Langford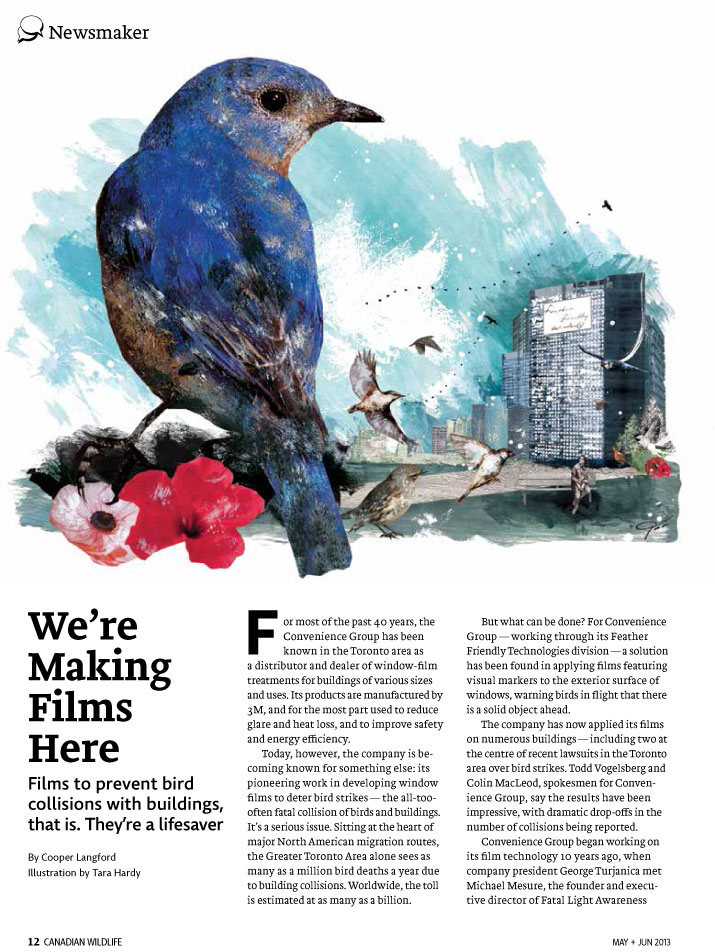 Films to prevent bird collisions with buildings, that is. They're a lifesaver
By Cooper Langford
For most of the past 40 years, the Convenience Group has been known in the Toronto area as a distributor and dealer of window-film treatments for buildings of various sizes and uses. Its products are manufactured by 3M, and for the most part used to reduce glare and heat loss, and to improve safety and energy efficiency.
Today, however, the company is becoming known for something else: its pioneering work in developing window films to deter bird strikes — the all-toooften fatal collision of birds and buildings. It's a serious issue. Sitting at the heart of major North American migration routes, the Greater Toronto Area alone sees as many as a million bird deaths a year due to building collisions. Worldwide, the toll is estimated at as many as a billion. But what can be done? For Convenience Group — working through its Feather Friendly Technologies division — a solution has been found in applying films featuring visual markers to the exterior surface of windows, warning birds in flight that there is a solid object ahead.
The company has now applied its films on numerous buildings — including two at the centre of recent lawsuits in the Toronto area over bird strikes. Todd Vogelsberg and Colin MacLeod, spokesmen for Convenience Group, say the results have been impressive, with dramatic drop-offs in the number of collisions being reported.
Convenience Group began working on its film technology 10 years ago, when company president George Turjanica met Michael Mesure, the founder and executive director of Fatal Light Awareness Program (FLAP), an organization working in the Toronto area to promote safe passage for birds. Turjanica "latched onto the idea," says Vogelsberg, the company's business development manager, and the project was soon underway.
Basing its work on research by U.S. biologist Dan Klem, Convenience Group began developing the first version of its "feather friendly" film. The core idea was simple: since birds don't distinguish between open sky or ground cover and their reflections in glass, creating a film with markers — visual noise, so to speak — would signal the flight path ahead is not clear. The principle is that same as the vision strips on large windows or glass doors that tell people to watch their step.
Execution, however, was another matter, as the film itself had to meet several criteria. The markers, for example, had to be able to break up reflections of both open sky and ground vegetation to be effective, requiring significant experimentation with contrast and shading. It also had to be unobtrusive so that the film does not block light from entering a building or disrupt views for the people inside.
But the company pressed on and, about five years ago, found its first client in the City of Markham, north of Toronto, which installed an early version of the film on the windows of its city hall. "I remember the day we got the order," MacLeod recalls. "I thought 'this is really going to change things.'"
And it has. Since 2007, Convenience Group has continued developing its birdfriendly film, taking the concept through several iterations to optimize the balance between bird-deterrence and user-friendliness, and creating products for both commercial and residential use. (It has also received a patent in the U.S. and is patent pending in Canada.) Most recently, it has been working on techniques to print the visual markers onto glass during the manufacturing process.
Better yet, the idea is catching on across North America as more cities adopt environmental guidelines that include efforts to reduce bird strikes. Inquiries are also coming in from Europe, Vogelsberg says.
That's good news for anyone concerned about wildlife in urban environments. Most of all, though, it's excellent news for the birds.