January 1, 2018
By David Bird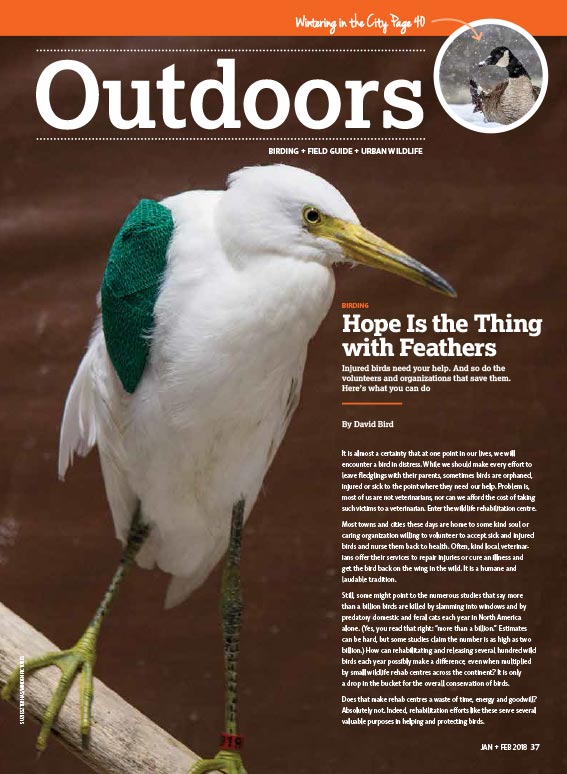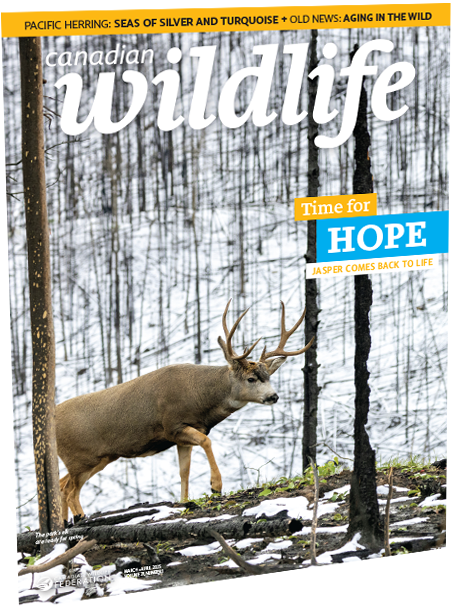 Reprinted from Canadian Wildlife magazine. Get more information or subscribe now! Now on newsstands! Or, get your digital edition today!
Injured birds need your help. And so do the volunteers and organizations that save them. Here's what you can do
It is almost a certainty that at one point in our lives, we will encounter a bird in distress. While we should make every effort to leave fledglings with their parents, sometimes birds are orphaned, injured or sick to the point where they need our help. Problem is, most of us are not veterinarians, nor can we afford the cost of taking such victims to a veterinarian. Enter the wildlife rehabilitation centre. Most towns and cities these days are home to some kind soul or caring organization willing to volunteer to accept sick and injured birds and nurse them back to health. Often, kind local veterinarians offer their services to repair injuries or cure an illness and get the bird back on the wing in the wild. It is a humane and laudable tradition.
Still, some might point to the numerous studies that say more than a billion birds are killed by slamming into windows and by predatory domestic and feral cats each year in North America alone. (Yes, you read that right: "more than a billion." Estimates can be hard, but some studies claim the number is as high as two billion.) How can rehabilitating and releasing several hundred wild birds each year possibly make a difference, even when multiplied by small wildlife rehab centres across the continent? It is only a drop in the bucket for the overall conservation of birds.
Does that make rehab centres a waste of time, energy and goodwill? Absolutely not. Indeed, rehabilitation efforts like these serve several valuable purposes in helping and protecting birds.
First, besides providing a caring public with a place to bring sick and injured birds, such centres educate the public about birds and their value, the many threats to their existence, the need to conserve them, and how we as citizens can go about it.
And through necessity and inventiveness, these centres regularly develop new techniques for surgery and health care that can be applied to any rare or endangered birds they receive. Finally, rehab centres taking in distressed birds are also among the first places to detect any new threats to birds such as newly introduced injurious pesticides, uncovered sources of lead-poisoning, oil and chemical spills, and the like.
I have had the pleasure of watching one of these centres grow from a germ of an idea to a robust operation with a brand-new facility. Located in Hudson, Quebec, about 60 kilometres west of Montreal, it is called Le Nichoir ("the nest"). I recently visited the centre and was totally blown away by its impressive new main building and release aviaries. Most of all, I was impressed by the professionalism and dedication of the staff.
Since its founding in 1996, Le Nichoir has been on a farm with a large ancient barn. That first year, the centre took in 478 birds in distress. Today, it takes in more than 1,600 wild birds and handles over 12,000 concerned phone calls and emails annually, making it one of the largest rehabilitation centres for songbirds in Canada. Like virtually every other wildlife rehab centre in the country, Le Nichoir relies on donations from concerned citizens and organizations to pay for its operating costs. (To learn more and/or to donate, visit the centre online at lenichoir.org.)
Wildlife rehabilitation is a local cause, of course, and if you find an injured bird, you need local help. That can be easy to find. Go online and search "wildlife rehab centre nearby." There are dozens of organizations in communities across Canada. Almost all of them are charities funded by generous citizens and staffed by concerned volunteers. They can help you get the bird you've rescued back on the wing. In exchange, they could use your help taking flight: as a volunteer caring for birds, as an "ambulance" driver, as a fundraiser and as a donor of much-needed "seed-money." Your contribution will be instrumental in saving the life of an injured bird and in reducing the toll humans (and our infrastructure) inflict on wildlife, all while raising awareness and supporting caring organizations doing important work.