March 1, 2017
By Jay Ingram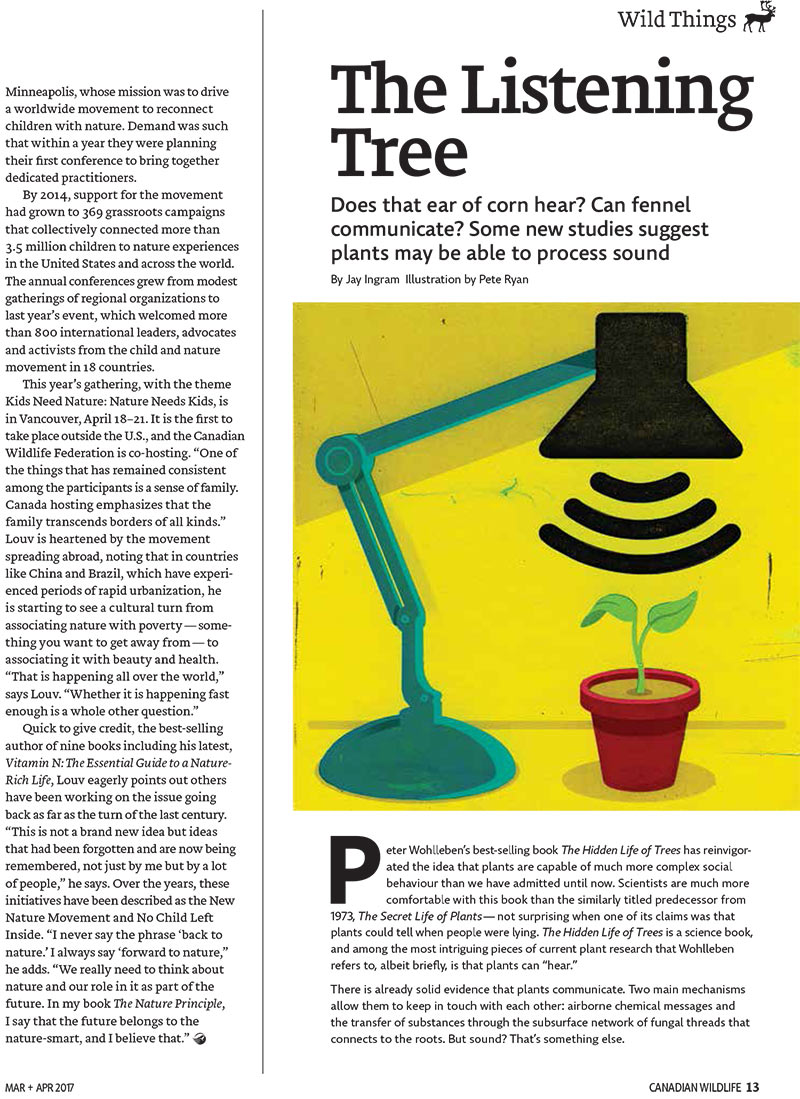 Does that ear of corn hear? Can fennel communicate? Some new studies suggest plants may be able to process sound
Peter Wohlleben's best-selling book The Hidden Life of Trees has reinvigorated the idea that plants are capable of much more complex social behaviour than we have admitted until now. Scientists are much more comfortable with this book than the similarly titled predecessor from 1973, The Secret Life of Plants — not surprising when one of its claims was that plants could tell when people were lying. The Hidden Life of Trees is a science book, and among the most intriguing pieces of current plant research that Wohlleben refers to, albeit briefly, is that plants can "hear."
There is already solid evidence that plants communicate. Two main mechanisms allow them to keep in touch with each other: airborne chemical messages and the transfer of substances through the subsurface network of fungal threads that connects to the roots. But sound? That's something else.
It is well established that plants do produce sounds, although the most common of these are attributed to a strictly physical source, unconnected to communication, like the cracking of joints when you stand up. These sounds are produced when bubbles form in the water being transported upwards in the plant from the roots to the leaves; this mechanism is common in drought-stressed plants. Plants produce other sounds too, but the sources of these remain mysterious.
The production of sound is one thing; the perception of it quite another. Plants have no ears, eardrums, auditory nerves or anything like that. But that isn't as much of a stumbling block as you might think. Birds have no outer ear, but can hear perfectly well. Some insects harbour their eardrums not at the sides of their heads but in remote places in the body, like the knees. Snakes have no ears or eardrums, but their jawbones vibrate in tune with disturbances in the ground and connect to the serpent version of an inner ear.
In all these cases, the ability to perceive sound is essential, for it provides cues to the presence of predators or prey. Moths, for instance, can avoid hunting bats by listening for their sonar chirps and taking evasive action. So although scientists have raised the objection that there appear to be no mechanisms in plants for listening, we might not have found them yet, at least partly for the lack of searching — scientific papers published on animals outnumber those on plants by two to one.
In fact, there is evidence that, despite the apparent absence of a hearing apparatus, plants might listen. Monica Gagliano, an evolutionary ecologist at the University of Western Australia, has conducted an intriguing experiment that, while saying very little about what goes on outside the lab, suggests we should be open-minded. She germinated chili seedlings in the presence of fennel, a plant that's hostile to other species in its vicinity. Gardeners know fennel is unfriendly; the plant releases chemicals from its roots that inhibit the growth of others. Gagliano was extremely careful to insulate the chili seeds from the fennel by enclosing the fennel in an airtight container, enclosing that container inside another and creating a vacuum between the two. No chemical or light signal (of any frequency) could be transmitted, in effect leaving the chili seedlings unaware of the presence of the unfriendly plant. (I use the word "unaware" advisedly.)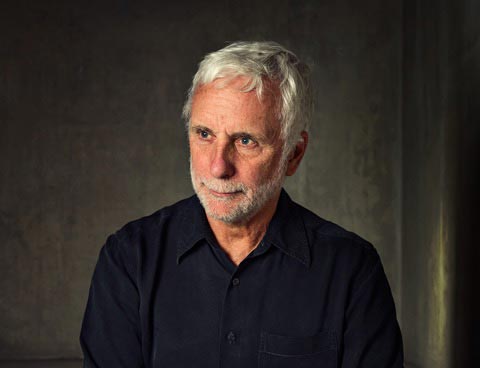 Corn seedlings will turn toward sounds in the same tone as the clicks they themselves emit.
If some signal were getting through even in the face of all the precautions, you might have expected the chili seedlings in the presence of fennel to fail, but paradoxically, they grew more aggressively. However that surprising result is interpreted, as far as anyone could tell there was no apparent way that any influence on growth, positive or negative, could be transmitted from fennel to chili. Could it have been sound?
Another recent experiment (the one Wohlleben refers to in his book) demonstrated that the root tip of corn seedlings will turn to face the direction of a synthesized sound of about 200 hertz. That's roughly the A below middle C on the piano keyboard and is in the same range as clicking sounds that have been recorded from the same corn seedlings. Again, it's far from clear how or why this is all working.
Nonetheless, these experiments open the door to new thinking about plants. If the mechanics of sound production, its reception and its function could be better understood, new techniques for increasing crop yields would be available to farmers. And in the spirit of Wohlleben's book, evidence that plants might be conversing would surely expand our appreciation of them.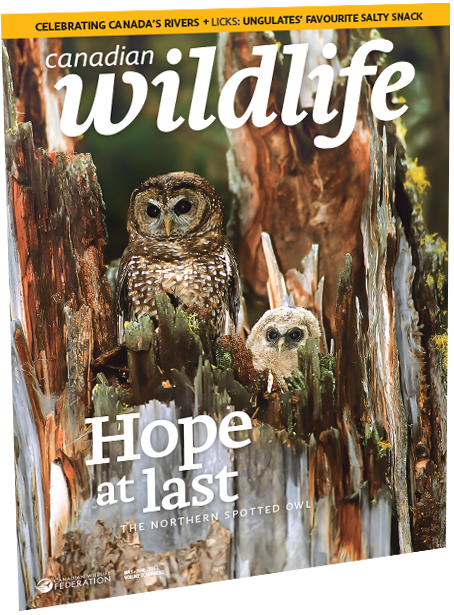 Reprinted from Canadian Wildlife magazine. Get more information or subscribe now! Now on newsstands! Or, get your digital edition today!