March 1, 2017
By Canadian Wildlife Staff, Photo by Charlie Neuman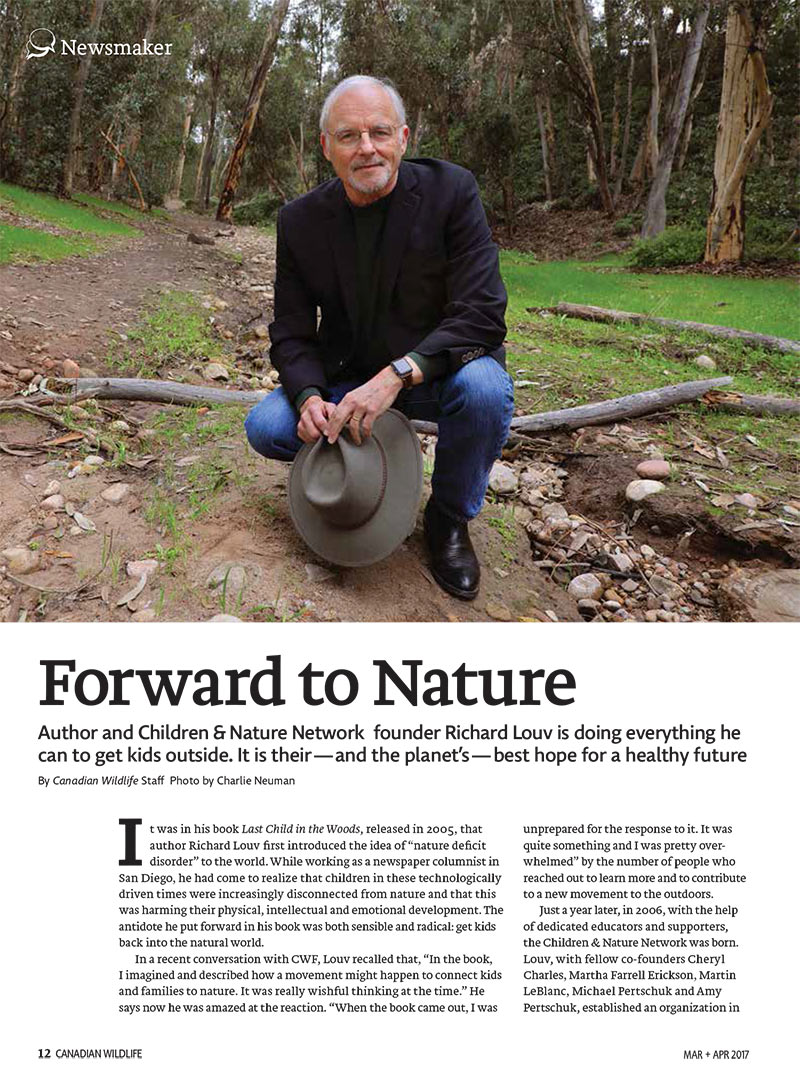 Author and Children & Nature Network founder Richard Louv is doing everything he can to get kids outside. It is their — and the planet's — best hope for a healthy future
It was in his book Last Child in the Woods, released in 2005, that author Richard Louv first introduced the idea of "nature deficit disorder" to the world. While working as a newspaper columnist in San Diego, he had come to realize that children in these technologically driven times were increasingly disconnected from nature and that this was harming their physical, intellectual and emotional development. The antidote he put forward in his book was both sensible and radical: get kids back into the natural world.
In a recent conversation with CWF, Louv recalled that, "In the book, I imagined and described how a movement might happen to connect kids and families to nature. It was really wishful thinking at the time." He says now he was amazed at the reaction. "When the book came out, I was unprepared for the response to it. It was quite something and I was pretty overwhelmed" by the number of people who reached out to learn more and to contribute to a new movement to the outdoors.
Just a year later, in 2006, with the help of dedicated educators and supporters, the Children & Nature Network was born.
Louv, with fellow co-founders Cheryl Charles, Martha Farrell Erickson, Martin LeBlanc, Michael Pertschuk and Amy Pertschuk, established an organization in Minneapolis, whose mission was to drive a worldwide movement to reconnect children with nature. Demand was such that within a year they were planning their first conference to bring together dedicated practitioners.
By 2014, support for the movement had grown to 369 grassroots campaigns that collectively connected more than 3.5 million children to nature experiences in the United States and across the world. The annual conferences grew from modest gatherings of regional organizations to last year's event, which welcomed more than 800 international leaders, advocates and activists from the child and nature movement in 18 countries.
This year's gathering, with the theme Kids Need Nature: Nature Needs Kids, is in Vancouver, April 18–21. It is the first to take place outside the U.S., and the Canadian Wildlife Federation is co-hosting. "One of the things that has remained consistent among the participants is a sense of family.
Canada hosting emphasizes that the family transcends borders of all kinds." Louv is heartened by the movement spreading abroad, noting that in countries like China and Brazil, which have experienced periods of rapid urbanization, he is starting to see a cultural turn from associating nature with poverty — something you want to get away from — to associating it with beauty and health. "That is happening all over the world," says Louv. "Whether it is happening fast enough is a whole other question."
Quick to give credit, the best-selling author of nine books including his latest, Vitamin N: The Essential Guide to a Nature-Rich Life, Louv eagerly points out others have been working on the issue going back as far as the turn of the last century. "This is not a brand new idea but ideas that had been forgotten and are now being remembered, not just by me but by a lot of people," he says. Over the years, these initiatives have been described as the New Nature Movement and No Child Left Inside. "I never say the phrase 'back to nature.' I always say 'forward to nature," he adds. "We really need to think about nature and our role in it as part of the future. In my book The Nature Principle, I say that the future belongs to the nature-smart, and I believe that."