March 1, 2017
By Canadian Wildlife Staff, Photo Carey Shaw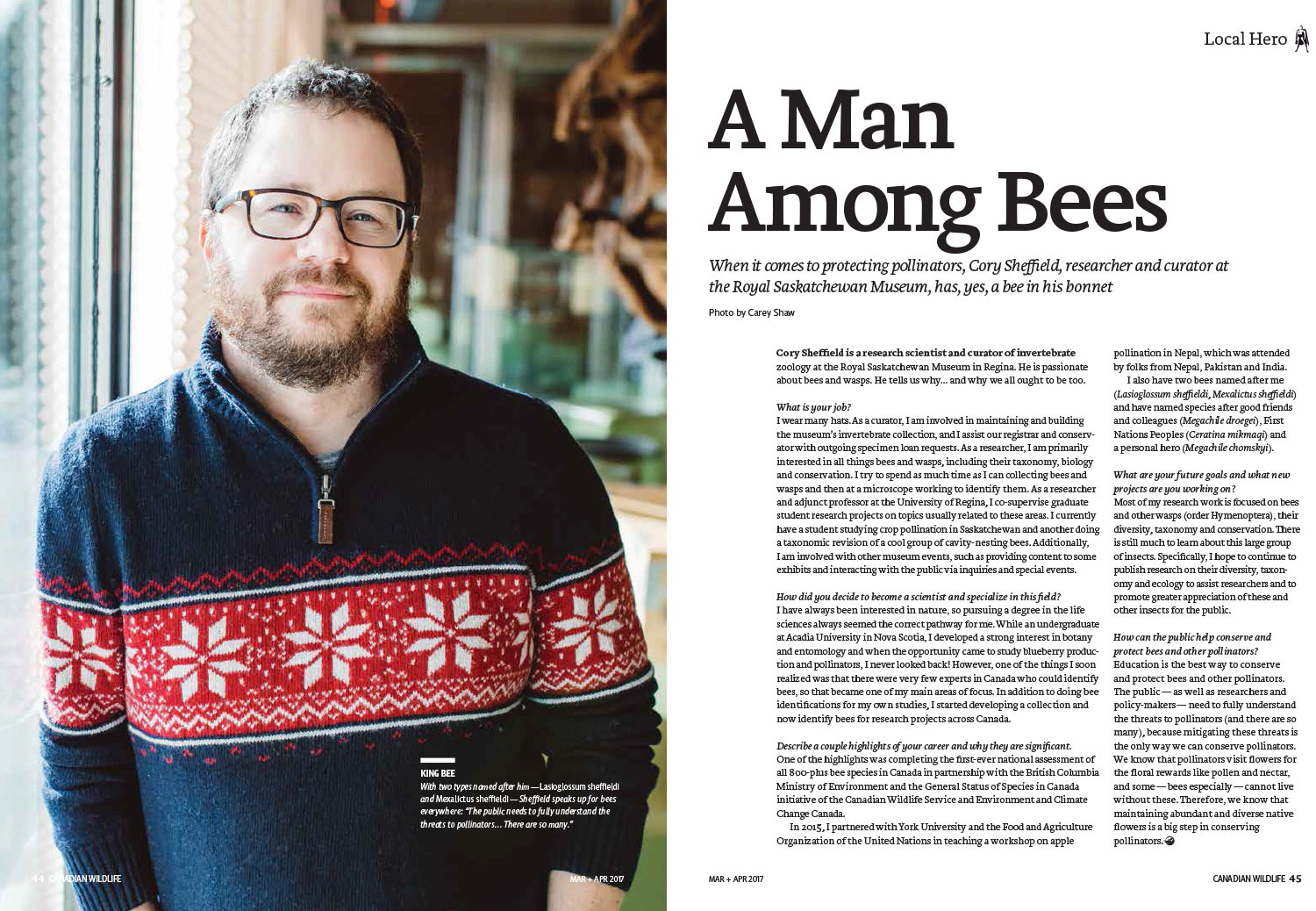 When it comes to protecting pollinators, Cory Sheffield, researcher and curator at the Royal Saskatchewan Museum, has, yes, a bee in his bonnet
Cory Sheffield is a research scientist and curator of invertebrate zoology at the Royal Saskatchewan Museum in Regina. He is passionate about bees and wasps. He tells us why… and why we all ought to be too. What is your job?
I wear many hats. As a curator, I am involved in maintaining and building the museum's invertebrate collection, and I assist our registrar and conservator with outgoing specimen loan requests. As a researcher, I am primarily interested in all things bees and wasps, including their taxonomy, biology and conservation. I try to spend as much time as I can collecting bees and wasps and then at a microscope working to identify them. As a researcher and adjunct professor at the University of Regina, I co-supervise graduate student research projects on topics usually related to these areas. I currently have a student studying crop pollination in Saskatchewan and another doing a taxonomic revision of a cool group of cavity-nesting bees. Additionally, I am involved with other museum events, such as providing content to some exhibits and interacting with the public via inquiries and special events.
How did you decide to become a scientist and specialize in this field?
I have always been interested in nature, so pursuing a degree in the life sciences always seemed the correct pathway for me. While an undergraduate at Acadia University in Nova Scotia, I developed a strong interest in botany and entomology and when the opportunity came to study blueberry production and pollinators, I never looked back! However, one of the things I soon realized was that there were very few experts in Canada who could identify bees, so that became one of my main areas of focus. In addition to doing bee identifications for my own studies, I started developing a collection and now identify bees for research projects across Canada.
Describe a couple highlights of your career and why they are significant.
One of the highlights was completing the first-ever national assessment of all 800-plus bee species in Canada in partnership with the British Columbia Ministry of Environment and the General Status of Species in Canada initiative of the Canadian Wildlife Service and Environment and Climate Change Canada.
In 2015, I partnered with York University and the Food and Agriculture Organization of the United Nations in teaching a workshop on apple pollination in Nepal, which was attended by folks from Nepal, Pakistan and India.
I also have two bees named after me (Lasioglossum sheffieldi, Mexalictus sheffieldi) and have named species after good friends and colleagues (Megachile droegei), First Nations Peoples (Ceratina mikmaqi) and a personal hero (Megachile chomskyi).
What are your future goals and what new projects are you working on?
Most of my research work is focused on bees and other wasps (order Hymenoptera), their diversity, taxonomy and conservation. There is still much to learn about this large group of insects. Specifically, I hope to continue to publish research on their diversity, taxonomy and ecology to assist researchers and to promote greater appreciation of these and other insects for the public.
How can the public help conserve and protect bees and other pollinators?
Education is the best way to conserve and protect bees and other pollinators. The public — as well as researchers and policy-makers — need to fully understand the threats to pollinators (and there are so many), because mitigating these threats is the only way we can conserve pollinators. We know that pollinators visit flowers for the floral rewards like pollen and nectar, and some — bees especially — cannot live without these. Therefore, we know that maintaining abundant and diverse native flowers is a big step in conserving pollinators.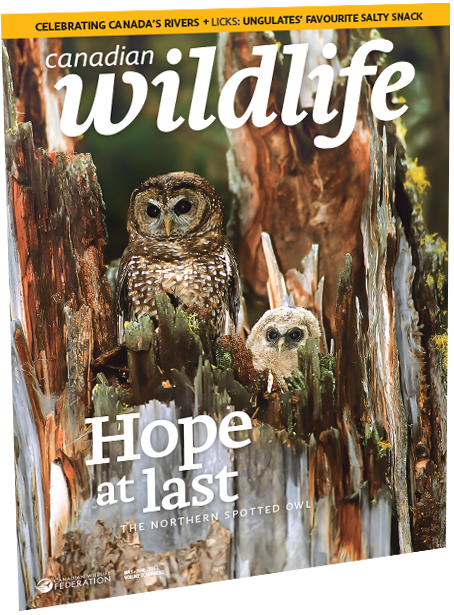 Reprinted from Canadian Wildlife magazine. Get more information or subscribe now! Now on newsstands! Or, get your digital edition today!