March 1, 2017
By David Bird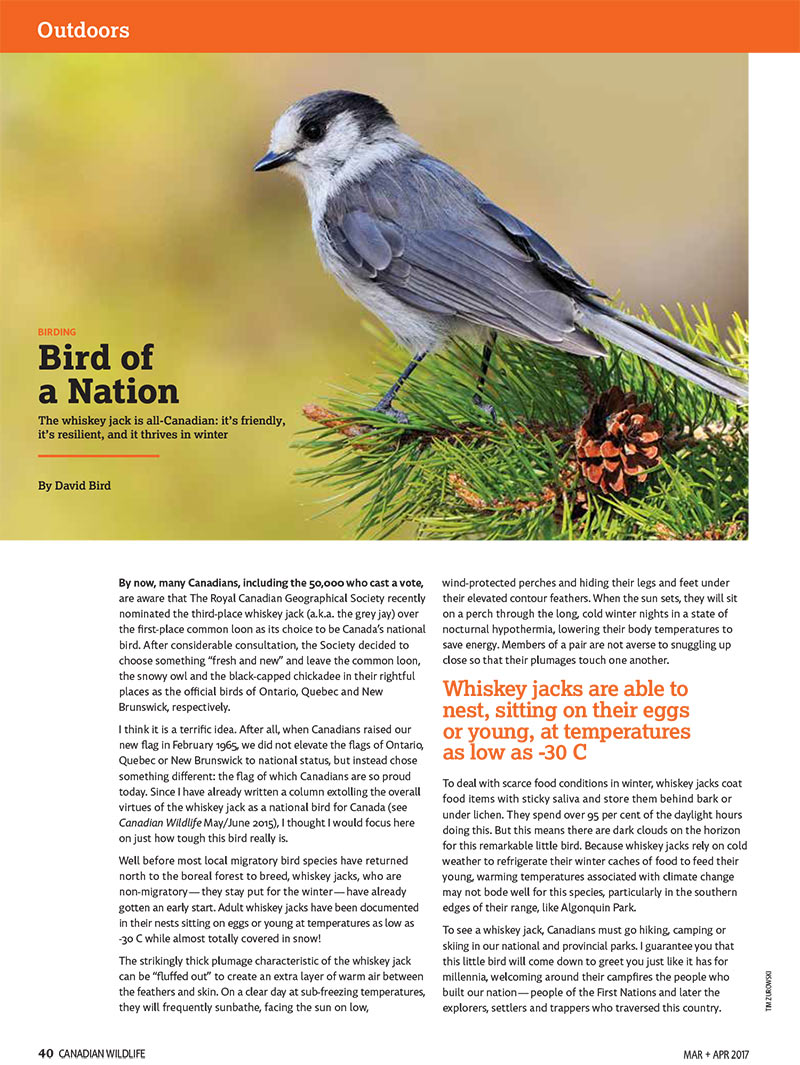 The whiskey jack is all-Canadian: it's friendly, it's resilient, and it thrives in winter
By now, many Canadians, including the 50,000 who cast a vote, are aware that The Royal Canadian Geographical Society recently nominated the third-place whiskey jack (a.k.a. the grey jay) over the first-place common loon as its choice to be Canada's national bird. After considerable consultation, the Society decided to choose something "fresh and new" and leave the common loon, the snowy owl and the black-capped chickadee in their rightful places as the official birds of Ontario, Quebec and New Brunswick, respectively.
I think it is a terrific idea. After all, when Canadians raised our new flag in February 1965, we did not elevate the flags of Ontario, Quebec or New Brunswick to national status, but instead chose something different: the flag of which Canadians are so proud today. Since I have already written a column extolling the overall virtues of the whiskey jack as a national bird for Canada (see Canadian Wildlife May/June 2015), I thought I would focus here on just how tough this bird really is.
Well before most local migratory bird species have returned north to the boreal forest to breed, whiskey jacks, who are non-migratory — they stay put for the winter — have already gotten an early start. Adult whiskey jacks have been documented in their nests sitting on eggs or young at temperatures as low as -30 C while almost totally covered in snow!
The strikingly thick plumage characteristic of the whiskey jack can be "fluffed out" to create an extra layer of warm air between the feathers and skin. On a clear day at sub-freezing temperatures, they will frequently sunbathe, facing the sun on low, wind-protected perches and hiding their legs and feet under their elevated contour feathers. When the sun sets, they will sit on a perch through the long, cold winter nights in a state of nocturnal hypothermia, lowering their body temperatures to save energy. Members of a pair are not averse to snuggling up close so that their plumages touch one another.
To deal with scarce food conditions in winter, whiskey jacks coat food items with sticky saliva and store them behind bark or under lichen. They spend over 95 per cent of the daylight hours doing this. But this means there are dark clouds on the horizon for this remarkable little bird. Because whiskey jacks rely on cold weather to refrigerate their winter caches of food to feed their young, warming temperatures associated with climate change may not bode well for this species, particularly in the southern edges of their range, like Algonquin Park.
To see a whiskey jack, Canadians must go hiking, camping or skiing in our national and provincial parks. I guarantee you that this little bird will come down to greet you just like it has for millennia, welcoming around their campfires the people who built our nation — people of the First Nations and later the explorers, settlers and trappers who traversed this country.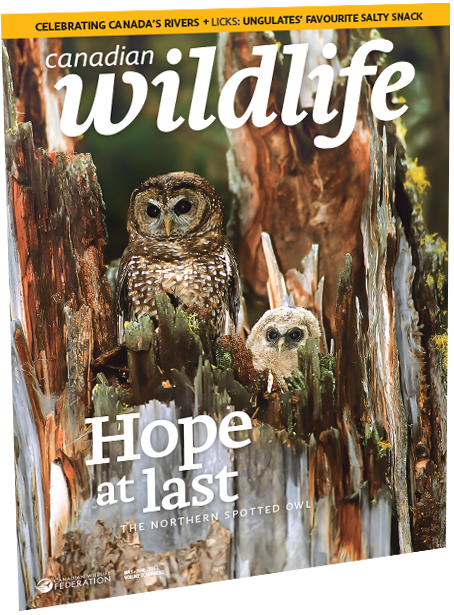 Reprinted from Canadian Wildlife magazine. Get more information or subscribe now! Now on newsstands! Or, get your digital edition today!