March 1, 2016
By Canadian Wildlife Staff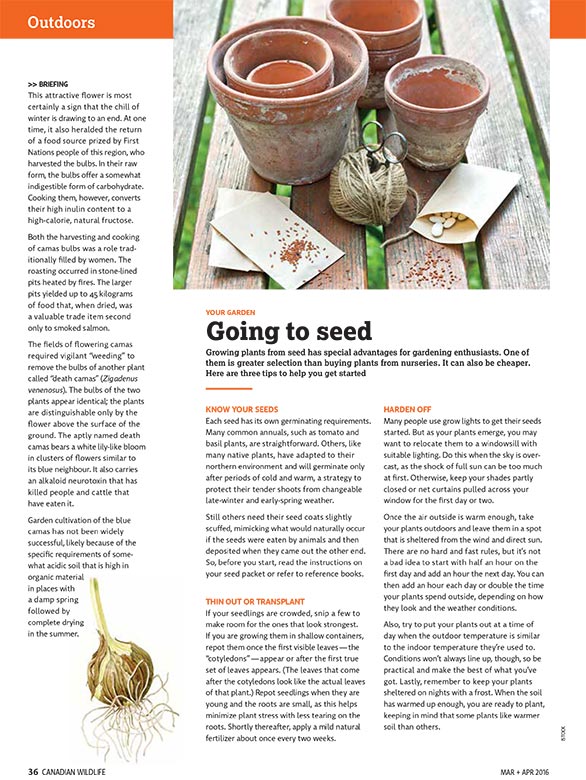 Growing plants from seed has special advantages for gardening enthusiasts. One of them is greater selection than buying plants from nurseries. It can also be cheaper. Here are three tips to help you get started.
KNOW YOUR SEEDS
Each seed has its own germinating requirements. Many common annuals, such as tomato and basil plants, are straightforward. Others, like many native plants, have adapted to their northern environment and will germinate only after periods of cold and warm, a strategy to protect their tender shoots from changeable late-winter and early-spring weather.
Still others need their seed coats slightly scuffed, mimicking what would naturally occur if the seeds were eaten by animals and then deposited when they came out the other end. So, before you start, read the instructions on your seed packet or refer to reference books.
THIN OUT OR TRANSPLANT
If your seedlings are crowded, snip a few to make room for the ones that look strongest. If you are growing them in shallow containers, repot them once the first visible leaves — the "cotyledons" — appear or after the first true set of leaves appears. (The leaves that come after the cotyledons look like the actual leaves of that plant.) Repot seedlings when they are young and the roots are small, as this helps minimize plant stress with less tearing on the roots. Shortly thereafter, apply a mild natural fertilizer about once every two weeks.
HARDEN OFF
Many people use grow lights to get their seeds started. But as your plants emerge, you may want to relocate them to a windowsill with suitable lighting. Do this when the sky is overcast, as the shock of full sun can be too much at first. Otherwise, keep your shades partly closed or net curtains pulled across your window for the first day or two.
Once the air outside is warm enough, take your plants outdoors and leave them in a spot that is sheltered from the wind and direct sun. There are no hard and fast rules, but it's not a bad idea to start with half an hour on the first day and add an hour the next day. You can then add an hour each day or double the time your plants spend outside, depending on how they look and the weather conditions.
Also, try to put your plants out at a time of day when the outdoor temperature is similar to the indoor temperature they're used to. Conditions won't always line up, though, so be practical and make the best of what you've got. Lastly, remember to keep your plants sheltered on nights with a frost. When the soil has warmed up enough, you are ready to plant, keeping in mind that some plants like warmer soil than others.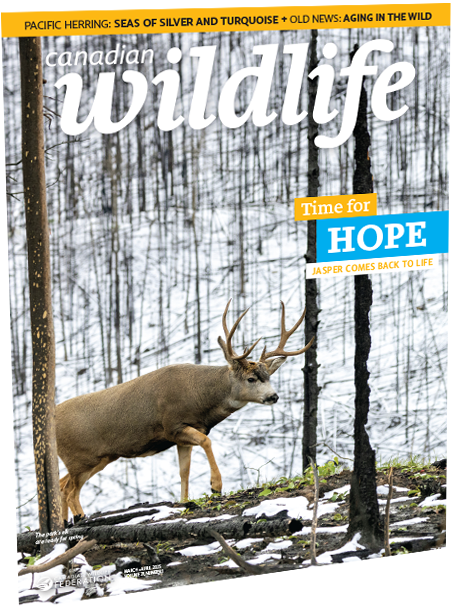 Reprinted from Canadian Wildlife magazine. Get more information or subscribe now! Now on newsstands! Or, get your digital edition today!