March 1, 2016
By Ryan Stuart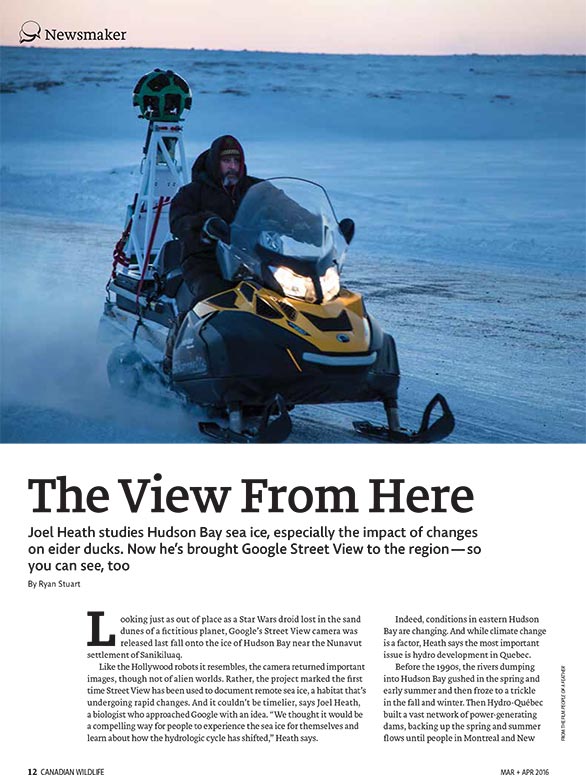 Joel Heath studies Hudson Bay sea ice, especially the impact of changes on eider ducks. Now he's brought Google Street View to the region — so you can see, too.
Looking just as out of place as a Star Wars droid lost in the sand dunes of a fictitious planet, Google's Street View camera was released last fall onto the ice of Hudson Bay near the Nunavut settlement of Sanikiluaq.
Like the Hollywood robots it resembles, the camera returned important images, though not of alien worlds. Rather, the project marked the first time Street View has been used to document remote sea ice, a habitat that's undergoing rapid changes. And it couldn't be timelier, says Joel Heath, a biologist who approached Google with an idea. "We thought it would be a compelling way for people to experience the sea ice for themselves and learn about how the hydrologic cycle has shifted," Heath says.
Indeed, conditions in eastern Hudson Bay are changing. And while climate change is a factor, Heath says the most important issue is hydro development in Quebec.
Before the 1990s, the rivers dumping into Hudson Bay gushed in the spring and early summer and then froze to a trickle in the fall and winter. Then Hydro-Québec built a vast network of power-generating dams, backing up the spring and summer flows until people in Montreal and New York City turned up their thermostats in fall and winter. The out-of-season gush of fresh water altered Hudson Bay's salinity and currents and, in turn, the ecosystems that rely on them.
Nowhere is this more true, says Heath, than Sanikiluaq, a community of 850 people on the Belcher Islands, off Quebec's Hudson Bay shore.
As caribou are to other Inuit groups, so the common eider is to the people of this remote archipelago. They rely on the diving ducks for food, clothing and now employment — the town opened an eiderdown factory in 2015.
Eiders are one of the few birds that don't migrate south. Instead they spend the winter diving for mussels and sea urchins along the ice edge and in polynyas, holes in the pack ice kept open by the powerful tidal currents. But hydro's pulses of fresh water in the middle of winter have changed the currents and the sea ice.
Sanikiluaq elders say currents are weaker and the ice that forms is more brittle and melts sooner in the spring. That's a problem for people who rely on the sea ice for finding food. "The ice is harder to understand now," says Simeonie Kavik, a Sanikiluaq hunter. "Hunting is more dangerous."
Likewise for the marine mammals. Beluga and orca whales have been trapped in fastforming ice. And several times, huge numbers of eider have died when polynyas froze over.
It was after a die-off in 2002 that Heath first came to Sanikiluaq as a research biologist for the Canadian Wildlife Service. As he studied the eider, he realized their plight was part of a bigger story of an altered ecosystem. He formed the Arctic Eider Society, a non-profit group that combines Inuit and scientific knowledge to better understand the sea-ice ecosystem and how it's changing. Hunters from five eastern Hudson Bay communities contribute historical understanding of the ice, measure salinity and post observations. And last fall, they mounted the Street View Trekker — a 360-degree, portable version of Google's panoramic camera — onto a snowmobile and drove it onto the pack ice and right to the floe edge. The footage is now part of the Arctic Eider Society's interactive site (arcticeider.com) allowing anyone, anywhere to travel onto Hudson Bay in the depths of winter — no eiderdown required.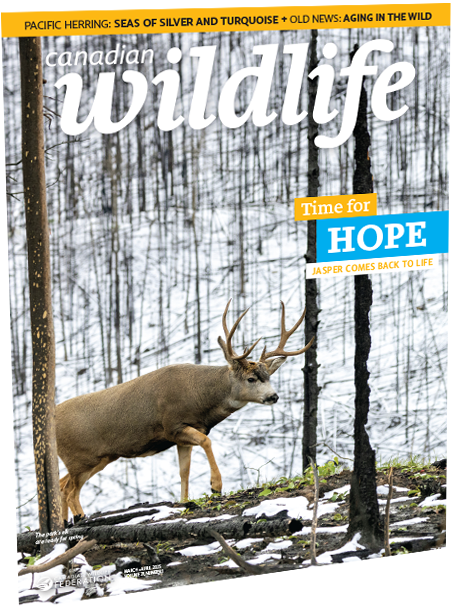 Reprinted from Canadian Wildlife magazine. Get more information or subscribe now! Now on newsstands! Or, get your digital edition today!