March 1, 2016
By Canadian Wildlife Staff, Photo by Mike Ford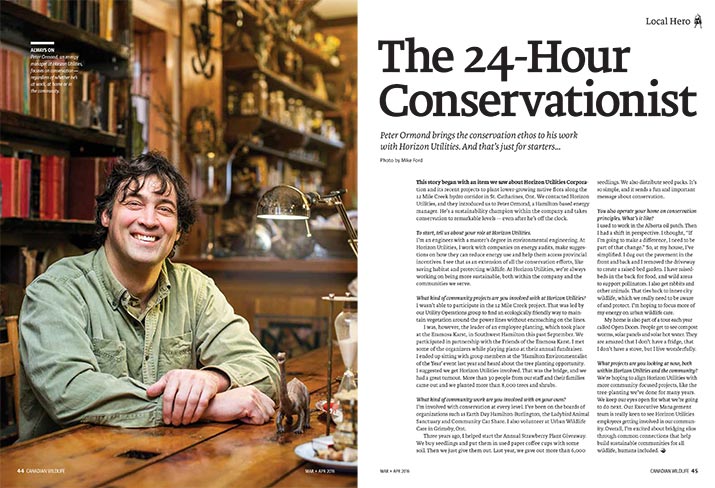 Peter Ormond brings the conservation ethos to his work with Horizon Utilities. And that's just for starters…
This story began with an item we saw about Horizon Utilities Corporation and its recent projects to plant lower-growing native flora along the 12 Mile Creek hydro corridor in St. Catharines, Ont. We contacted Horizon Utilities, and they introduced us to Peter Ormond, a Hamilton-based energy manager. He's a sustainability champion within the company and takes conservation to remarkable levels — even after he's off the clock. To start, tell us about your role at Horizon Utilities.
I'm an engineer with a master's degree in environmental engineering. At Horizon Utilities, I work with companies on energy audits, make suggestions on how they can reduce energy use and help them access provincial incentives. I see that as an extension of all the conservation efforts, like saving habitat and protecting wildlife. At Horizon Utilities, we're always working on being more sustainable, both within the company and the communities we serve.
What kind of community projects are you involved with at Horizon Utilities?
I wasn't able to participate in the 12 Mile Creek project. That was led by our Utility Operations group to find an ecologically friendly way to maintain vegetation around the power lines without encroaching on the lines.
I was, however, the leader of an employee planting, which took place at the Eramosa Karst, in Southwest Hamilton this past September. We participated in partnership with the Friends of the Eramosa Karst. I met some of the organizers while playing piano at their annual fundraiser. I ended up sitting with group members at the 'Hamilton Environmentalist of the Year' event last year and heard about the tree planting opportunity. I suggested we get Horizon Utilities involved. That was the bridge, and we had a great turnout. More than 30 people from our staff and their families came out and we planted more than 8,000 trees and shrubs.
What kind of community work are you involved with on your own?
I'm involved with conservation at every level. I've been on the boards of organizations such as Earth Day Hamilton-Burlington, the Ladybird Animal Sanctuary and Community Car Share. I also volunteer at Urban Wildlife Care in Grimsby, Ont.
Three years ago, I helped start the Annual Strawberry Plant Giveaway. We buy seedlings and put them in used paper coffee cups with some soil. Then we just give them out. Last year, we gave out more than 6,000 seedlings. We also distribute seed packs. It's so simple, and it sends a fun and important message about conservation.
You also operate your home on conservation principles. What's it like?
I used to work in the Alberta oil patch. Then I had a shift in perspective. I thought, "If I'm going to make a difference, I need to be part of that change." So, at my house, I've simplified. I dug out the pavement in the front and back and I removed the driveway to create a raised-bed garden. I have raisedbeds in the back for food, and wild areas to support pollinators. I also get rabbits and other animals. That ties back to inner-city wildlife, which we really need to be aware of and protect. I'm hoping to focus more of my energy on urban wildlife care.
My home is also part of a tour each year called Open Doors. People get to see compost worms, solar panels and solar hot water. They are amazed that I don't have a fridge, that I don't have a stove, but I live wonderfully.
What projects are you looking at now, both within Horizon Utilities and the community?
We're hoping to align Horizon Utilities with more community-focused projects, like the tree-planting we've done for many years. We keep our eyes open for what we're going to do next. Our Executive Management team is really keen to see Horizon Utilities employees getting involved in our community. Overall, I'm excited about bridging silos through common connections that help build sustainable communities for all wildlife, humans included.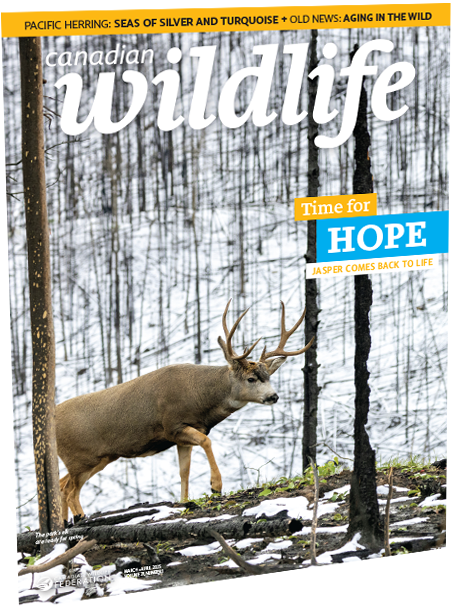 Reprinted from Canadian Wildlife magazine. Get more information or subscribe now! Now on newsstands! Or, get your digital edition today!