March 1, 2016
By Alanna Mitchell Illustration by Ally Jaye Reeves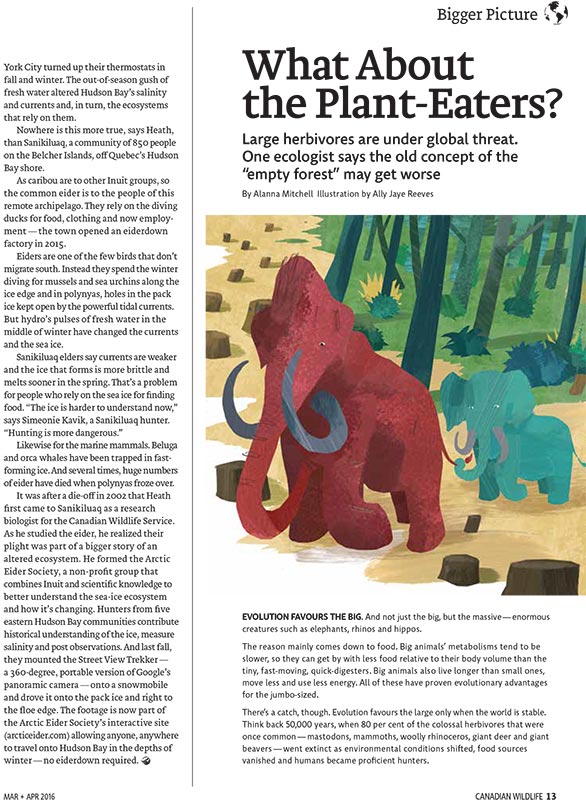 Large herbivores are under global threat. One ecologist says the old concept of the "empty forest" may get worse.
EVOLUTION FAVOURS THE BIG. And not just the big, but the massive — enormous creatures such as elephants, rhinos and hippos.
The reason mainly comes down to food. Big animals' metabolisms tend to be slower, so they can get by with less food relative to their body volume than the tiny, fast-moving, quick-digesters. Big animals also live longer than small ones, move less and use less energy. All of these have proven evolutionary advantages for the jumbo-sized.
There's a catch, though. Evolution favours the large only when the world is stable. Think back 50,000 years, when 80 per cent of the colossal herbivores that were once common — mastodons, mammoths, woolly rhinoceros, giant deer and giant beavers — went extinct as environmental conditions shifted, food sources vanished and humans became proficient hunters.
There are still a few big land-based plant-eaters left on Earth. Rhinos, hippos, elephants, gorillas and bison are among them. And now those, too, are disappearing extraordinarily quickly, according to a fascinating study last year by William J. Ripple of Oregon State University and others. In fact, of the 74 largest species of land-based plant-eaters left, more than half face extinction.
Two key subspecies have vanished in the past decade. The last West African black rhino, with its characteristic long foot and square-based horn, died in Cameroon in 2006. The only remaining Javan rhino in Vietnam, possibly the largest mammal on land, with its armour-like folds of skin and tiny head, was poached in 2010.
Just as human activity helped spawn the wave of extinctions among large herbivores all those millennia ago, human activity is doing the same thing now. Hunting for meat or body parts is the biggest contributor. In just three years, from 2010 to 2012, poachers — some with ties to organized crime, Ripple says — killed 100,000 African elephants, or about one in five of those remaining on the continent. Rhinos face similar threats. Rhino horn, promoted as a Chinese remedy in recent decades, is now worth more by weight than gold, diamonds or cocaine. Thus, white rhinos in South Africa's fabled Kruger National Park are so at risk from poaching that some are being moved to more secure parts of the country. African rhinos will be extinct in the wild within 20 years if poaching continues to accelerate at its current rate.
The very living space of the big wild herbivores, meanwhile, is vanishing as livestock farming intensifies. About 3.6 billion cows, sheep and other plant-eating livestock are on the planet today, with two million more being added every month. The global appetite for cashmere, for example, has jump-started increases in goat farming in central Asia, with dire consequences for wild plant-eaters.
Not only that, but the human population is catapulting ahead, transforming wilderness into settled or farmed areas, pumping carbonbased gases into the atmosphere, cutting down trees. It all adds up to a startling decline in large herbivores.
The situation leads Ripple to raise an alarm. More than two decades ago, the U.S. conservationist Kent Redford coined the term "empty forest." It introduced the shocking idea that forests could look healthy, but if they were bereft of large mammals, they were dying from within.
Ripple takes the idea much further. As the last of the planet's largest terrestrial herbivores die out, he raises the spectre of "empty landscape." Not only forests, but deserts, grasslands and savannas across much of the Earth are losing the last of this critical group of animals.
Why critical? The big plant-eaters are superb landscape engineers. Ripple uses the example of an African elephant. The elephant crashes through a thick forest, helping change some of it into shrubland. The shrubs provide excellent foraging for impalas and black rhinos. The damaged trees are habitat for lizards. The routes created through thick forest allow lions to hunt for their prey. Not only that, but as elephants roam, they disperse the seeds of plants they have eaten.
You can find similar examples in Canada. Bison, for instance, once helped keep grasslands mown and open for great plant diversity. They also helped create small, temporary wetlands because they made pools to wallow in.
So, creatures other than the big herbivores are in danger when the herbivores are also at risk. To Ripple, it's time for bold action. If not, a wave of extinctions, which killed off most of the planet's big plant-eaters thousands of years ago, will carry off the very last of them, too.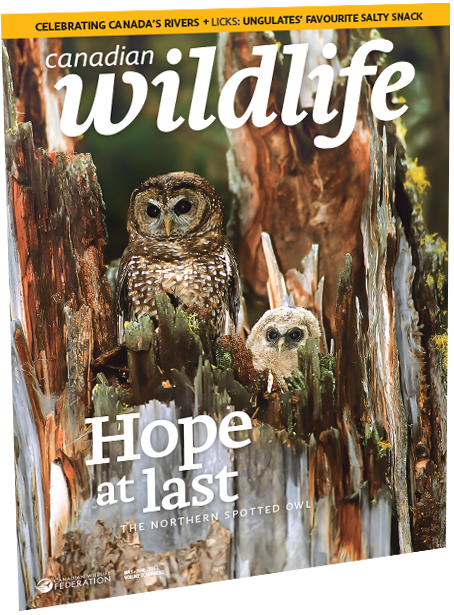 Reprinted from Canadian Wildlife magazine. Get more information or subscribe now! Now on newsstands! Or, get your digital edition today!