February 28, 2015
By Canadian Wildlife Staff, Photo by Guillaume Simoneau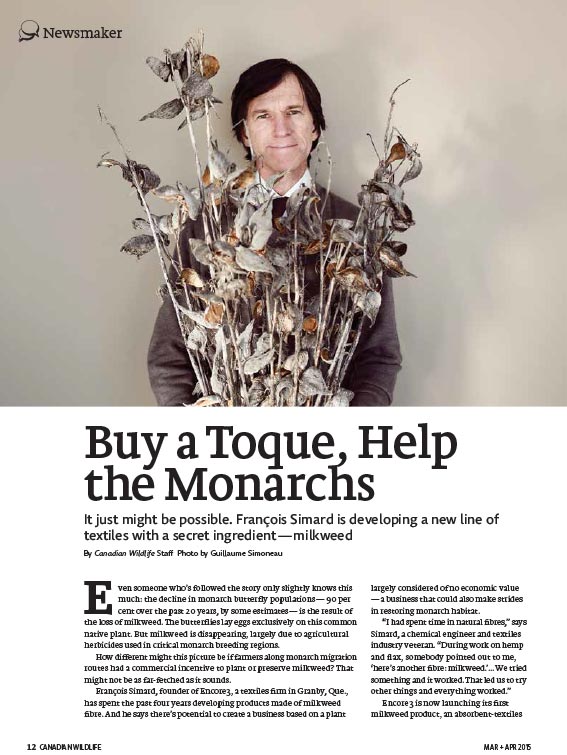 It just might be possible. François Simard is developing a new line of textiles with a secret ingredient — milkweed
Even someone who's followed the story only slightly knows this much: the decline in monarch butterfly populations — 90 per cent over the past 20 years, by some estimates — is the result of the loss of milkweed. The butterflies lay eggs exclusively on this common native plant. But milkweed is disappearing, largely due to agricultural herbicides used in critical monarch breeding regions.
How different might this picture be if farmers along monarch migration routes had a commercial incentive to plant or preserve milkweed? That might not be as far-fetched as it sounds.
François Simard, founder of Encore3, a textiles firm in Granby, Que., has spent the past four years developing products made of milkweed fibre. And he says there's potential to create a business based on a plant largely considered of no economic value — a business that could also make strides in restoring monarch habitat.
"I had spent time in natural fibres," says Simard, a chemical engineer and textiles industry veteran. "During work on hemp and flax, somebody pointed out to me, 'here's another fibre: milkweed.'… We tried something and it worked. That led us to try other things and everything worked."
Encore3 is now launching its first milkweed product, an absorbent-textiles kit for Parks Canada to clean up oil and fuel spills. But the potential goes much farther, Simard says. Milkweed can also be used for cold-weather clothing (Simard plans to launch a garment line in 2016 with a Chicoutimi, Que.-based manufacturer) and in transportation as a base material for lightweight thermo-formed panels. It can be blended with other fibres to make textiles for clothing, too.
What makes milkweed so useful are its hollow fibres, which are lightweight so seeds can float away on the breeze. This property makes the fibres extremely absorbent, which is why Encore3 is launching its product line with spill kits for Parks Canada. It also makes them good insulators, ideal as a replacement for goose down in winter wear (a thought that appeals to Simard's own strong feelings about the ethical treatment of animals).
Additionally, milkweed fibres are covered in a waxy substance that repels water. Thus, they are more efficient as an absorbent and useful in winter wear, since they don't get soggy.
To meet its demand for milkweed, Encore3 has created a co-op of farmers who are now growing the plant commercially. Twenty have signed up, committing to grow at least 10 hectares each. Another 40 are on the co-op's waiting list. The potential benefit to monarchs is significant. Each hectare under cultivation is capable of supporting as many as 10,000 butterfly births. With more than 300 hectares of new milkweed, Encore3's launch already has the potential to add three million butterflies to the monarch population.
These projections are theoretical, of course. But Simard says he's already seeing improvements. "In the first fields… the ones we planted in 2012, we've seen lots of monarchs where we didn't necessarily see many. It's noticeable and we're only starting."
The significance of Encore3's innovation, however, shouldn't be measured in mere numbers. The larger point is that there are options when it comes to putting conservation into business. (It's worth noting that milkweed is also a sustainable crop. It grows naturally on marginal lands and doesn't require chemical fertilizers or pesticides.) Innovation is the key. And Encore3 is delivering on the monarch front and many more.