February 28, 2015
By Canadian Wildlife Staff, Photograph by Juan Luna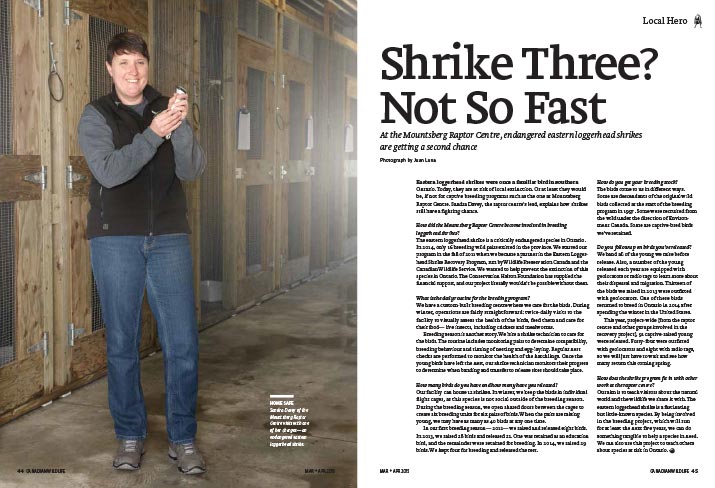 At the Mountsberg Raptor Centre, endangered eastern loggerhead shrikes are getting a second chance
Eastern loggerhead shrikes were once a familiar bird in southern Ontario. Today, they are at risk of local extinction. Or at least they would be, if not for captive breeding programs such as the one at Mountsberg Raptor Centre. Sandra Davey, the raptor centre's lead, explains how shrikes still have a fighting chance.
How did the Mountsberg Raptor Centre become involved in breeding loggerhead shrikes?
The eastern loggerhead shrike is a critically endangered species in Ontario. In 2014, only 16 breeding wild pairs existed in the province. We started our program in the fall of 2011 when we became a partner in the Eastern Loggerhead Shrike Recovery Program, run by Wildlife Preservation Canada and the Canadian Wildlife Service. We wanted to help prevent the extinction of this species in Ontario. The Conservation Halton Foundation has supplied the financial support, and our project literally wouldn't be possible without them.
What is the daily routine for the breeding program?
We have a custom-built breeding centre where we care for the birds. During winter, operations are fairly straightforward: twice-daily visits to the facility to visually assess the health of the birds, feed them and care for their food — live insects, including crickets and mealworms.
Breeding season is another story. We hire a shrike technician to care for the birds. The routine includes monitoring pairs to determine compatibility, breeding behaviour and timing of nesting and egg-laying. Regular nest checks are performed to monitor the health of the hatchlings. Once the young birds have left the nest, our shrike technician monitors their progress to determine when banding and transfer to release sites should take place.
How many birds do you have and how many have you released?
Our facility can house 12 shrikes. In winter, we keep the birds in individual flight cages, as this species is not social outside of the breeding season. During the breeding season, we open shared doors between the cages to create six breeding units for six pairs of birds. When the pairs are raising young, we may have as many as 40 birds at any one time.
In our first breeding season — 2012 — we raised and released eight birds. In 2013, we raised 28 birds and released 22. One was retained as an education bird, and the remainder were retained for breeding. In 2014, we raised 29 birds. We kept four for breeding and released the rest.
How do you get your breeding stock?
The birds come to us in different ways. Some are descendants of the original wild birds collected at the start of the breeding program in 1997. Some were recruited from the wild under the direction of Environment Canada. Some are captive-bred birds we've retained.
Do you follow up on birds you've released?
We band all of the young we raise before release. Also, a number of the young released each year are equipped with geolocators or radio tags to learn more about their dispersal and migration. Thirteen of the birds we raised in 2013 were outfitted with geolocators. One of these birds returned to breed in Ontario in 2014 after spending the winter in the United States. This year, project-wide [from the raptor centre and other groups involved in the recovery project], 91 captive-raised young were released. Forty-four were outfitted with geolocators and eight with radio tags, so we will just have to wait and see how many return this coming spring.
How does the shrike program fit in with other work at the raptor centre?
Our aim is to teach visitors about the natural world and the wildlife we share it with. The eastern loggerhead shrike is a fascinating but little-known species. By being involved in the breeding project, which will run for at least the next five years, we can do something tangible to help a species in need. We can also use this project to teach others about species at risk in Ontario.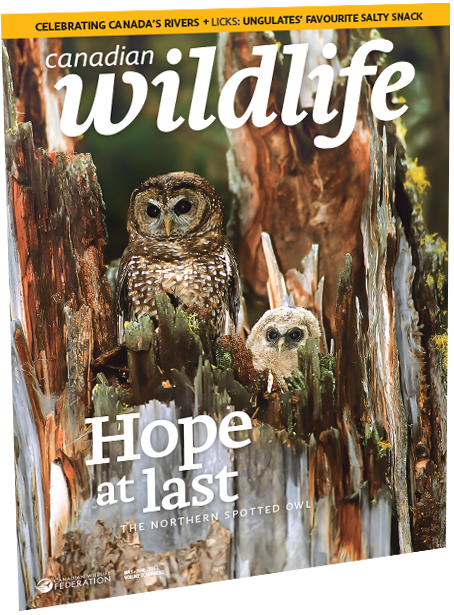 Reprinted from Canadian Wildlife magazine. Get more information or subscribe now! Now on newsstands! Or, get your digital edition today!