March 1, 2014
By Jay Ingram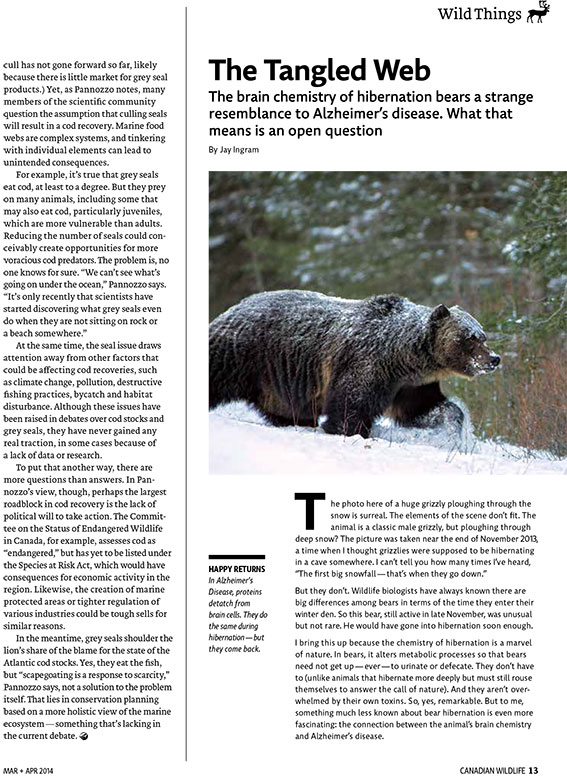 The brain chemistry of hibernation bears a strange resemblance to Alzheimer's disease. What that means is an open question.
The photo here of a huge grizzly ploughing through the snow is surreal. The elements of the scene don't fit. The animal is a classic male grizzly, but ploughing through deep snow? The picture was taken near the end of November 2013, a time when I thought grizzlies were supposed to be hibernating in a cave somewhere. I can't tell you how many times I've heard, "The first big snowfall — that's when they go down."
But they don't. Wildlife biologists have always known there are big differences among bears in terms of the time they enter their winter den. So this bear, still active in late November, was unusual
but not rare. He would have gone into hibernation soon enough.
I bring this up because the chemistry of hibernation is a marvel of nature. In bears, it alters metabolic processes so that bears need not get up — ever — to urinate or defecate. They don't have to (unlike animals that hibernate more deeply but must still rouse themselves to answer the call of nature). And they aren't overwhelmed by their own toxins. So, yes, remarkable. But to me, something much less known about bear hibernation is even more fascinating: the connection between the animal's brain chemistry and Alzheimer's disease.
Don't knock it until you try it
Can humans hibernate? The short answer is "no." But it might be possible. In fact, it's the subject of serious scientific research.
ibernation is characterized by the slowing of metabolic processes, a feature that would be handy in medicine. Critical trauma patients, for example, could improve their odds of survival if their metabolisms could be slowed, giving doctors critical time to repair damage. Likewise, reduced celluar activity could lead to new cancer treatments.
There's more, but any such developments are years away. Research continues, however, and one day human hibernation may be more science than science fiction.
One of the signs of Alzheimer's in the brain is the presence of "tangles," unusual twists of protein that accumulate inside neurons, kill them and stay behind, ghost-like, when those neurons die. Dr. Alois Alzheimer saw them in the brain of his first, most famous patient, Auguste Deter, in 1906.
Today, scientists have a pretty good idea about how those tangles form, starting with the neuron itself. One of the spectacular features of neurons is their extensions, especially the axon, which is responsible for transmitting the outwardbound nerve impulse. The axon needs a skeleton that is both strong and flexible. It gets that from an internal array of microtubules. The axon is actually stuffed with microtubules extending through to the very end, the synapse.
The microtubule skeleton is decorated with protein molecules called "tau," which attach in profusion to the cables and help stabilize them. But this is a molecular world where nothing is really constant. These tau molecules are also susceptible to being swamped by phosphate atoms. If that happens, they become "hyperphosphorylated." And things get a little wild.
In Alzheimer's disease, tau molecules that are hyperphosphorylated are released from the microtubules. The network begins to falter and collapse, and the excess tau start to aggregate into tangles. Cells die. The striking thing about tau aggregation is that it maps exactly to the disease. Where there are tangles, there is Alzheimer damage.
But tau molecules behave differently in other situations. For instance, hyperphosphorylation is rampant in the fetal brain. But rather than killing the fetus, the process allows the growing nervous system and its neurons to be flexible, to proliferate wildly without being hampered by a rigid skeleton. So the tau proteins are detached. But that detachment can be reversed — and it is as the fetus ages. Months later, the tau proteins are reattached and all is calm.
Hibernation takes this process to another level. A hibernatinganimal's brain has, like a fetus's, lots of hyperphosphorylation.And, as in the fetus, the process can be reversed. As soon as the hibernating bear begins to emerge from its torpor, tau proteins lose their phosphates and reattach, and the brain comes back to its pre-hibernation state. Unlike the fetus, a bear's brain does this repeatedly.
In Alzheimer's disease, it's just assumed that the release of tau from microtubules and the death of the neuron are part and parcel of the disease. Maybe it even represents a corruption of the fetal system, where tau is regulated to make possible rapid and extensive remodelling of the nervous system. In the fetal environment, that makes sense. But why do bears (and other hibernators) do the same thing?
There's no really good answer to that question. You could argue that reduced brain activity during hibernation would be a good thing from an energy point of view, but there's no evidence that hyperphosphorylation would do the trick. There's certainly no need to reprogram, à la fetal brains, because nothing's happening! It's a pretty dull five months.
Bears seem to emerge from their hibernation cognitively intact, although experiments on some rodents that hibernate deeply have shown they're not that smart when they emerge. They weren't that smart when they went in, either. But they were smarter. (They recover quickly.)
So where does this strange phenomenon lead? That's another good question. Some see there is a possibility that hibernation could be a model — a proxy — for Alzheimer's. But first we have to figure out exactly why and how brains do what they do. Fascinating as the brain chemistry of hibernation may be, my feeling is we have a long way to go to determine if it's also promising.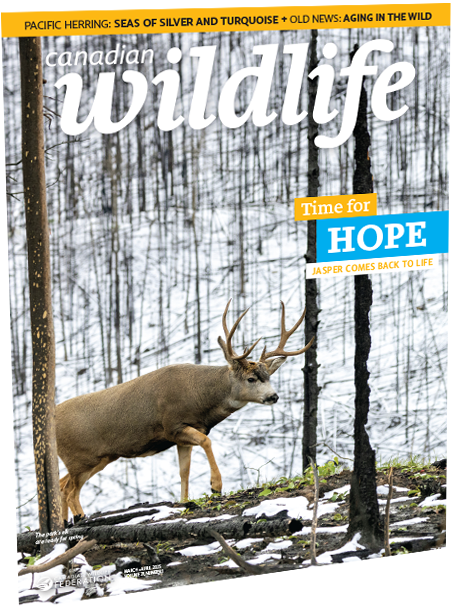 Reprinted from Canadian Wildlife magazine. Get more information or subscribe now! Now on newsstands! Or, get your digital edition today!