March 1, 2014
By Cooper Langford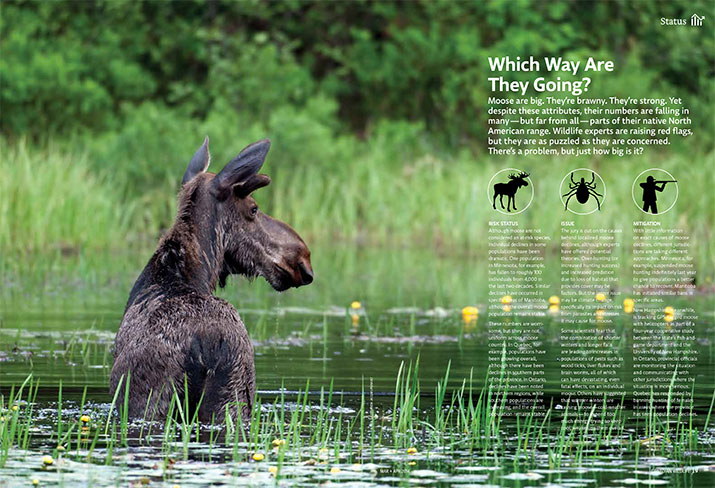 There's a problem with moose. Wildlife experts are as puzzled as they are concerned.
| | | |
| --- | --- | --- |
| RISK STATUS | THE ISSUE | MITIGATION |
| Although moose are not considered an at-risk species, individual declines in some populations have been dramatic. One population in Minnesota, for example, has fallen to roughly 100 individuals from 4,000 in the last two decades. Similar declines have occurred in specific areas of Manitoba, although the overall moose population remains stable. These numbers are worrisome, but they are not uniform across moose country. In Quebec, for example, populations have been growing overall, although there have been declines in southern parts of the province. In Ontario, declines have been noted in northern regions, while southern populations are increasing, and the overall population remains stable. | The jury is out on the causes behind localized moose declines, although experts have offered potential theories. Over-hunting (or increased hunting success) and increased predation due to loss of habitat that provides cover may be factors. But the larger issue may be climate change, specifically its impact on risk from parasites and stresses it may cause for moose. Some scientists fear that the combination of shorter winters and longer falls are leading to increases in populations of pests such as wood ticks, liver flukes and brain worms, all of which can have devastating, even fatal effects, on an individual moose. Others have suggested that warmer winters are causing moose — cold-weather animals — to expend too much energy trying to keep cool, weakening them overall. | With little information on exact causes of moose declines, different jurisdictions are taking different approaches. Minnesota, for example, suspended moose hunting indefinitely last year to give populations a better chance to recover. Manitoba has initiated similar bans in specific areas. New Hampshire, meanwhile, is tracking GPS-tagged moose with helicopters as part of a four-year cooperative study between the state's fish-andgame department and the University of New Hampshire. In Ontario, provincial officials are monitoring the situation and communicating with other jurisdictions where the situation is more serious. Quebec has responded by banning hunting of females in areas where the province has seen population declines. |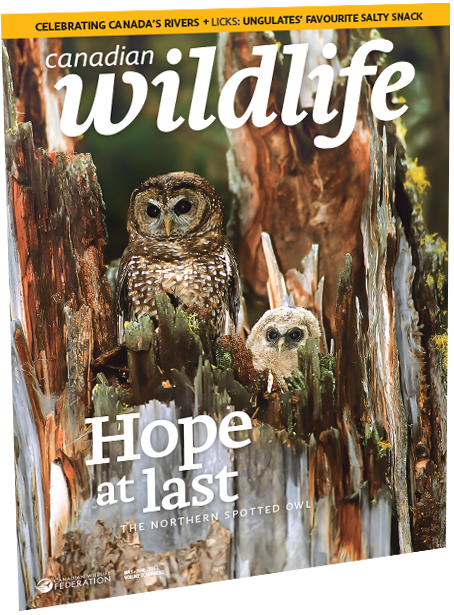 Reprinted from Canadian Wildlife magazine. Get more information or subscribe now! Now on newsstands! Or, get your digital edition today!