March 1, 2014
By Cooper Langford Photo by Aaron McKenzie Fraser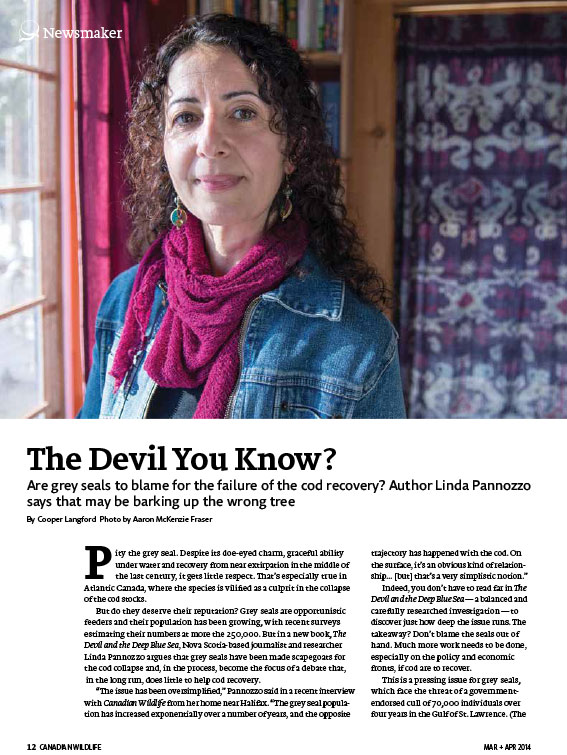 Are grey seals to blame for the failure of the cod recovery? Author Linda Pannozzo says that may be barking up the wrong tree
Pity the grey seal. Despite its doe-eyed charm, graceful ability under water and recovery from near extirpation in the middle of the last century, it gets little respect. That's especially true in Atlantic Canada, where the species is vilified as a culprit in the collapse of the cod stocks.
But do they deserve their reputation? Grey seals are opportunistic feeders and their population has been growing, with recent surveys estimating their numbers at more the 250,000. But in a new book, The Devil and the Deep Blue Sea, Nova Scotia-based journalist and researcher Linda Pannozzo argues that grey seals have been made scapegoats for the cod collapse and, in the process, become the focus of a debate that, in the long run, does little to help cod recovery.
"The issue has been oversimplified," Pannozzo said in a recent interview with Canadian Wildlife from her home near Halifax. "The grey seal population has increased exponentially over a number of years, and the opposite trajectory has happened with the cod. On the surface, it's an obvious kind of relationship… [but] that's a very simplistic notion."
Indeed, you don't have to read far in The Devil and the Deep Blue Sea — a balanced and carefully researched investigation — to discover just how deep the issue runs. The takeaway? Don't blame the seals out of hand. Much more work needs to be done, especially on the policy and economic fronts, if cod are to recover.
This is a pressing issue for grey seals, which face the threat of a governmentendorsed cull of 70,000 individuals over four years in the Gulf of St. Lawrence. (The cull has not gone forward so far, likely because there is little market for grey seal products.) Yet, as Pannozzo notes, many members of the scientific community question the assumption that culling seals will result in a cod recovery. Marine food webs are complex systems, and tinkering with individual elements can lead to unintended consequences.

For example, it's true that grey seals eat cod, at least to a degree. But they prey on many animals, including some that may also eat cod, particularly juveniles, which are more vulnerable than adults. Reducing the number of seals could conceivably create opportunities for more voracious cod predators. The problem is, no one knows for sure. "We can't see what's going on under the ocean," Pannozzo says. "It's only recently that scientists have started discovering what grey seals even do when they are not sitting on rock or a beach somewhere."

At the same time, the seal issue draws attention away from other factors that could be affecting cod recoveries, such as climate change, pollution, destructive fishing practices, bycatch and habitat disturbance. Although these issues have been raised in debates over cod stocks and grey seals, they have never gained any real traction, in some cases because of a lack of data or research.
To put that another way, there are more questions than answers. In Pannozzo's view, though, perhaps the largest roadblock in cod recovery is the lack of political will to take action. The Committee on the Status of Endangered Wildlife in Canada, for example, assesses cod as "endangered," but has yet to be listed under the Species at Risk Act, which would have consequences for economic activity in the region. Likewise, the creation of marine protected areas or tighter regulation of various industries could be tough sells for similar reasons.

In the meantime, grey seals shoulder the lion's share of the blame for the state of the Atlantic cod stocks. Yes, they eat the fish, but "scapegoating is a response to scarcity," Pannozzo says, not a solution to the problem itself. That lies in conservation planning based on a more holistic view of the marine ecosystem — something that's lacking in the current debate.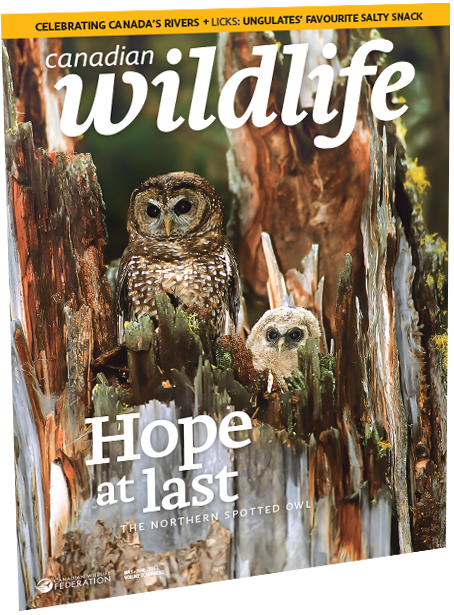 Reprinted from Canadian Wildlife magazine. Get more information or subscribe now! Now on newsstands! Or, get your digital edition today!