January 1, 2018
By Matthew Church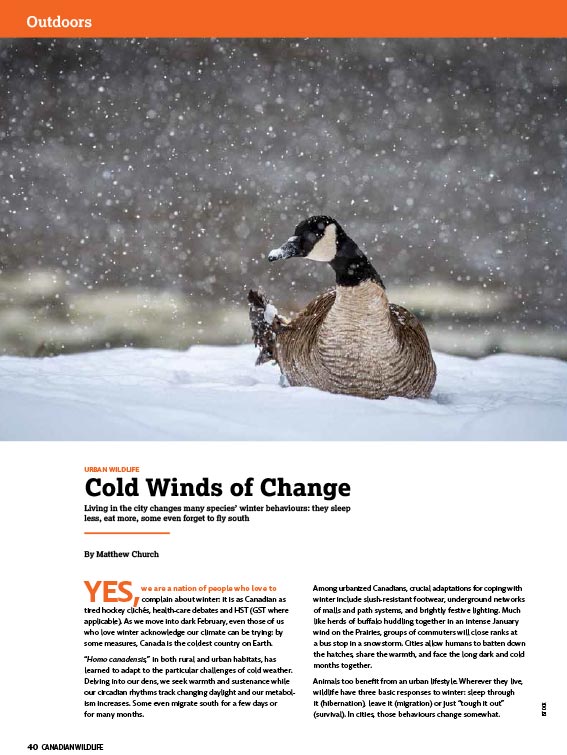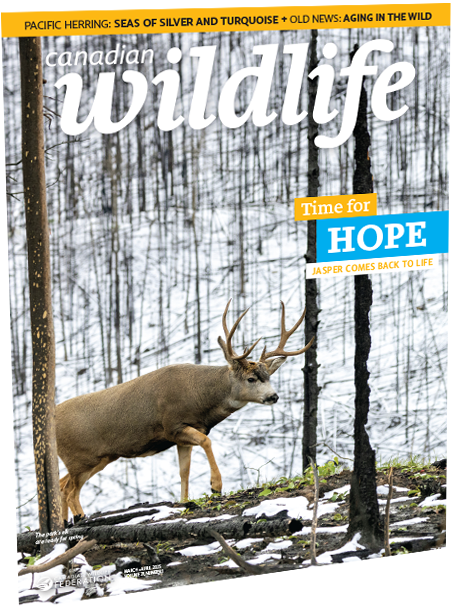 Reprinted from Canadian Wildlife magazine. Get more information or subscribe now! Now on newsstands! Or, get your digital edition today!
Living in the city changes many species' winter behaviours: they sleep less, eat more, some even forget to fly south
Yes, we are a nation of people who love to complain about winter: it is as Canadian as tired hockey clichés, health-care debates and HST (GST where applicable). As we move into dark February, even those of us who love winter acknowledge our climate can be trying: by some measures, Canada is the coldest country on Earth. "Homo canadensis," in both rural and urban habitats, has learned to adapt to the particular challenges of cold weather. Delving into our dens, we seek warmth and sustenance while our circadian rhythms track changing daylight and our metabolism increases. Some even migrate south for a few days or for many months.
Among urbanized Canadians, crucial adaptations for coping with winter include slush-resistant footwear, underground networks of malls and path systems, and brightly festive lighting. Much like herds of buffalo huddling together in an intense January wind on the Prairies, groups of commuters will close ranks at a bus stop in a snowstorm. Cities allow humans to batten down the hatches, share the warmth, and face the long dark and cold months together.
Animals too benefit from an urban lifestyle. Wherever they live, wildlife have three basic responses to winter: sleep through it (hibernation), leave it (migration) or just "tough it out" (survival). In cities, those behaviours change somewhat. In the coldest months, some species head indoors and thrive on human warmth and detritus. Cities offer plenty of options. Like their country cousins, most citified mammals looking to doze their way through winter enter into a sort of "hibernation-lite," not the full-on system-slowdown we associate with bears in the wild. These creatures burrow down into well-hidden dens they've made or hijacked, falling into deep sleep interrupted occasionally to eat, defecate and climb out to find food and water during milder spells. This torpor is effective in reducing energy consumption and waiting out really cold or scarce times and is the norm among urbanites such as hares, squirrels and opossums. In cities, these animals are awake more and tend to emerge much more frequently than their rural counterparts, thanks to the few extra degrees of warmth and always available food sources.
True hibernators are the ones that go into an almost coma-like state, drawing from stored fat the energy necessary for life in a suspended state. There are various cues that signal to the animal when to start and when to end hibernation, including temperature and food supply. As a result, in cities hibernation periods tend to be much shorter than in the country. There are a few in Canadian cities: bats hang around for months on end sleeping in attics and industrial buildings, and some chipmunks hibernate, although they wake periodically to eat.
Then there's the woodchuck (Marmota monax, also known as the groundhog). Few urban-dwelling creatures can pack on the pounds like this rodent, making it ideally suited to life in Winnipeg. The capital of Manitoba, at the junction of the Red and Assiniboine rivers, is the coldest city in Canada of more than 100,000 (though not by much — we have some very chilly cities). It has the country's lowest average temperatures and more -30 C days than any other major Canadian city. This is a point of pride to Winnipeggers, but it is a life-and-death struggle for the city's non-human mammals. Thanks to its prodigious capacity to pack on the pounds, the chubby rodent can hibernate well into spring, when vegetation is finally available again in Winnipeg. It is a rare (and foolish) woodchuck that would attempt to mark Groundhog Day at Portage and Main.
The urban experience changes migratory behaviours as well. Birds take note of the abundance and relative ease of life in the city and abandon their travelling ways. It may start as they are headed south: drawn by abundant urban sources of food, water and warmth, they opt to overwinter in northern cities rather than going further on their arduous and risky voyage south. Staying put is safer, so the population of "native migrants" quickly grows. Some of these species eventually abandon their more northern destinations as well, staying in town through spring and summer. They eventually become "resident breeders." Longitudinal studies in northern Europe (some spanning a century) have shown that over multiple generations, species will convert from passerby to resident. You don't have to look any further than the southern cities and towns in eastern Canada: many Canada geese overwinter there (rather than continuing to the U.S. eastern seaboard) before returning north to breed or moult.
Winter in many parts of this country is harsh and demands adaptation. Some Canadian species have evolved to deal with it, and our cities, bulwarks against the cold, are helping send that evolution in new directions. Who knows, as Homo canadensis evolves, perhaps we will eventually stop complaining about the cold.