January 1, 2017
By Canadian Wildlife Staff, Photo Heather Gurney-Burgess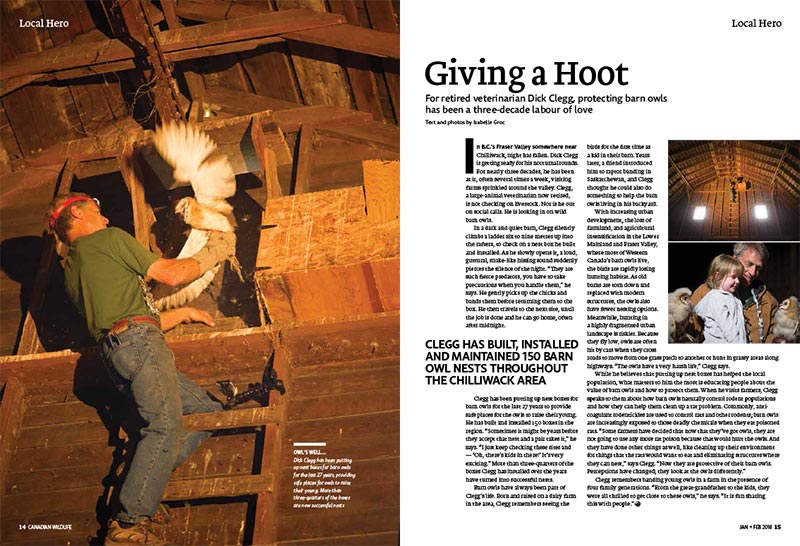 And you can give credit to Marianne and Matt Gee. They're bringing bees to Ottawa — one hive at a time.
When Marianne and Matt Gee discovered bees in the walls of their home in Dunrobin, on the outskirts of Ottawa, they didn't call an exterminator. Instead, Matt scooped out the bees, put them in a box and moved them to the woods on their property. That was Marianne and Matt's first beehive. Today, their company — Gees Bees Honey Co. — is renting and working honeybee hives on properties all over the city. Now that's sweet.
To start, tell us about Gees Bees. What is it that you do?
Marianne: Our main focus is our Host-a-Hive program. We rent hives to people who want to learn about beekeeping and to businesses that want to produce their own honey. It's a full-service rental, basically. We put a hive in a backyard or on a rooftop. Then we come in and care for the bees. Our customers learn about beekeeping and enjoy the honey. We finished our second full summer in 2016 and had 80 customers. This year, we're already headed for 150 customers.
How did you make the jump from hobby beekeeping to starting a bee business?
Matt: About three weeks after I moved our first colony out of the house, a second swarm arrived. I called a beekeeper to give us a hand. She taught me about the queen, how to catch her and how the other bees would follow her. So, we had two hives. Now we have more than 100. The bees found us. I've been in construction my whole life — now I've quit my job and I'm a beekeeper.
Marianne: After we rescued the bees at our house, we figured there might be other people with similar issues. Sure enough, every summer we'd rescue about 10 colonies out of people's houses, sheds and trees. That's how we started building our apiary and meeting people who were interested in beekeeping but didn't know how to get started. That's how we got the idea for Host-a-Hive.
Your work supports pollinator conservation. When did that become a focus for you?
Marianne: When we discovered that first colony, about seven years ago, we already knew that bees and pollinators were in trouble, so it was there from the beginning. Matt: Eventually, we bought a 25-acre property that had all kinds of wildflowers growing on it. We moved our bees up there and started planting more flowers. We just figured it would be great to have a place that was full of butterflies and bees without pesticides.
Is this the main area for your beekeeping?
Marianne: Right now, due to the demand, our main area is in people's backyards. It's a way to get people into the hobby, and it's better for the honeybees. In commercial operations, you have all the bees together. With our program, the bees are spread across the city. It's closer to the way bees would live in the wild.
Sounds like you have plans for Gees Bees. So, what happens next?
Marianne: The major focus is expanding our Host-a-Hive program here in Ottawa and offering courses. We also have a partnership with a local farmer to look at a beefriendly farmer program. Then, in the longer term, there's our pollinator sanctuary, where we envision lots of native plants, flowers, milkweed and trees that are best for pollinators and that people can visit.
Matt: Our vision is, instead of one farmer with 1,000 beehives, we'd like to see 1,000 people with one beehive. We're delighted when our customers become beekeepers on their own. I teach them what's involved while they're renting, and then they have the option to buy out their hives. That's another beekeeper set up. And that's what we're all about.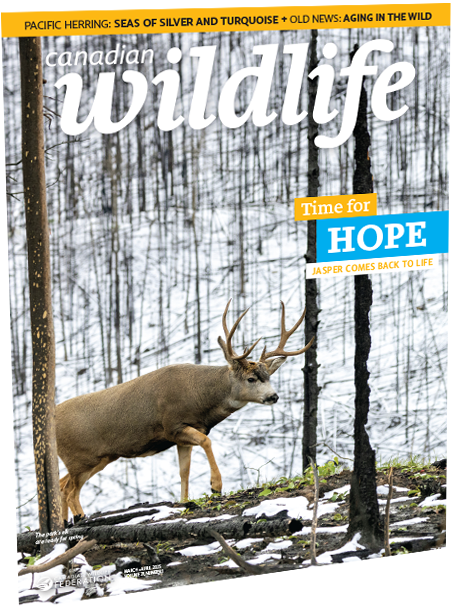 Reprinted from Canadian Wildlife magazine. Get more information or subscribe now! Now on newsstands! Or, get your digital edition today!