January 1, 2017
By David Bird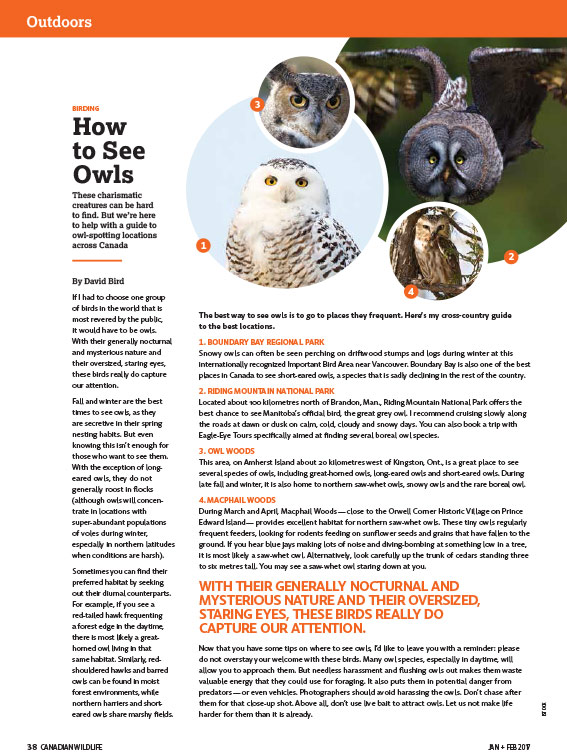 These charismatic creatures can be hard to find. But we're here to help with a guide to owl-spotting locations across Canada
If I had to choose one group of birds in the world that is most revered by the public, it would have to be owls.
With their generally nocturnal and mysterious nature and their oversized, staring eyes, these birds really do capture our attention.
Fall and winter are the best times to see owls, as they are secretive in their spring nesting habits. But even knowing this isn't enough for those who want to see them.
With the exception of longeared owls, they do not generally roost in flocks (although owls will concentrate in locations with super-abundant populations of voles during winter, especially in northern latitudes when conditions are harsh).
Sometimes you can find their preferred habitat by seeking out their diurnal counterparts. For example, if you see a red-tailed hawk frequenting a forest edge in the daytime, there is most likely a greathorned owl living in that same habitat. Similarly, redshouldered hawks and barred owls can be found in moist forest environments, while northern harriers and shorteared owls share marshy fields.
The best way to see owls is to go to places they frequent. Here's my cross-country guide to the best locations.
1. BOUNDARY BAY REGIONAL PARK
Snowy owls can often be seen perching on driftwood stumps and logs during winter at this internationally recognized Important Bird Area near Vancouver. Boundary Bay is also one of the best places in Canada to see short-eared owls, a species that is sadly declining in the rest of the country.
2. RIDING MOUNTAIN NATIONAL PARK
Located about 100 kilometres north of Brandon, Man., Riding Mountain National Park offers the best chance to see Manitoba's official bird, the great grey owl. I recommend cruising slowly along the roads at dawn or dusk on calm, cold, cloudy and snowy days. You can also book a trip with Eagle-Eye Tours specifically aimed at finding several boreal owl species.
3. OWL WOODS
This area, on Amherst Island about 20 kilometres west of Kingston, Ont., is a great place to see several species of owls, including great-horned owls, long-eared owls and short-eared owls. During late fall and winter, it is also home to northern saw-whet owls, snowy owls and the rare boreal owl.
4. MACPHAIL WOODS
During March and April, Macphail Woods — close to the Orwell Corner Historic Village on Prince Edward Island — provides excellent habitat for northern saw-whet owls. These tiny owls regularly frequent feeders, looking for rodents feeding on sunflower seeds and grains that have fallen to the ground. If you hear blue jays making lots of noise and diving-bombing at something low in a tree, it is most likely a saw-whet owl. Alternatively, look carefully up the trunk of cedars standing three to six metres tall. You may see a saw-whet owl staring down at you.
Now that you have some tips on where to see owls, I'd like to leave you with a reminder: please do not overstay your welcome with these birds. Many owl species, especially in daytime, will allow you to approach them. But needless harassment and flushing owls out makes them waste valuable energy that they could use for foraging. It also puts them in potential danger from predators — or even vehicles. Photographers should avoid harassing the owls. Don't chase after them for that close-up shot. Above all, don't use live bait to attract owls. Let us not make life harder for them than it is already.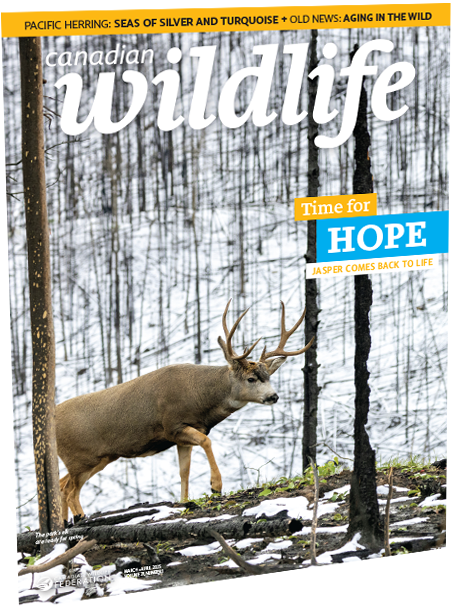 Reprinted from Canadian Wildlife magazine. Get more information or subscribe now! Now on newsstands! Or, get your digital edition today!