January 1, 2017
By Alanna Mitchell, Illustration by Pete Ryan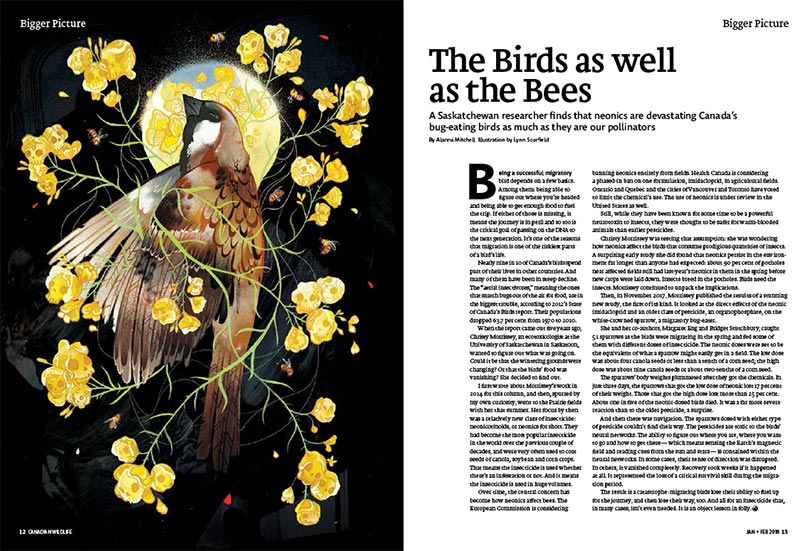 Where did malaria come from? That's important to those seeking to eradicate the disease. The secret may be revealed in fossilized tree resin.
Tracking the mysterious provenance of malaria takes you on a tangled journey from the origins of insects to the making of ambers in ancient tropical forests to the death of the dinosaurs.
In purely human terms, that journey matters because 214 million people got sick with malaria in 2015 (the latest year for figures), a disease usually accompanied by high fever, vomiting and weeks of lethargy.
More than 400,000 of those died, most in Africa. And while the annual death rate from malaria has been dropping in recent years, it still means that more than three billion are at risk of getting a disease to which there is no natural immunity. So the World Health Organization recently reaffirmed the goal of eliminating malaria — a task that's manifestly easier to do if you know where it came from in the first place.
This is where the fascinating work of the paleoentomologist George Poinar, Jr. of Oregon State University comes in. Poinar has gone down in cultural history as the prototype for the scientists in Steven Spielberg's mega-hit movie Jurassic Park who clone dinosaurs after getting their DNA from the stomachs of mosquitoes preserved in amber.
Poinar has spent a lifetime looking at amber, not because he's trying to clone dinosaurs, but rather because he's trying to recreate the tropical forests they lived in. It's a tough task because organisms in hot, wet places like the tropics tend to simply rot rather than stick around long enough to form fossils. For that reason, Poinar and others in his field look instead at insects preserved in amber, the fossilized resin of tropical trees.
For one thing, insects in amber are typically preserved whole, not compressed like most fossils in sedimentary layers. They're often preserved in dazzling technicolour with intricate patterns. More important, they are often present along with other creatures caught in the resin at the same time. A mini-ecosystem in a drop of amber.
Poinar's work with amber has been raising eyebrows for years. He discovered the first fossil record of modern malaria in a bit of amber in the Dominican Republic that was between 15 million and 20 million years old. In itself, that broke ground. Scientists have long debated the origins of malaria, some putting it at only 15,000 years old. The first human infection seems to have been in China in 2700 BC. Malaria is thought to have helped the Roman Empire fall. So, Poinar's find put the birth of malaria much earlier than tradition dictated.

Enter Poinar's biting midge and its deadly protozoan. Among its first victims 100 million years ago were likely dinosaurs. Malaria may have helped wipe them out.
Poinar's latest finding, published in an article in the journal American Entomologist in 2016, puts it earlier still. He discovered biting midges in amber from at least 100 million years ago that carried ancestors of the parasitic one-celled protozoan that causes malaria today.
His theory is that modern malaria evolved from that time. It all hinges on the midge. Protozoa can only sexually reproduce within an insect. The infected insect then feeds on the blood of a creature with a backbone, spreading the malarial protozoa and causing the vertebrate to fall ill. The insect is the key to the life cycle of the disease.
But that's been the root of the problem for paleoentomologists in their quest to date the origin of malaria. They haven't been able to decide when insects first showed up on the planet. (In a book review a few years ago, Poinar tells of one scientist who was so confused about when insects first appeared that he took his fossils to a clairvoyant to try to find an answer.)
Enter Poinar's biting midge and its deadly protozoan. Among its first reptilian victims 100 million years ago were likely dinosaurs, Poinar believes. Dinosaurs would have been infected, sickened, perhaps even whole species weakened as malaria spread. In fact, malaria could have contributed to the global wipeout of dinosaurs.
The implication is that insects, unicellular infectors and diseases of the backboned may have all appeared on Earth at roughly the same time, spurring each other on.
Over the eons, the original malarial protozoa evolved into the Plasmodium strains that mainly cause the disease today; the insects evolved into the Anopheles types of mosquitoes that are now malaria's main vectors to humans. In effect, it was a co-evolution across many species through vast amounts of time that allowed malaria to become the human scourge that it has been for millennia.
It's an object lesson in bad luck. Malaria may have been a plague in play for millions upon millions of years, shaping evolution in silent, invisible, previously unknowable ways, determining in a single insect bite which species lived and which died out.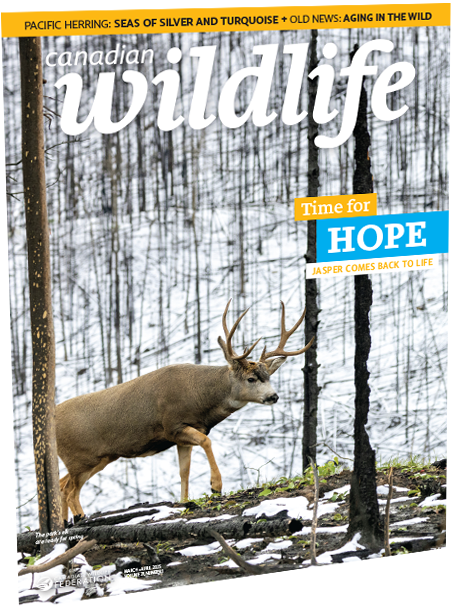 Reprinted from Canadian Wildlife magazine. Get more information or subscribe now! Now on newsstands! Or, get your digital edition today!
Related Stories