January 1, 2016
By Canadian Wildlife Staff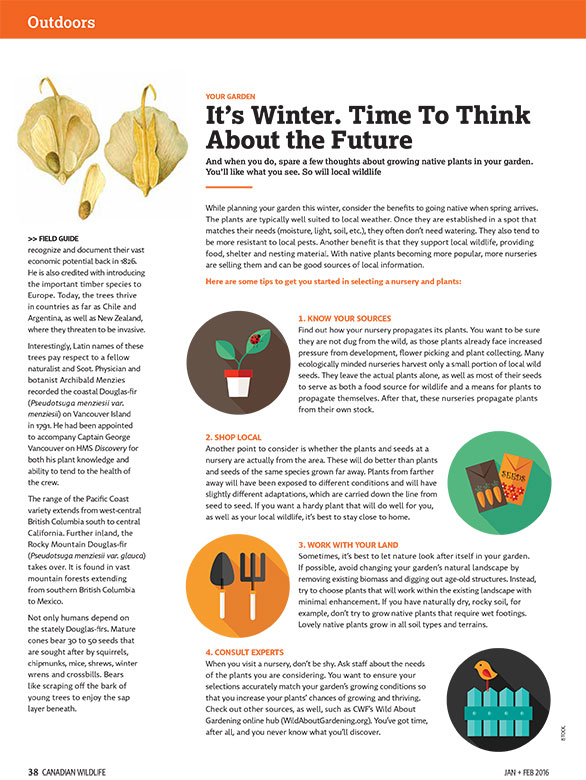 And when you do, spare a few thoughts about growing native plants in your garden. You'll like what you see. So will local wildlife.
While planning your garden this winter, consider the benefits to going native when spring arrives. The plants are typically well suited to local weather. Once they are established in a spot that matches their needs (moisture, light, soil, etc.), they often don't need watering. They also tend to be more resistant to local pests. Another benefit is that they support local wildlife, providing food, shelter and nesting material. With native plants becoming more popular, more nurseries are selling them and can be good sources of local information.
Here are some tips to get you started in selecting a nursery and plants:
1. KNOW YOUR SOURCES
Find out how your nursery propagates its plants. You want to be sure they are not dug from the wild, as those plants already face increased pressure from development, flower picking and plant collecting. Many ecologically minded nurseries harvest only a small portion of local wild seeds. They leave the actual plants alone, as well as most of their seeds to serve as both a food source for wildlife and a means for plants to propagate themselves. After that, these nurseries propagate plants from their own stock.
2. SHOP LOCAL
Another point to consider is whether the plants and seeds at a nursery are actually from the area. These will do better than plants and seeds of the same species grown far away. Plants from farther away will have been exposed to different conditions and will have slightly different adaptations, which are carried down the line from seed to seed. If you want a hardy plant that will do well for you, as well as your local wildlife, it's best to stay close to home.
3. WORK WITH YOUR LAND
Sometimes, it's best to let nature look after itself in your garden. If possible, avoid changing your garden's natural landscape by removing existing biomass and digging out age-old structures. Instead, try to choose plants that will work within the existing landscape with minimal enhancement. If you have naturally dry, rocky soil, for example, don't try to grow native plants that require wet footings. Lovely native plants grow in all soil types and terrains.
4. CONSULT EXPERTS
When you visit a nursery, don't be shy. Ask staff about the needs of the plants you are considering. You want to ensure your selections accurately match your garden's growing conditions so that you increase your plants' chances of growing and thriving. Check out other sources, as well, such as CWF's Wild About Gardening online hub (WildAboutGardening.org). You've got time, after all, and you never know what you'll discover.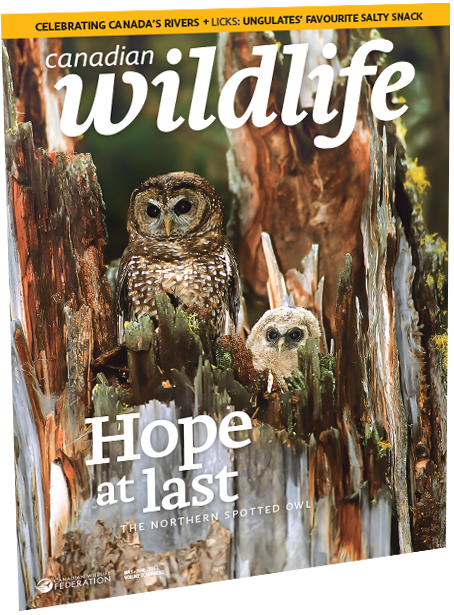 Reprinted from Canadian Wildlife magazine. Get more information or subscribe now! Now on newsstands! Or, get your digital edition today!