January 1, 2016
By Canadian Wildlife Staff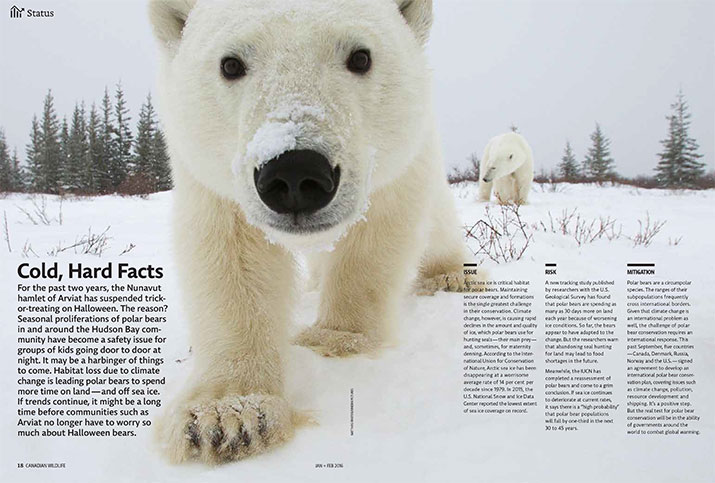 Cold Hard Facts

For the past two years, the Nunavut hamlet of Arviat has suspended trickor- treating on Halloween. The reason? Seasonal proliferations of polar bears in and around the Hudson Bay community have become a safety issue for groups of kids going door to door at night. It may be a harbinger of things to come. Habitat loss due to climate change is leading polar bears to spend more time on land — and off sea ice. If trends continue, it might be a long time before communities such as Arviat no longer have to worry so much about Halloween bears.
ISSUE

RISK


MITIGATION

Arctic sea ice is critical habitat for polar bears. Maintaining secure coverage and formations is the single greatest challenge in their conservation. Climate change, however, is causing rapid declines in the amount and quality of ice, which polar bears use for hunting seals — their main prey — and, sometimes, for maternity denning. According to the International Union for Conservation of Nature, Arctic sea ice has been disappearing at a worrisome average rate of 14 per cent per decade since 1979. In 2015, the U.S. National Snow and Ice Data Center reported the lowest extent of sea ice coverage on record.

A new tracking study published by researchers with the U.S. Geological Survey has found that polar bears are spending as many as 30 days more on land each year because of worsening ice conditions. So far, the bears appear to have adapted to the change. But the researchers warn that abandoning seal hunting for land may lead to food shortages in the future.

Meanwhile, the IUCN has completed a reassessment of polar bears and come to a grim conclusion. If sea ice continues to deteriorate at current rates, it says there is a "high probability" that polar bear populations will fall by one-third in the next 30 to 45 years.

Polar bears are a circumpolar species. The ranges of their subpopulations frequently cross international borders. Given that climate change is an international problem as well, the challenge of polar bear conservation requires an international response. This past September, five countries — Canada, Denmark, Russia, Norway and the U.S. — signed an agreement to develop an international polar bear conservation plan, covering issues such as climate change, pollution, resource development and shipping. It's a positive step. But the real test for polar bear conservation will be in the ability of governments around the world to combat global warming.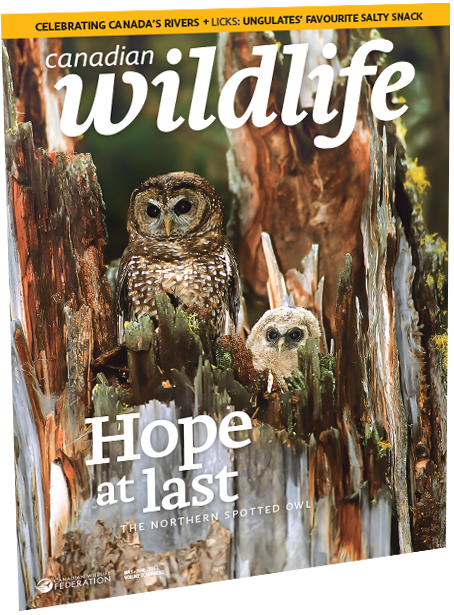 Reprinted from Canadian Wildlife magazine. Get more information or subscribe now! Now on newsstands! Or, get your digital edition today!
Watch this video about polar bears!