January 1, 2016
By Nicole Schmidt Illustration by Jacqui Oakley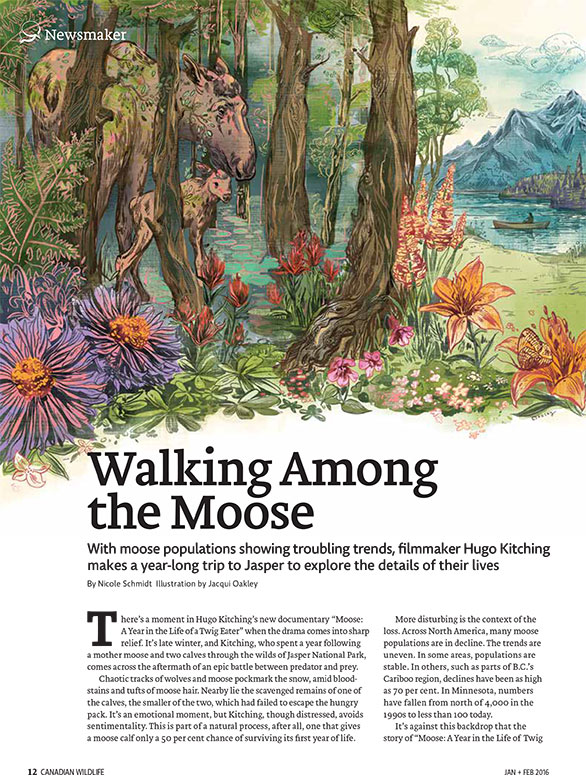 With moose populations showing troubling trends, filmmaker Hugo Kitching makes a year-long trip to Jasper to explore the details of their lives.
There's a moment in Hugo Kitching's new documentary "Moose: A Year in the Life of a Twig Eater" when the drama comes into sharp relief. It's late winter, and Kitching, who spent a year following a mother moose and two calves through the wilds of Jasper National Park, comes across the aftermath of an epic battle between predator and prey.
Chaotic tracks of wolves and moose pockmark the snow, amid bloodstains and tufts of moose hair. Nearby lie the scavenged remains of one of the calves, the smaller of the two, which had failed to escape the hungry pack. It's an emotional moment, but Kitching, though distressed, avoids sentimentality. This is part of a natural process, after all, one that gives a moose calf only a 50 per cent chance of surviving its first year of life.
More disturbing is the context of the loss. Across North America, many moose populations are in decline. The trends are uneven. In some areas, populations are stable. In others, such as parts of B.C.'s Cariboo region, declines have been as high as 70 per cent. In Minnesota, numbers have fallen from north of 4,000 in the 1990s to less than 100 today.
It's against this backdrop that the story of "Moose: A Year in the Life of Twig Eater" unfolds, not as an exploration of the state of moose populations, but as an intimate portrait of what it takes for a young moose to survive in the wild at all. And in that respect, Kitching's film is a remarkable success.
"Your sense of wonder and respect for the animals grows because you really get to have a sense of what their day is like throughout the various seasons," Kitching says of his experience in making the film. "To see what they have to live through every day, it's impressive."
To produce "A Year in the Life of a Twig Eater," Kitching packed up his green SUV in April 2014 and made his way from Toronto to Jasper, to witness the first year of a moose calf's life. The first challenge was to find just such a moose in the 11,000-squarekilometre park.
With a small film crew in tow, Kitching narrowed his focus to Maligne Valley and spent nearly three weeks following tracks before coming across a mother with a fewdays- old calf. (Later in the year, a second, younger calf joins the story, only to meet its death just weeks shy of surviving its first winter.)
The story that follows is one of survival. It begins with the calf — already nimble on its feet — learning to eat and sharing food with its mother in order to absorb bacteria to aid its digestion. It trails the pair through summer as the mother teaches her calf to dive deep in water for nutrientrich aquatic plants and the youngster — gaining a kilogram or more of weight each day — learns about its environment. Finally, it documents the hard times of winter, when deep snow buries all main sources of food, leaving twigs as the only staple for the moose.
By the end of the film, the portrait that emerges of the life of a moose is one of endurance — a struggle made all the more urgent as populations decline. Scientists don't know what is driving the losses at this time, although predation, habitat loss, disease and, ultimately, climate change may be factors.
Kitching's documentary offers a glimpse of what a moose calf needs to survive. "A little luck and really good mom," as he sums it up. That insight may be simple, but it's an important message to share in light of moose conservation challenges ahead.
Watch this video about moose