January 1, 2016
By Canadian Wildlife Staff, Photo by Mike Ford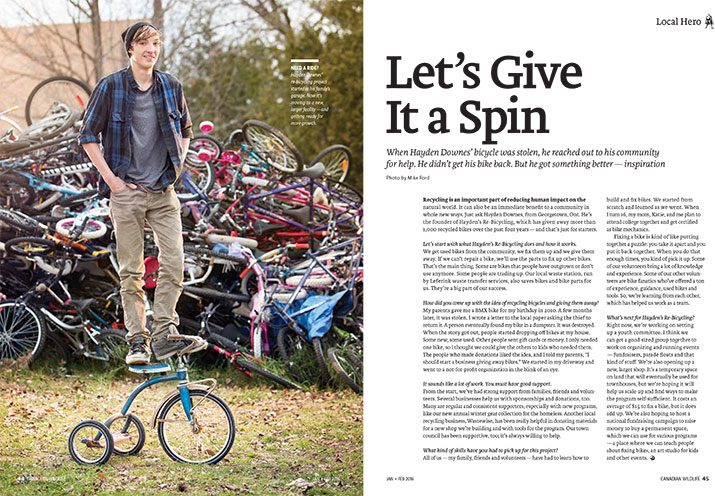 When Hayden Downes' bicycle was stolen, he reached out to his community for help. He didn't get his bike back. But he got something better — inspiration.
Recycling is an important part of reducing human impact on the natural world. It can also be an immediate benefit to a community in whole new ways. Just ask Hayden Downes, from Georgetown, Ont. He's the founder of Hayden's Re-Bicycling, which has given away more than 1,000 recycled bikes over the past four years — and that's just for starters.
Let's start with what Hayden's Re-Bicycling does and how it works.
We get used bikes from the community, we fix them up and we give them away. If we can't repair a bike, we'll use the parts to fix up other bikes. That's the main thing. Some are bikes that people have outgrown or don't use anymore. Some people are trading up. Our local waste station, run by Leferink waste transfer services, also saves bikes and bike parts for us. They're a big part of our success.
How did you come up with the idea of recycling bicycles and giving them away?
My parents gave me a BMX bike for my birthday in 2010. A few months later, it was stolen. I wrote a letter to the local paper asking the thief to return it. A person eventually found my bike in a dumpster. It was destroyed. When the story got out, people started dropping off bikes at my house. Some new, some used. Other people sent gift cards or money. I only needed one bike, so I thought we could give the others to kids who needed them. The people who made donations liked the idea, and I told my parents, "I should start a business giving away bikes." We started in my driveway and went to a not-for-profit organization in the blink of an eye.
It sounds like a lot of work. You must have good support.
From the start, we've had strong support from families, friends and volunteers. Several businesses help us with sponsorships and donations, too. Many are regular and consistent supporters, especially with new programs, like our new annual winter gear collection for the homeless. Another local recycling business, Wastewise, has been really helpful in donating materials for a new shop we're building and with tools for the program. Our town council has been supportive, too; it's always willing to help.
What kind of skills have you had to pick up for this project?
All of us — my family, friends and volunteers — have had to learn how to build and fix bikes. We started from scratch and learned as we went. When I turn 16, my mom, Katie, and me plan to attend college together and get certified as bike mechanics.
Fixing a bike is kind of like putting together a puzzle: you take it apart and you put it back together. When you do that enough times, you kind of pick it up. Some of our volunteers bring a lot of knowledge and experience. Some of our other volunteers are bike fanatics who've offered a ton of experience, guidance, used bikes and tools. So, we're learning from each other, which has helped us work as a team.
What's next for Hayden's Re-Bicycling?
Right now, we're working on setting up a youth committee. I think we can get a good-sized group together to work on organizing and running events — fundraisers, parade floats and that kind of stuff. We're also opening up a new, larger shop. It's a temporary space on land that will eventually be used for townhouses, but we're hoping it will help us scale up and find ways to make the program self-sufficient. It costs an average of $15 to fix a bike, but it does add up. We're also hoping to host a national fundraising campaign to raise money to buy a permanent space, which we can use for various programs — a place where we can teach people about fixing bikes, an art studio for kids and other events.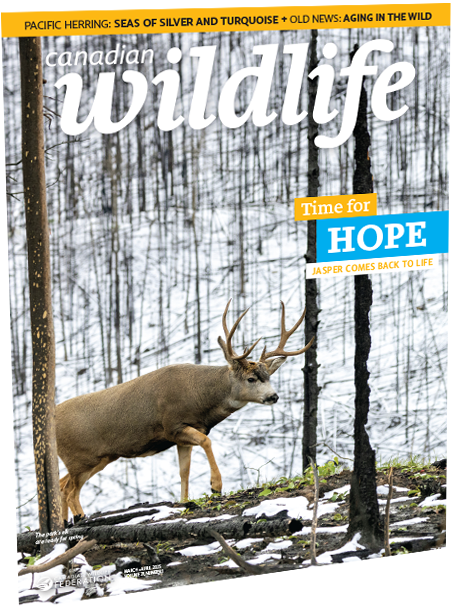 Reprinted from Canadian Wildlife magazine. Get more information or subscribe now! Now on newsstands! Or, get your digital edition today!