January 1, 2016
By Alanna Mitchell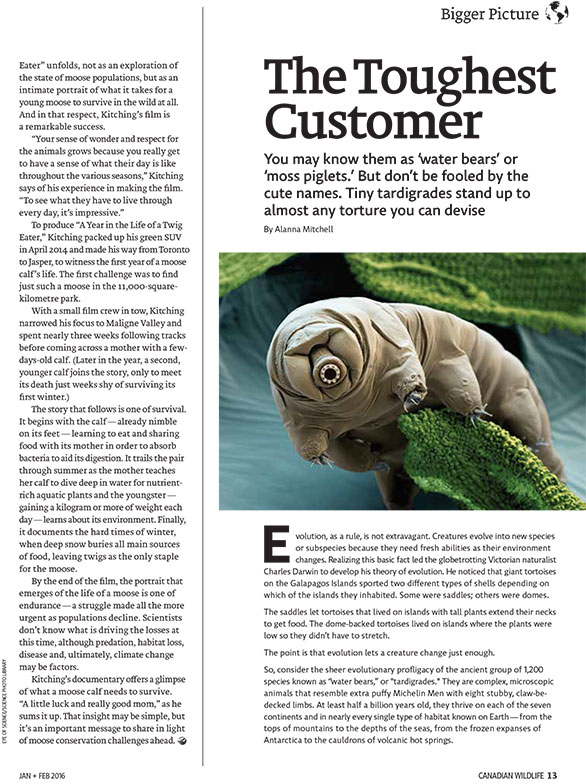 You may know them as 'water bears' or 'moss piglets.' But don't be fooled by the cute names. Tiny tardigrades stand up to almost any torture you can devise.
Evolution, as a rule, is not extravagant. Creatures evolve into new species or subspecies because they need fresh abilities as their environment changes. Realizing this basic fact led the globetrotting Victorian naturalist Charles Darwin to develop his theory of evolution. He noticed that giant tortoises on the Galapagos Islands sported two different types of shells depending on which of the islands they inhabited. Some were saddles; others were domes.
The saddles let tortoises that lived on islands with tall plants extend their necks to get food. The dome-backed tortoises lived on islands where the plants were low so they didn't have to stretch.
The point is that evolution lets a creature change just enough.
So, consider the sheer evolutionary profligacy of the ancient group of 1,200 species known as "water bears," or "tardigrades." They are complex, microscopic animals that resemble extra puffy Michelin Men with eight stubby, claw-bedecked limbs. At least half a billion years old, they thrive on each of the seven continents and in nearly every single type of habitat known on Earth — from the tops of mountains to the depths of the seas, from the frozen expanses of Antarctica to the cauldrons of volcanic hot springs.
Mostly, they live in mosses and lichens, for which they've also been saddled with the moniker "moss piglets."
But that rather unfortunate name belies these creatures' extraordinary superpowers. And those powers have spawned an explosion of recent scientific interest as researchers try to figure out not just what tardigrades can do but how and why.
The tardigrades' most famous trick is to put themselves into states of suspended animation. Scientists call it the "Sleeping Beauty" state, and the animals can do it at any stage of life. They accomplish this feat by shedding about 97 per cent of their tiny bodies' water, pushing their metabolism down to nearly nothing and pulling in upon themselves to make what's known as a "tun."
Once they get the kiss of life from water again, the tardigrades bounce back. It's not uncommon for them to be "asleep," or essentially dead, for a decade. Some have been known to come back after more than a century, wiggling their tiny fat legs in ecstasy after being revived.
But that's just the start. Researchers have devised sadistic experiment after sadistic experiment to test the limits of the sleeping tardigrade. The German Benedictine monk Gilbert Rahm subjected tuns to the scorching temperature of 151 C during experiments in the 1920s. The tardigrades were unfazed, frolicking as if nothing had happened once they hit water again.
Next, the fiendish friar tried cold, eventually immersing them in liquid helium at minus 272 C. No problem for the tardigrades.
The tardigrades continued to survive experiments by scientists in the decades that followed. X-rays? Piece of cake. Harsh chemicals. Yawn. Being frozen for a month and pelted with a cylindrical nylon projectile shot at nearly 20,000 kilometres an hour? Survived.
Even when it came to vacuum hell of outer space with its lethal cosmic radiation, the tardigrades laughed it all off. (The German and Swedish scientists behind a 2007 experiment called their expedition the TARDIS project, after the blue telephone-box-shaped time machine in the British science fiction series "Dr. Who.")
So, tardigrades are resilient — very much so. But how they do it is still unclear. Some tests suggest that tardigrades have a superbly efficient DNA repair kit in each cell. So they sustain damage but fix it right away.
There is also the tantalizing question of why. A few wags suggest that tardigrades are aliens. More seriously, others theorize that tardigrades developed their superpowers in the nascent Tethys Sea of 250 million years ago when Earth had a single continent.
If that's true, and if it's true that evolution is merely elegant but not lavish, then does that imply that the world of 250 million years ago, then in the throes of the biggest extinction spasm of them all, was more extreme than we thought? Could the humble tardigrades be relics of a world so far unimagined?
Or are they proof that every once in a while, the forces of evolution toy with us and set aside their typical efficiency to indulge in the occasional extravagance.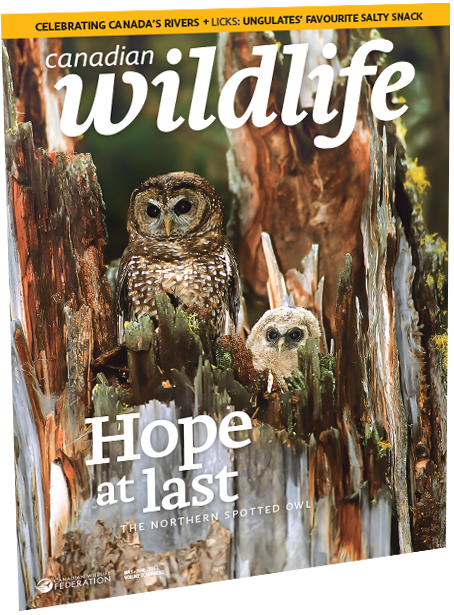 Reprinted from Canadian Wildlife magazine. Get more information or subscribe now! Now on newsstands! Or, get your digital edition today!