January 1, 2015
By Canadian Wildlife Staff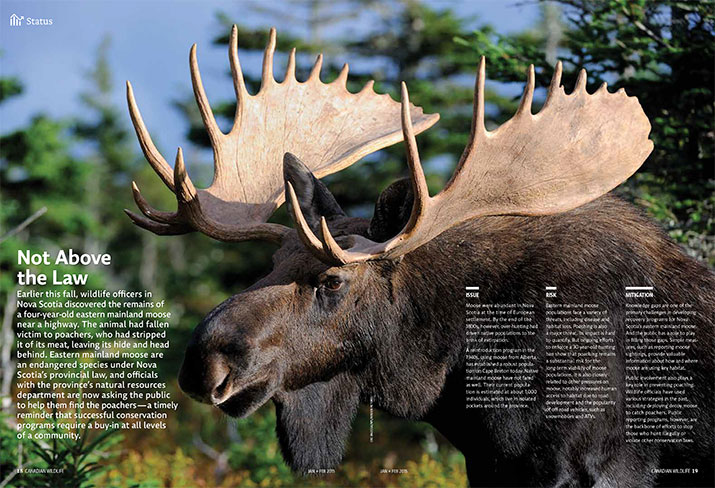 Not Above the Law
Earlier this fall, wildlife officers in Nova Scotia discovered the remains of a four-year-old eastern mainland moose near a highway. The animal had fallen victim to poachers, who had stripped it of its meat, leaving its hide and head behind. Eastern mainland moose are an endangered species under Nova Scotia's provincial law, and officials with the province's natural resources department are now asking the public to help them find the poachers — a timely reminder that successful conservation programs require a buy-in at all levels of a community.
ISSUE

RISK


MITIGATION

Moose were abundant in Nova Scotia at the time of European settlement. By the end of the 1800s, however, over-hunting had driven native populations to the brink of extirpation.

A reintroduction program in the 1940s, using moose from Alberta, has established a robust population on Cape Breton today. Native mainland moose have not fared as well. Their current population is estimated at about 1,000 individuals, which live in isolated pockets around the province.

Eastern mainland moose populations face a variety of threats, including disease and habitat loss. Poaching is also a major threat. Its impact is hard to quantify. But ongoing efforts to enforce a 30-year-old hunting ban show that poaching remains a substantial risk for the long-term viability of moose populations. It is also closely related to other pressures on moose, notably increased human access to habitat due to road development and the popularity of off-road vehicles, such as snowmobiles and ATVs.
Knowledge gaps are one of the primary challenges in developing recovery programs for Nova Scotia's eastern mainland moose. And the public has a role to play in filling those gaps. Simple measures,
such as reporting moose sightings, provide valuable information about how and where moose are using key habitat. Public involvement also plays a key role in preventing poaching. Wildlife officials have used various strategies in the past, including deploying decoy moose to catch poachers.

Public reporting programs, however, are the backbone of efforts to stop those who hunt illegally or violate other conservation laws.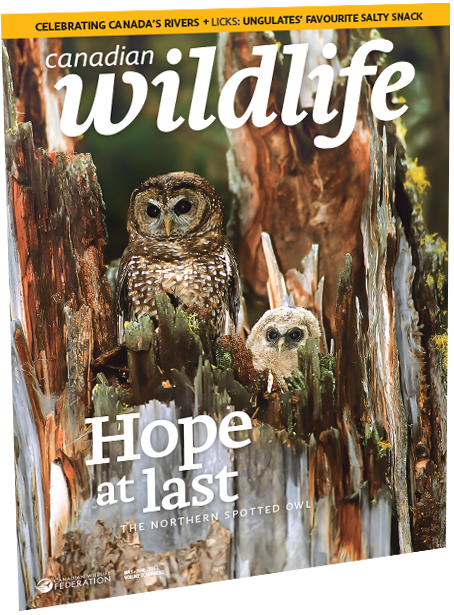 Reprinted from Canadian Wildlife magazine. Get more information or subscribe now! Now on newsstands! Or, get your digital edition today!