January 1, 2015
By Canadian Wildlife Staff Photo by Matt Smith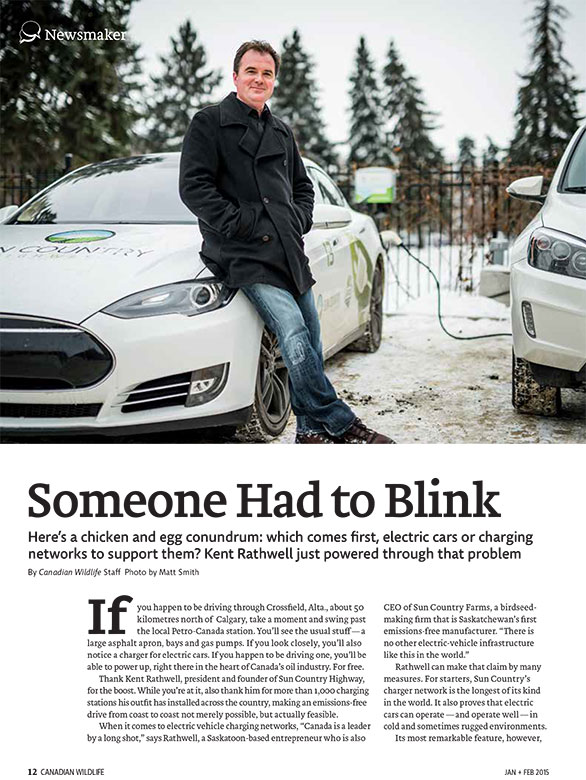 Here's a chicken and egg conundrum: which comes first, electric cars or charging networks to support them? Kent Rathwell just powered through that problem.
you happen to be driving through Crossfield, Alta., about 50 kilometres north of Calgary, take a moment and swing past the local Petro-Canada station. You'll see the usual stuff — a large asphalt apron, bays and gas pumps. If you look closely, you'll also notice a charger for electric cars. If you happen to be driving one, you'll be able to power up, right there in the heart of Canada's oil industry. For free.
Thank Kent Rathwell, president and founder of Sun Country Highway, for the boost. While you're at it, also thank him for more than 1,000 charging stations his outfit has installed across the country, making an emissions-free drive from coast to coast not merely possible, but actually feasible.
When it comes to electric vehicle charging networks, "Canada is a leader by a long shot," says Rathwell, a Saskatoon-based entrepreneur who is also CEO of Sun Country Farms, a birdseedmaking firm that is Saskatchewan's first emissions-free manufacturer. "There is no other electric-vehicle infrastructure like this in the world."
Rathwell can make that claim by many measures. For starters, Sun Country's charger network is the longest of its kind in the world. It also proves that electric cars can operate — and operate well — in cold and sometimes rugged environments.
Its most remarkable feature, however, is how it has been built: by individuals who share Rathwell's vision and joined his effort, one charger at a time. Sun Country Highway provides the chargers — sometimes for free, sometimes at fee for installation, sometimes through sponsorships — to whoever wants them, be they restaurants, hotels, parking lots, retail stores, even gas stations. It's then up to the owners of the charging stations to decide how to use them. Some may offer the service to customers, others may give it away because, well, there's a lot to like about electric cars.
For Rathwell, grassroots development of the network has been critical to its success. Had the job been left to top-down government management, as infrastructure projects usually are, development would have been larger, slower and more complicated. With a bottom-up approach, the network has instead grown organically and proved itself. Thus, future investment, public or private, can be more nimble, targeted and likely to succeed.
More important, though, the highway breaks through a major challenge in the broader adoption of electric vehicles. Electric vehicles "have always been around in one shape or form, but not to a big degree," Rathwell says. "Why would anyone build an electric vehicles if there were no place to charge them? And why would you put chargers out there if there were no electric vehicles? Somebody had to blink."
And so, Rathwell and his group blinked, and continue to do so. The Sun Country Highway — celebrated in 2013 and 2014 with the cross-country E-Mazing Race events — is expanding rapidly, and Rathwell is developing business plans to make its ongoing work economically self-sustaining. As for the network itself, it is making inroads in the U.S., especially along the Pacific Coast. In November, Sun Country also announced a partnership to bring its model to Iceland.
For Rathwell, that's all good news for the future of electric transportation. More importantly, though, he sees it as a message of hope. "This was built out by average people, small business and families," he says. "If average people can do this, what else can they do?"