January 1, 2015
By Canadian Wildlife Staff Photograph by TJ Watt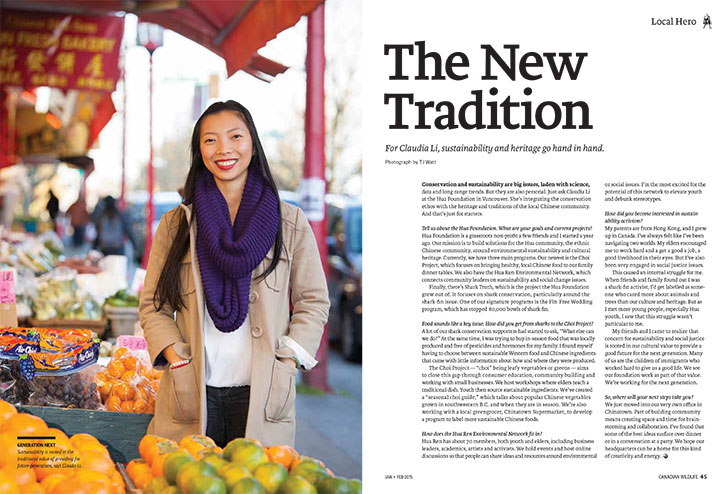 For Claudia Li, sustainability and heritage go hand in hand.
Conservation and sustainability are big issues, laden with science, data and long-range trends. But they are also personal. Just ask Claudia Li at the Hua Foundation in Vancouver. She's integrating the conservation ethos with the heritage and traditions of the local Chinese community. And that's just for starters.
Tell us about the Hua Foundation. What are your goals and current projects?
Hua Foundation is a grassroots non-profit a few friends and I started a year ago. Our mission is to build solutions for the Hua community, the ethnic Chinese community, around environmental sustainability and cultural heritage. Currently, we have three main programs. Our newest is the Choi Project, which focuses on bringing healthy, local Chinese food to our family dinner tables. We also have the Hua Ren Environmental Network, which connects community leaders on sustainability and social change issues. Finally, there's Shark Truth, which is the project the Hua Foundation grew out of. It focuses on shark conservation, particularly around the shark-fin issue. One of our signature programs is the Fin-Free Wedding program, which has stopped 80,000 bowls of shark fin.
Food sounds like a key issue. How did you get from sharks to the Choi Project?
A lot of our shark conservation supporters had started to ask, "What else can we do?" At the same time, I was trying to buy in-season food that was locally produced and free of pesticides and hormones for my family. I found myself having to choose between sustainable Western food and Chinese ingredients that came with little information about how and where they were produced.
The Choi Project — "choi" being leafy vegetables or greens — aims to close this gap through consumer education, community building and working with small businesses. We host workshops where elders teach a traditional dish. Youth then source sustainable ingredients. We've created a "seasonal choi guide," which talks about popular Chinese vegetables grown in southwestern B.C. and when they are in season. We're also working with a local greengrocer, Chinatown Supermarket, to develop a program to label more sustainable Chinese foods.
How does the Hua Ren Environmental Network fit in?
Hua Ren has about 70 members, both youth and elders, including business leaders, academics, artists and activists. We hold events and host online discussions so that people can share ideas and resources around environmental or social issues. I'm the most excited for the potential of this network to elevate youth and debunk stereotypes.
How did you become interested in sustainability activism?
My parents are from Hong Kong, and I grew up in Canada. I've always felt like I've been navigating two worlds. My elders encouraged me to work hard and a get a good a job, a good livelihood in their eyes. But I've also been very engaged in social justice issues.
This caused an internal struggle for me. When friends and family found out I was a shark-fin activist, I'd get labelled as someone who cared more about animals and trees than our culture and heritage. But as I met more young people, especially Hua youth, I saw that this struggle wasn't particular to me.
My friends and I came to realize that concern for sustainability and social justice is rooted in our cultural value to provide a good future for the next generation. Many of us are the children of immigrants who worked hard to give us a good life. We see our foundation work as part of that value. We're working for the next generation.
So, where will your next steps take you?
We just moved into our very own office in Chinatown. Part of building community means creating space and time for brainstorming and collaboration. I've found that some of the best ideas surface over dinner or in a conversation at a party. We hope our headquarters can be a home for this kind of creativity and energy.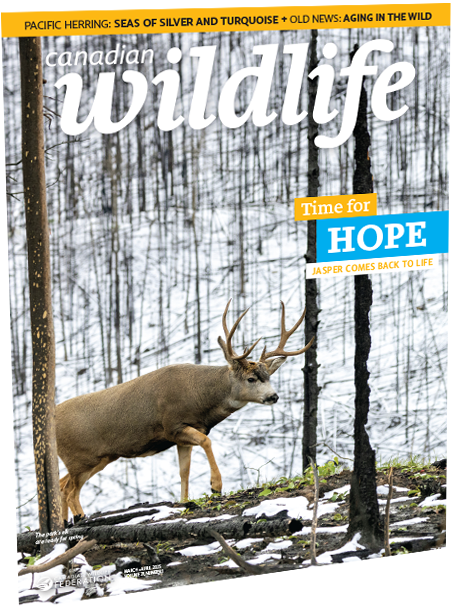 Reprinted from Canadian Wildlife magazine. Get more information or subscribe now! Now on newsstands! Or, get your digital edition today!