January 1, 2015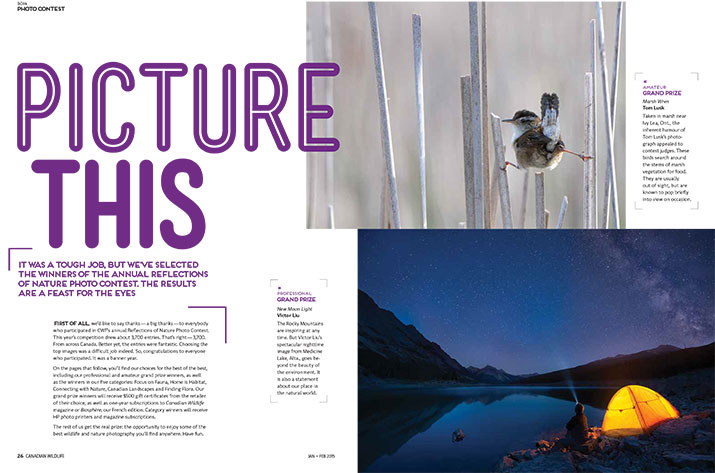 Here's Looking at You!
Firstofall, we'd like to say thanks — a big thanks — to everybody who participated in CWF's annual Reflections of Nature Photo Contest. This year's competition drew about 3,700 entries. That's right — 3,700. From across Canada. Better yet, the entries were fantastic. Choosing the top images was a difficult job indeed. So, congratulations to everyone who participated. It was a banner year.
On the pages that follow, you'll find our choices for the best of the best, including our professional and amateur grand prize winners, as well as the winners in our five categories: Focus on Fauna, Home is Habitat, Connecting with Nature, Canadian Landscapes and Finding Flora. Our grand prize winners will receive $500 gift certificates from the retailer of their choice, as well as one-year subscriptions to Canadian Wildlife magazine or Biosphère, our French edition. Category winners will receive HP photo printers and magazine subscriptions.
The rest of us get the real prize: the opportunity to enjoy some of the best wildlife and nature photography you'll find anywhere. Have fun.
The call went out for entries to CWF's Reflections of Nature photo Enjoy.
Amateur Category




Tom Lusk
Grand Prize Winner

Professional Category




Victor Liu
Grand Prize Winner