January 1, 2014
By Jay Ingram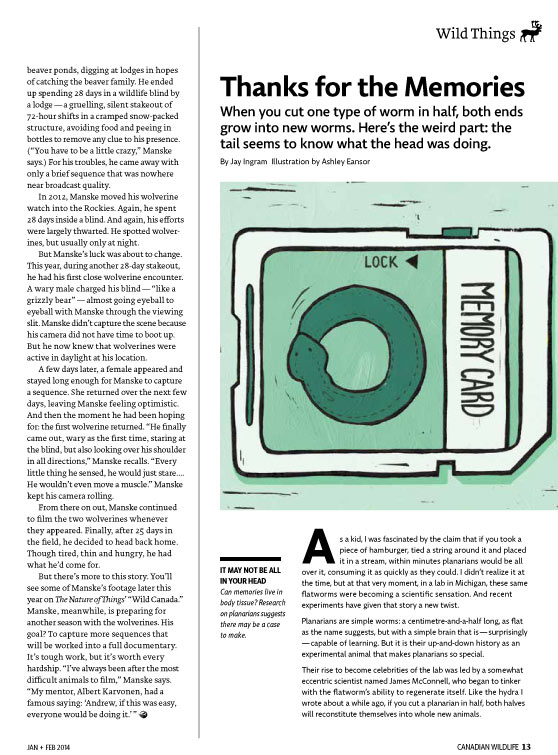 As a kid, I was fascinated by the claim that if you took a piece of hamburger, tied a string around it and placed it in a stream, within minutes planarians would be all over it, consuming it as quickly as they could. I didn't realize it at the time, but at that very moment, in a lab in Michigan, these same flatworms were becoming a scientific sensation. And recent experiments have given that story a new twist.
Planarians are simple worms: a centimetre-and-a-half long, as flat as the name suggests, but with a simple brain that is — surprisingly — capable of learning. But it is their up-and-down history as an experimental animal that makes planarians so special.
Their rise to become celebrities of the lab was led by a somewhat eccentric scientist named James McConnell, who began to tinker with the flatworm's ability to regenerate itself. Like the hydra I wrote about a while ago, if you cut a planarian in half, both halves will reconstitute themselves into whole new animals.
That's not really so outlandish, but McConnell went much, much further by claiming that if a flatworm were trained to avoid a light, then cut in half, both the head end and the tail end would remember the training. That the head (with its brain) would retain learning might have been acceptable, but the tail? That wasn't just unheard of, it was, literally, unbelievable. It went against every theory of memory that existed, and elicited comments from scientists like, "I'm very sorry but I just can't believe that."


Caring for your flatworm
Few people will want to keep planarians at home. But the University of Kyoto has posted tips online for those who do.
Containers A one-litre plastic tub will provide a home for about 100 planarians. To start, fill it with water from where you gather the worms. Over time, replace that water with boiled tap water that's cooled.
Environment Keep your planarians out of sunlight. They'll die. Store them in a dark place with an even temperature.
Feeding Feed your planarians twice a week. A fingernail-sized portion of beef or chicken liver will support 100 worms. Cut up the serving before feeding.
McConnell wasn't easily swayed by convention, nor discouraged by disbelief. Not only did he publish his experiments in his own journal called The Worm Runner's Digest (bound back-to-back with the more orthodox Journal of Biological Psychology), he went even further with planarians, claiming that he had been able to transfer memories by encouraging untrained worms to eat pieces of worms that had been trained.
The mid-1960s seemed to put an end to McConnell's research, doomed by both the inability of his colleagues to replicate his experiments and also a kind of benign intolerance to his ideas. A strange exclamation mark was eventually put on his career when he was victimized by the Unabomber, losing much of his hearing when a bomb disguised as a manuscript exploded.
He died in 1990. And so to the present. Memories are still conceived as changes in the connections between neurons in the brain, not as discrete molecules. The McConnell experiments required such molecules, molecules that could spread through the body, then somehow re-enter the brain as soon as a new head is grown, or migrate from the stomach to the brain when one animal consumes another. But that was barely conceivable, an idea that couldn't be sustained. McConnell was off the radar. That is, until a few months ago, when a report of planarian experiments by Tufts University scientists gave dramatic new life to his ideas.
Michael Levin and Tal Shomrat tried to get around the major criticism of McConnell's work — that the results depended too heavily on who was doing the experiment and that sample sizes were too small — by automating the whole process.
They trained flatworms to their surroundings (the texture of the surface on which they were feeding), then bisected them, waited for them to become whole again and retested. The flatworms that had acclimated to the textured surface were quicker to begin feeding than those that hadn't — regardless of whether those "new" flatworms had grown from heads or tails. The question is, how to explain these results?
In the 1960s, explanations were too radical; they stretched the science beyond the breaking point. Today it's different. Levin and Shomrat suggest that somehow memories, or at least a molecular reflection of them, are stored in tissues other than the brain. Candidates might be the part of the planarian nervous system that extends from the brain to the end of the tail, or even other kinds of tissues. In this scenario, as a new head grows, the brain inside incorporates these memory factors (or they are somehow impressed upon it). A mechanism might involve epigenesis, the manipulation of gene expression by other molecules, especially proteins.
It is interesting that these newly generated flatworms need a brief reintroduction to the environment in which they were trained before they show significant advantages over their untrained control colleagues. This makes biological sense — some of the memories preserved in the tail might no longer be relevant and therefore not worth imprinting into the new brain.
Although the Tufts scientists were quietly understated about the connection to McConnell's work, there is no doubt that these results would have heartened and vindicated him. Too late perhaps, but deserved nonetheless.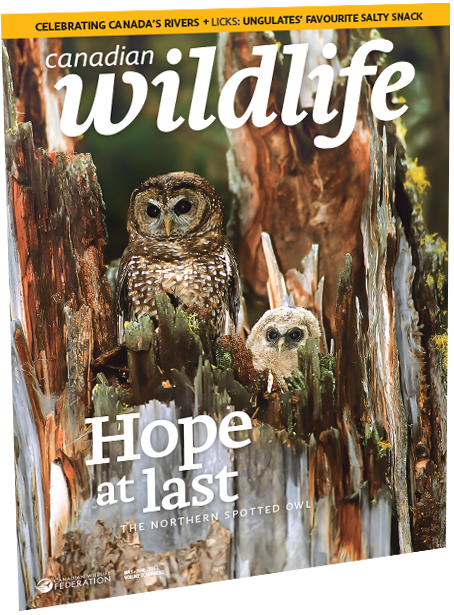 Reprinted from Canadian Wildlife magazine. Get more information or subscribe now! Now on newsstands! Or, get your digital edition today!