January 1, 2014
By Cooper Langford
On Aug. 8, 2013, a scientist aboard a Canadian Coast Guard research vessel snapped a high-quality photograph of an endangered Pacific basking shark off the coast of B.C. It was one of eight reported sightings that year — and it came with proof. Scientists are now wondering if circumstances for the largest fish in Canadian waters are turning around.
| | | |
| --- | --- | --- |
| RISK STATUS | THE ISSUE | MITIGATION |
| The history of human interactions with basking sharks has been tragic. Throughout the middle years of the 20th century, this gentle, plankton-eating giant was considered a nuisance fish to the West Coast salmon fishery and subject to a brutal eradication program that included fitting boats with blades and ramming individual sharks. The result was a dramatic decrease in the Pacific basking shark population, so much so that only six sightings were reported between 1996 and 2007. | The Pacific basking shark has been designated as "endangered" since 2007. Despite that status, its small population faces ongoing threats from entanglements in fishing gear and collisions with vessels. The biggest roadblock to its recovery, however, is its slow reproductive cycle. Basking sharks, which can grow 15 metres long, do not reach maturity until they are well into their teens. Even then, their ability to produce offspring is hardly prodigious. The gestation period lasts around three years, among the longest of any vertebrate on Earth, and the time between litters is estimated at between two and four years. All told, the reproduction rate for basking sharks is the lowest of any known shark species. | Here's where the good news comes in. According to the federal government's recovery strategy for basking sharks, there is sufficient habitat to conserve existing populations. Major risks, such entanglement and collisions, can also be mitigated. Recovery will be a long process, and there are knowledge gaps that must be filled. But overall, there are grounds to believe basking shark populations can start growing again in the longer term. Initial steps from Fisheries and Oceans Canada to achieve these goals include upcoming best-practices and code-of-conduct guidelines for dealing with basking shark disentanglement and general interactions with humans. Fisheries and Oceans is also promoting public support for basking shark conservation through a program to report sightings. |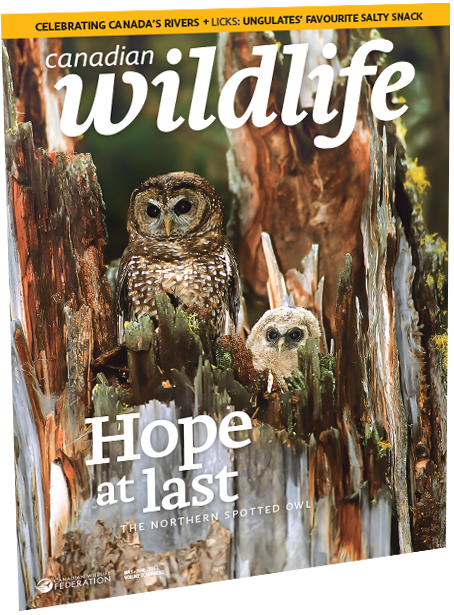 Reprinted from Canadian Wildlife magazine. Get more information or subscribe now! Now on newsstands! Or, get your digital edition today!