January 1, 2014
By By Cooper Langford Photo by Ryan Doco Connors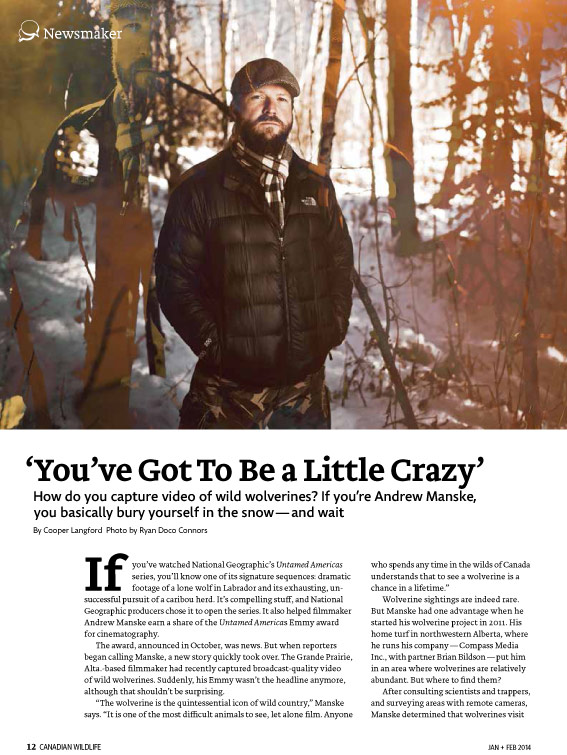 If you've watched National Geographic's Untamed Americas series, you'll know one of its signature sequences: dramatic footage of a lone wolf in Labrador and its exhausting, unsuccessful pursuit of a caribou herd. It's compelling stuff, and National Geographic producers chose it to open the series. It also helped filmmaker Andrew Manske earn a share of the Untamed Americas Emmy award for cinematography.
The award, announced in October, was news. But when reporters began calling Manske, a new story quickly took over. The Grande Prairie, Alta.-based filmmaker had recently captured broadcast-quality video of wild wolverines. Suddenly, his Emmy wasn't the headline anymore, although that shouldn't be surprising.
"The wolverine is the quintessential icon of wild country," Manske says. "It is one of the most difficult animals to see, let alone film. Anyone who spends any time in the wilds of Canada understands that to see a wolverine is a chance in a lifetime."
Wolverine sightings are indeed rare. But Manske had one advantage when he started his wolverine project in 2011. His home turf in northwestern Alberta, where he runs his company — Compass Media Inc., with partner Brian Bildson — put him in an area where wolverines are relatively abundant. But where to find them?
After consulting scientists and trappers, and surveying areas with remote cameras, Manske determined that wolverines visit beaver ponds, digging at lodges in hopes of catching the beaver family. He ended up spending 28 days in a wildlife blind by a lodge — a gruelling, silent stakeout of 72-hour shifts in a cramped snow-packed structure, avoiding food and peeing in bottles to remove any clue to his presence.
("You have to be a little crazy," Manske says.) For his troubles, he came away with only a brief sequence that was nowhere near broadcast quality.
In 2012, Manske moved his wolverine watch into the Rockies. Again, he spent 28 days inside a blind. And again, his efforts were largely thwarted. He spotted wolverines, but usually only at night.
But Manske's luck was about to change. This year, during another 28-day stakeout, he had his first close wolverine encounter. A wary male charged his blind — "like a grizzly bear" — almost going eyeball to eyeball with Manske through the viewing slit. Manske didn't capture the scene because his camera did not have time to boot up. But he now knew that wolverines were active in daylight at his location.
A few days later, a female appeared and stayed long enough for Manske to capture a sequence. She returned over the next few days, leaving Manske feeling optimistic. And then the moment he had been hoping for: the first wolverine returned. "He finally came out, wary as the first time, staring at the blind, but also looking over his shoulder in all directions," Manske recalls. "Every little thing he sensed, he would just stare.… He wouldn't even move a muscle." Manske kept his camera rolling.
From there on out, Manske continued to film the two wolverines whenever they appeared. Finally, after 25 days in the field, he decided to head back home. Though tired, thin and hungry, he had what he'd come for.
But there's more to this story. You'll see some of Manske's footage later this year on The Nature of Things' "Wild Canada." Manske, meanwhile, is preparing for another season with the wolverines. His goal? To capture more sequences that will be worked into a full documentary. It's tough work, but it's worth every hardship. "I've always been after the most difficult animals to film," Manske says. "My mentor, Albert Karvonen, had a famous saying: 'Andrew, if this was easy, everyone would be doing it.' "
Watch
Follow
Related Links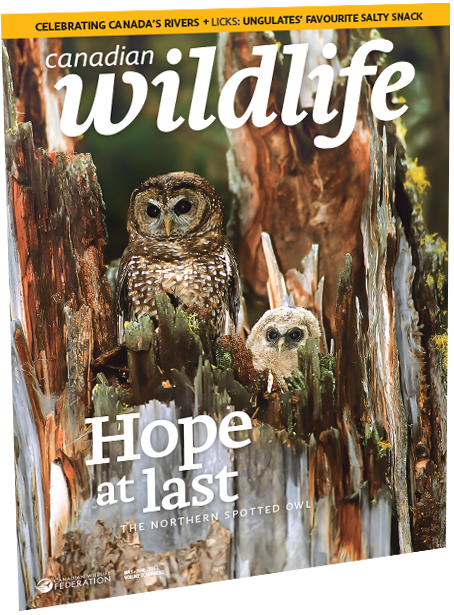 Reprinted from Canadian Wildlife magazine. Get more information or subscribe now! Now on newsstands! Or, get your digital edition today!