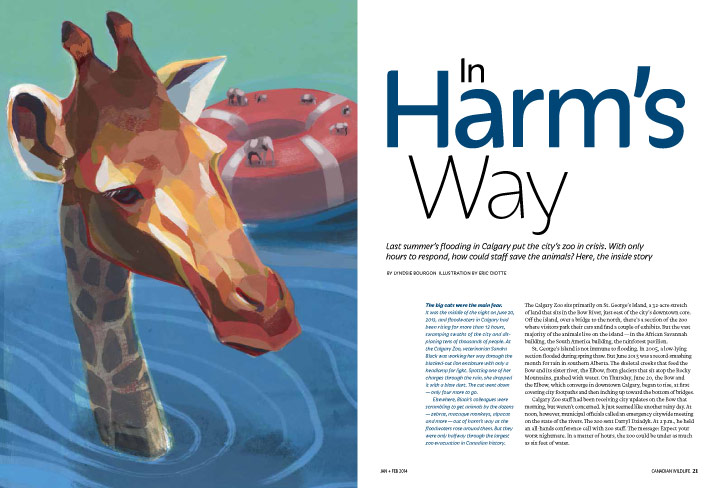 In Harm's Way
Last summer's flooding in Calgary put the city's zoo in crisis. With only hours to respond, how could staff save the animals? Here, the inside story.
JANUARY/FEBRUARY 2014 ISSUE
Letters to the Editor

Post your comments about the latest Canadian Wildlife magazine and your letter could be published in an upcoming issue of the magazine! Post »

Wild Things: Thanks for the Memories


By Jay Ingram

When you cut one type of worm in half, the tail seems to know what the head was doing. Read more »

Newsmaker: 'You've Got to be a Little Crazy'


How do you capture video of wild wolverines? If you're Andrew Manske, you basically bury yourself in the snow — and wait. Read more »

Status: A Sign of Better Times?


Is there good news — at long last — for Canada's Pacific basking sharks? Read more »

Your Garden: Winter Work
Preparing for the beginnings of blooms to come Read more »



Local Hero: Goodbye Dirty Don
Toronto's Don River has not been an example for
conservation. Phil Goodwin is helping change that. Read more or nominate your local conservation hero »

Bulletin: If you build it...

News, events and updates on conservation projects from the Canadian Wildlife Federation. Read more (PDF) »

Habitat: Juan de Fuca Provincial park


Juan de Fuca Provincial Park offers mesmerizing views — and a secure home for marine and terrestrial species.
Map it!
See the locations in the stories from the January/February 2014 issue of Canadian Wildlife.

View Canadian Wildlife magazine, Jan/Feb 2014 - magazine Biosphère jan-feb 2014 in a larger map