May 1, 2018
By David Bird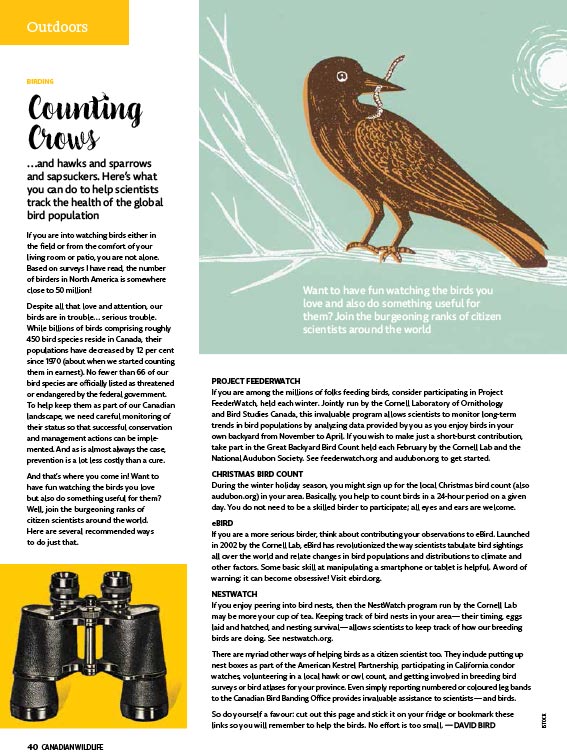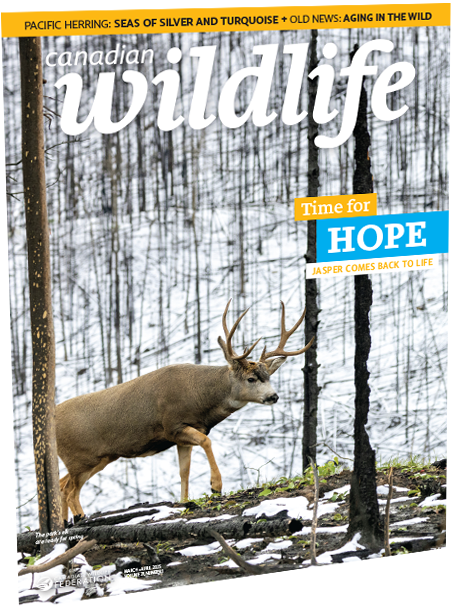 Reprinted from Canadian Wildlife magazine. Get more information or subscribe now! Now on newsstands! Or, get your digital edition today!
…and hawks and sparrows and sapsuckers. Here's what you can do to help scientists track the health of the global bird population
If you are into watching birds either in the field or from the comfort of your living room or patio, you are not alone. Based on surveys I have read, the number of birders in North America is somewhere close to 50 million!
Despite all that love and attention, our birds are in trouble… serious trouble. While billions of birds comprising roughly 450 bird species reside in Canada, their populations have decreased by 12 per cent since 1970 (about when we started counting them in earnest). No fewer than 66 of our bird species are officially listed as threatened or endangered by the federal government. To help keep them as part of our Canadian landscape, we need careful monitoring of their status so that successful conservation and management actions can be implemented.
And as is almost always the case, prevention is a lot less costly than a cure. And that's where you come in! Want to have fun watching the birds you love but also do something useful for them? Well, join the burgeoning ranks of citizen scientists around the world.
Here are several recommended ways to do just that.
PROJECT FEEDERWATCH
If you are among the millions of folks feeding birds, consider participating in Project FeederWatch, held each winter. Jointly run by the Cornell Laboratory of Ornithology and Bird Studies Canada, this invaluable program allows scientists to monitor long-term trends in bird populations by analyzing data provided by you as you enjoy birds in your own backyard from November to April. If you wish to make just a short-burst contribution, take part in the Great Backyard Bird Count held each February by the Cornell Lab and the National Audubon Society. See feederwatch.org and audubon.org to get started.
CHRISTMAS BIRD COUNT
During the winter holiday season, you might sign up for the local Christmas bird count (also audubon.org) in your area. Basically, you help to count birds in a 24-hour period on a given day. You do not need to be a skilled birder to participate; all eyes and ears are welcome.
eBIRD
If you are a more serious birder, think about contributing your observations to eBird.
Launched
in 2002 by the Cornell Lab, eBird has revolutionized the way scientists tabulate bird sightings all over the world and relate changes in bird populations and distributions to climate and other factors. Some basic skill at manipulating a smartphone or tablet is helpful. A word of warning: it can become obsessive! Visit ebird.org.
NESTWATCH
If you enjoy peering into bird nests, then the NestWatch program run by the Cornell Lab may be more your cup of tea. Keeping track of bird nests in your area — their timing, eggs laid and hatched, and nesting survival — allows scientists to keep track of how our breeding birds are doing. See nestwatch.org.
There are myriad other ways of helping birds as a citizen scientist too. They include putting up nest boxes as part of the American Kestrel Partnership, participating in California condor watches, volunteering in a local hawk or owl count, and getting involved in breeding bird surveys or bird atlases for your province. Even simply reporting numbered or coloured leg bands to the Canadian Bird Banding Office provides invaluable assistance to scientists — and birds. So do yourself a favour: cut out this page and stick it on your fridge or bookmark these links so you will remember to help the birds. No effort is too small.