July 1, 2017
By David Bird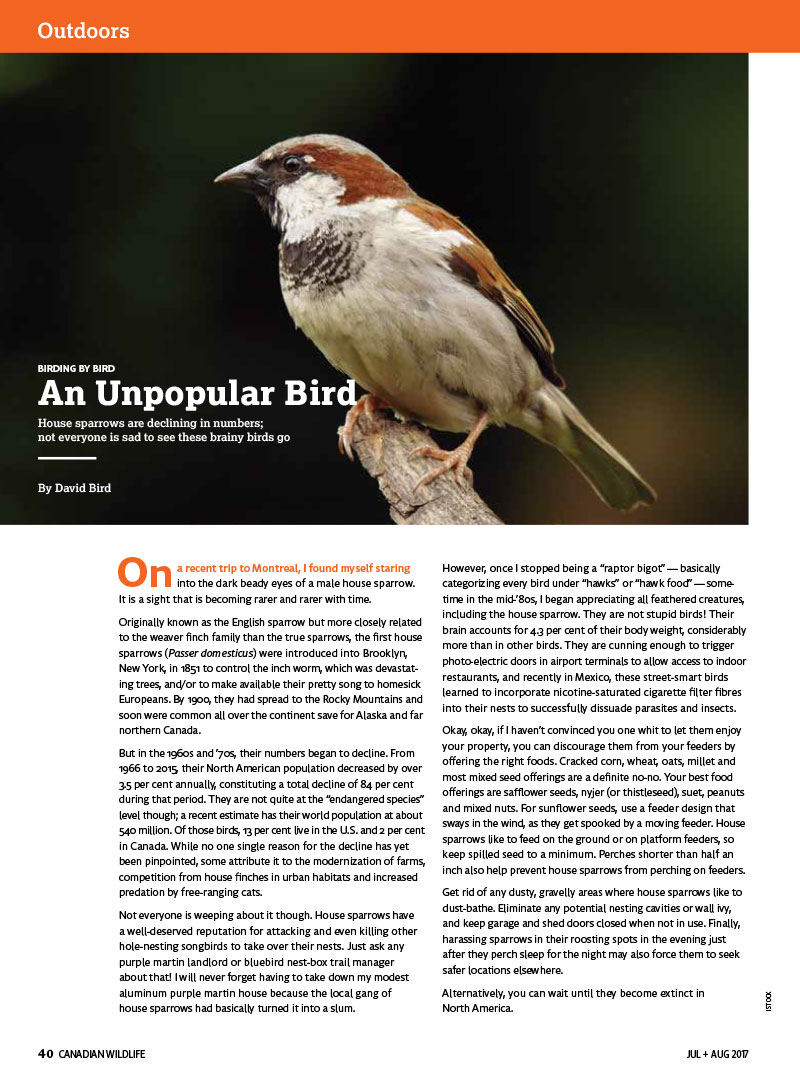 House sparrows are declining in numbers; not everyone is sad to see these brainy birds go
On a recent trip to Montreal, I found myself staring into the dark beady eyes of a male house sparrow. It is a sight that is becoming rarer and rarer with time.
Originally known as the English sparrow but more closely related to the weaver finch family than the true sparrows, the first house sparrows (Passer domesticus) were introduced into Brooklyn, New York, in 1851 to control the inch worm, which was devastating trees, and/or to make available their pretty song to homesick Europeans. By 1900, they had spread to the Rocky Mountains and soon were common all over the continent save for Alaska and far northern Canada.
But in the 1960s and '70s, their numbers began to decline. From 1966 to 2015, their North American population decreased by over 3.5 per cent annually, constituting a total decline of 84 per cent during that period. They are not quite at the "endangered species" level though; a recent estimate has their world population at about 540 million. Of those birds, 13 per cent live in the U.S. and 2 per cent in Canada. While no one single reason for the decline has yet been pinpointed, some attribute it to the modernization of farms, competition from house finches in urban habitats and increased predation by free-ranging cats.
Not everyone is weeping about it though. House sparrows have a well-deserved reputation for attacking and even killing other hole-nesting songbirds to take over their nests. Just ask any purple martin landlord or bluebird nest-box trail manager about that! I will never forget having to take down my modest aluminum purple martin house because the local gang of house sparrows had basically turned it into a slum.
However, once I stopped being a "raptor bigot" — basically categorizing every bird under "hawks" or "hawk food" — sometime in the mid-'80s, I began appreciating all feathered creatures, including the house sparrow. They are not stupid birds! Their brain accounts for 4.3 per cent of their body weight, considerably more than in other birds. They are cunning enough to trigger photo-electric doors in airport terminals to allow access to indoor restaurants, and recently in Mexico, these street-smart birds learned to incorporate nicotine-saturated cigarette filter fibres into their nests to successfully dissuade parasites and insects.
Okay, okay, if I haven't convinced you one whit to let them enjoy your property, you can discourage them from your feeders by offering the right foods. Cracked corn, wheat, oats, millet and most mixed seed offerings are a definite no-no. Your best food offerings are safflower seeds, nyjer (or thistleseed), suet, peanuts and mixed nuts. For sunflower seeds, use a feeder design that sways in the wind, as they get spooked by a moving feeder. House sparrows like to feed on the ground or on platform feeders, so keep spilled seed to a minimum. Perches shorter than half an inch also help prevent house sparrows from perching on feeders.
Get rid of any dusty, gravelly areas where house sparrows like to dust-bathe. Eliminate any potential nesting cavities or wall ivy, and keep garage and shed doors closed when not in use. Finally, harassing sparrows in their roosting spots in the evening just after they perch sleep for the night may also force them to seek safer locations elsewhere.
Alternatively, you can wait until they become extinct in North America.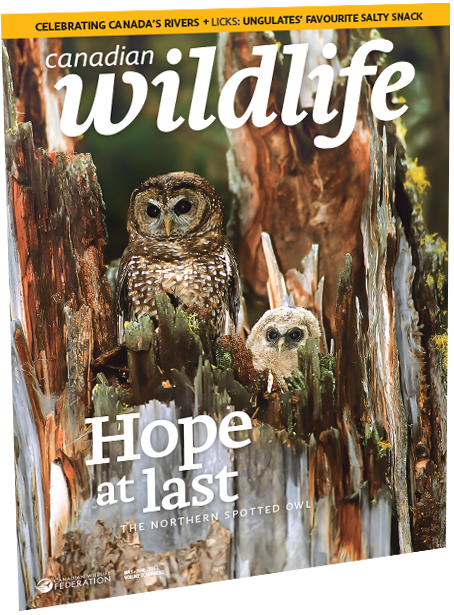 Reprinted from Canadian Wildlife magazine. Get more information or subscribe now! Now on newsstands! Or, get your digital edition today!