July 1, 2017
By Kat Eschner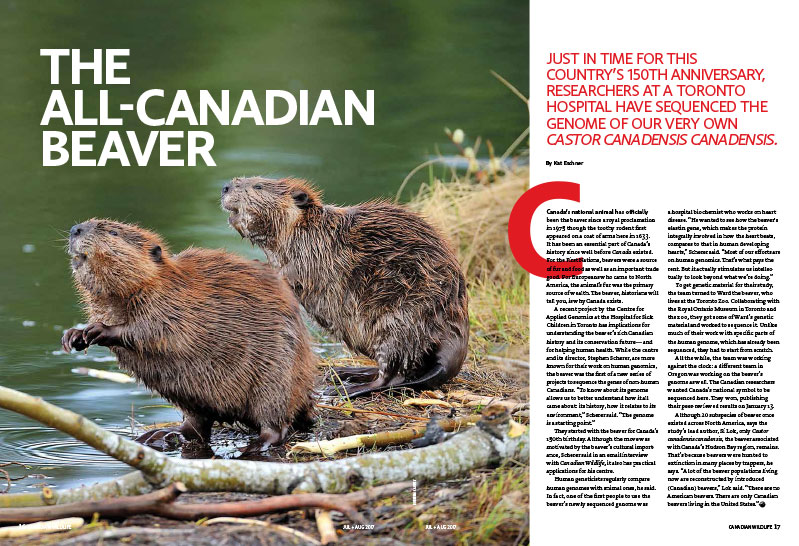 Just in time for this country's 150th anniversary, researchers at a toronto hospital have sequenced the genome of our very own castor canadensis canadensis.
Canada's national animal has officially been the beaver since a royal proclamation in 1975 though the toothy rodent first appeared on a coat of arms here in 1633.
It has been an essential part of Canada's history since well before Canada existed. For the First Nations, beavers were a source of fur and food as well as an important trade good. For Europeans who came to North America, the animal's fur was the primary source of wealth. The beaver, historians will tell you, is why Canada exists.
A recent project by the Centre for Applied Genomics at the Hospital for Sick Children in Toronto has implications for understanding the beaver's rich Canadian history and its conservation future — and for helping human health. While the centre and its director, Stephen Scherer, are more known for their work on human genomics, the beaver was the first of a new series of projects to sequence the genes of non-human Canadians. "To know about its genome allows us to better understand how it all came about: its history, how it relates to its environment," Scherer said. "The genome is a starting point."
They started with the beaver for Canada's 150th birthday. Although the move was motivated by the beaver's cultural importance, Scherer said in an email interview with Canadian Wildlife, it also has practical applications for his centre.
Related Stories