July 1, 2016
By Canadian Wildlife Staff Photo by Curtis Comeau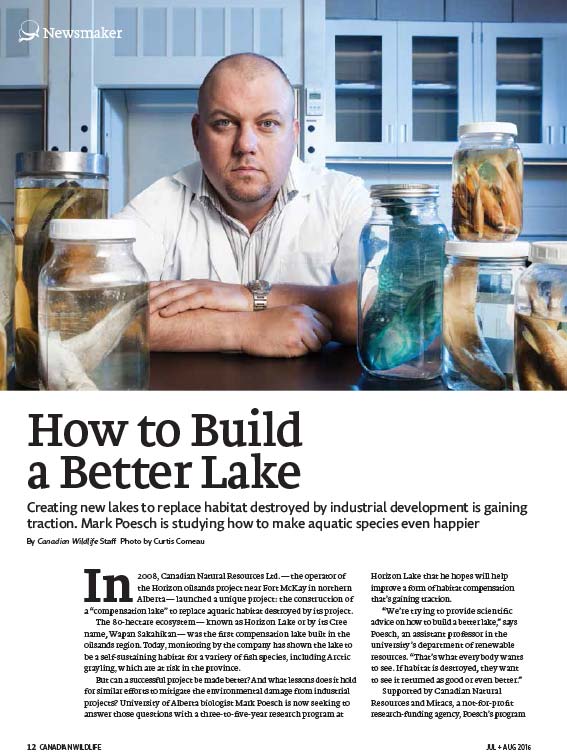 Creating new lakes to replace habitat destroyed by industrial development is gaining traction. Mark Poesch is studying how to make aquatic species even happier
2008, Canadian Natural Resources Ltd. — the operator of the Horizon oilsands project near Fort McKay in northern Alberta — launched a unique project: the construction of a "compensation lake" to replace aquatic habitat destroyed by its project. The 80-hectare ecosystem — known as Horizon Lake or by its Cree name, Wapan Sakahikan — was the first compensation lake built in the oilsands region. Today, monitoring by the company has shown the lake to be a self-sustaining habitat for a variety of fish species, including Arctic grayling, which are at risk in the province.
But can a successful project be made better? And what lessons does it hold for similar efforts to mitigate the environmental damage from industrial projects? University of Alberta biologist Mark Poesch is now seeking to answer those questions with a three-to-five-year research program at Horizon Lake that he hopes will help improve a form of habitat compensation that's gaining traction.
"We're trying to provide scientific advice on how to build a better lake," says Poesch, an assistant professor in the university's department of renewable resources. "That's what everybody wants to see. If habitat is destroyed, they want to see it returned as good or even better."
Supported by Canadian Natural Resources and Mitacs, a not-for-profit research-funding agency, Poesch's program is using several methods to measure fish populations in Horizon Lake and determine how species are using the habitat.
One technique uses hydro-acoustics — a technology Poesch calls "a very expensive fish finder" — to measure the biomass of the lake and identify fish species. That work is supported by "environmental DNA" sampling, that is, using scales and tissues shed by fish in the water instead of handling the fish to obtain samples.
Poesch's team is also using hydroacoustics to determine the hardness of the lake bottom and correlate that data with underwater photography and snorkelling to map habitat structures, such as the size and location of gravel beds and sandbars. Combined with data from fish tagging, this process provides detail on how species are using their habitat.
Poesch and his team began their work last summer and are now focusing on food webs at Horizon Lake, especially sharp reductions of particular species — known as bottlenecks with the system — and determining what metrics are most valuable in assessing compensation lakes. "The advice we'll be giving back will cover the bottlenecks that are occurring in this lake compared to others, how that compares to natural systems and what kind of metrics are important for looking at fisheries productivity in the region," he says.
The results of his work will be valuable beyond Horizon Lake itself. Compensation lakes are becoming more common in the oilsands region — and in other industrial areas — under federal "no net loss" regulations for habitat conservation in development projects. To build on his current research, Poesch is also working with other oilsands companies to bring them into the project.
It's important work. Creating a compensation lake involves more than digging a hole and filling it with water. A successful lake — one that becomes self-sustaining habitat — requires detailed understanding of the species that live there and what they need to thrive.
In many respects, it can be considered an emerging science in its own right. It's still in its early days, Poesch says. But he's optimistic about the benefits the project will deliver. "We're the first to look at this on a broad scale and to try to define the research idea."