July 1, 2016
By David Bird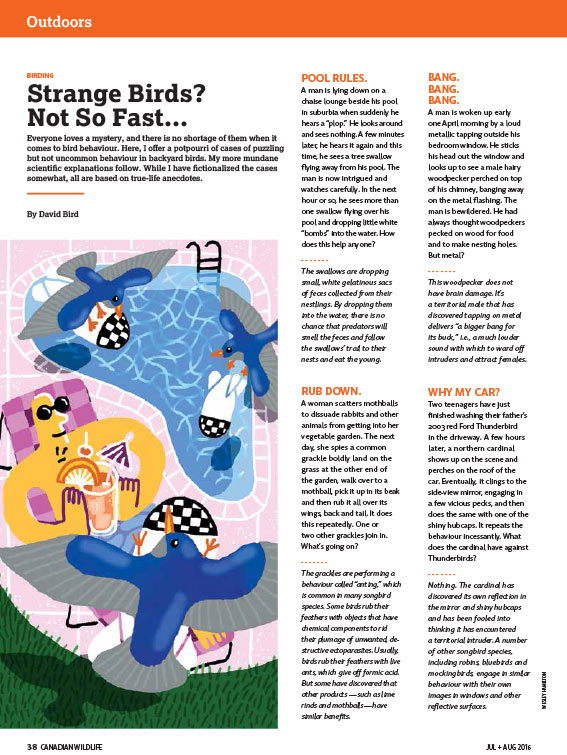 Everyone loves a mystery, and there is no shortage of them when it comes to bird behaviour. Here, I offer a potpourri of cases of puzzling but not uncommon behaviour in backyard birds. My more mundane scientific explanations follow. While I have fictionalized the cases somewhat, all are based on true-life anecdotes.
POOL RULES. A man is lying down on a chaise lounge beside his pool in suburbia when suddenly he hears a "plop." He looks around and sees nothing. A few minutes later, he hears it again and this time, he sees a tree swallow flying away from his pool. The man is now intrigued and watches carefully. In the next hour or so, he sees more than one swallow flying over his pool and dropping little white "bombs" into the water. How does this help anyone?
- - - - - - -
The swallows are dropping small, white gelatinous sacs of feces collected from their nestlings. By dropping them into the water, there is no chance that predators will smell the feces and follow the swallows' trail to their nests and eat the young.
---
RUB DOWN. A woman scatters mothballs to dissuade rabbits and other animals from getting into her vegetable garden. The next day, she spies a common grackle boldly land on the grass at the other end of the garden, walk over to a mothball, pick it up in its beak and then rub it all over its wings, back and tail. It does this repeatedly. One or two other grackles join in. What's going on?
- - - - - - -
The grackles are performing a behaviour called "anting," which is common in many songbird species. Some birds rub their feathers with objects that have chemical components to rid their plumage of unwanted, destructive ectoparasites. Usually, birds rub their feathers with live ants, which give off formic acid. But some have discovered that other products — such as lime rinds and mothballs — have similar benefits.
---
BANG. BANG. BANG. A man is woken up early one April morning by a loud metallic tapping outside his bedroom window. He sticks his head out the window and looks up to see a male hairy woodpecker perched on top of his chimney, banging away on the metal flashing. The man is bewildered. He had always thought woodpeckers pecked on wood for food and to make nesting holes. But metal?
- - - - - - -
This woodpecker does not have brain damage. It's a territorial male that has discovered tapping on metal delivers "a bigger bang for its buck," i.e., a much louder sound with which to ward off intruders and attract females.
---
WHY MY CAR? Two teenagers have just finished washing their father's 2003 red Ford Thunderbird in the driveway. A few hours later, a northern cardinal shows up on the scene and perches on the roof of the car. Eventually, it clings to the side-view mirror, engaging in a few vicious pecks, and then does the same with one of the shiny hubcaps. It repeats the behaviour incessantly. What does the cardinal have against Thunderbirds?
- - - - - - -
Nothing. The cardinal has discovered its own reflection in the mirror and shiny hubcaps and has been fooled into thinking it has encountered a territorial intruder. A number of other songbird species, including robins, bluebirds and mockingbirds, engage in similar behaviour with their own images in windows and other reflective surfaces.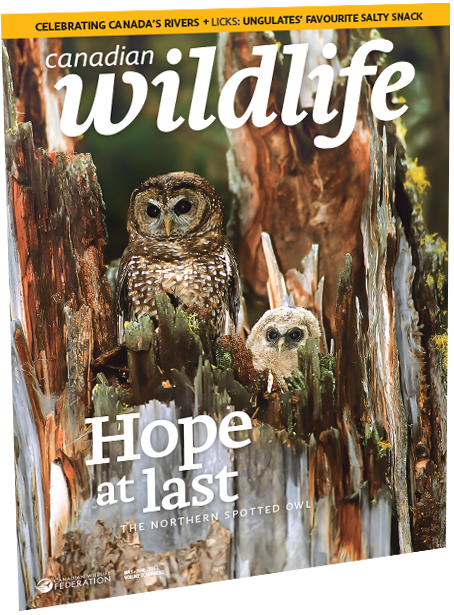 Reprinted from Canadian Wildlife magazine. Get more information or subscribe now! Now on newsstands! Or, get your digital edition today!