July 1, 2015
By Canadian Wildlife Staff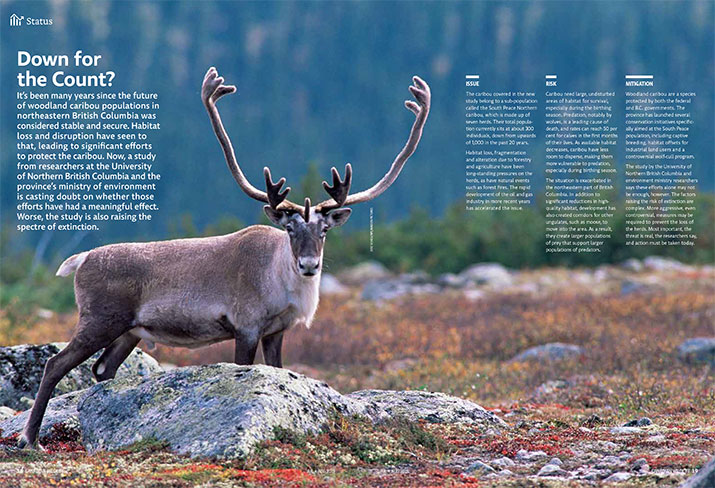 Down for the Count?
It's been many years since the future of woodland caribou populations in northeastern British Columbia was considered stable and secure. Habitat loss and disruption have seen to that, leading to significant efforts to protect the caribou. Now, a study from researchers at the University of Northern British Columbia and the province's ministry of environment is casting doubt on whether those efforts have had a meaningful effect. Worse, the study is also raising the spectre of extinction.
ISSUE

RISK


MITIGATION

The caribou covered in the new study belong to a sub-population called the South Peace Northern caribou, which is made up of seven herds. Their total population currently sits at about 300 individuals, down from upwards of 1,000 in the past 20 years.

Habitat loss, fragmentation and alteration due to forestry and agriculture have been long-standing pressures on the herds, as have natural events such as forest fires. The rapid development of the oil and gas industry in more recent years has accelerated the issue.

Caribou need large, undisturbed areas of habitat for survival, especially during the birthing season. Predation, notably by wolves, is a leading cause of death, and rates can reach 50 per cent for calves in the first months of their lives. As available habitat decreases, caribou have less room to disperse, making them more vulnerable to predation, especially during birthing season.

The situation is exacerbated in the northeastern part of British Columbia. In addition to significant reductions in highquality habitat, development has also created corridors for other ungulates, such as moose, to move into the area. As a result, they create larger populations of prey that support larger populations of predators.

Woodland caribou are a species protected by both the federal and B.C. governments. The province has launched several conservation initiatives specifically aimed at the South Peace population, including captive breeding, habitat offsets for industrial land users and a controversial wolf-cull program.

The study by the University of Northern British Columbia and environment ministry researchers says these efforts alone may not be enough, however. The factors raising the risk of extinction are complex. More aggressive, even controversial, measures may be required to prevent the loss of the herds. Most important, the threat is real, the researchers say, and action must be taken today.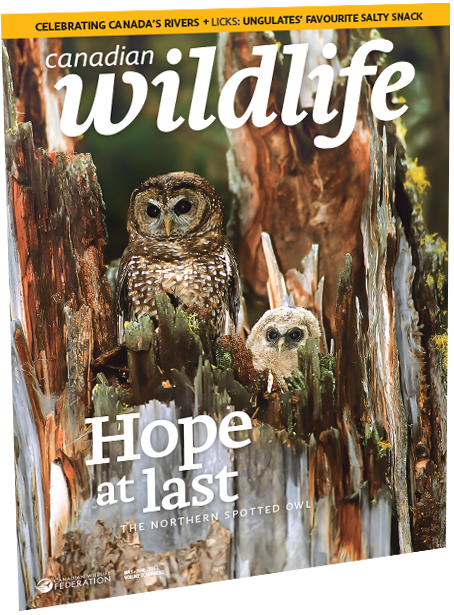 Reprinted from Canadian Wildlife magazine. Get more information or subscribe now! Now on newsstands! Or, get your digital edition today!