July 1, 2015
By Canadian Wildlife Staff, Photo by Aleksandr Onyshchenko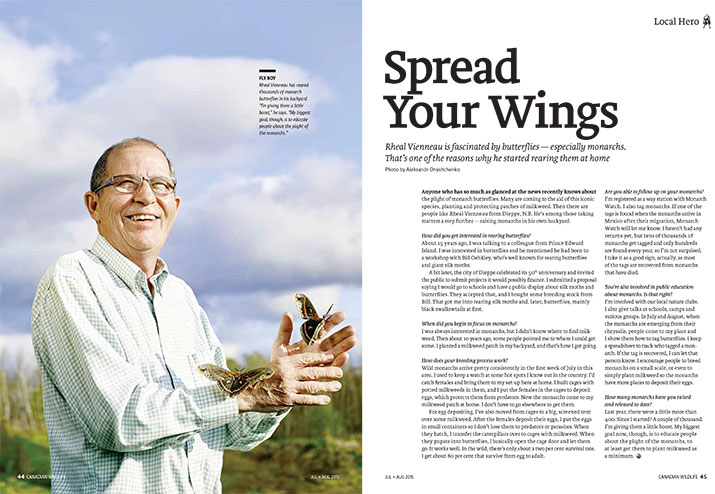 Rheal Vienneau is fascinated by butterflies — especially monarchs. That's one of the reasons why he started rearing them at home
Anyone who has so much as glanced at the news recently knows about the plight of monarch butterflies. Many are coming to the aid of this iconic species, planting and protecting patches of milkweed. Then there are people like Rheal Vienneau from Dieppe, N.B. He's among those taking matters a step further — raising monarchs in his own backyard.
How did you get interested in rearing butterflies?
About 15 years ago, I was talking to a colleague from Prince Edward Island. I was interested in butterflies and he mentioned he had been to a workshop with Bill Oehkley, who's well known for rearing butterflies and giant silk moths.
A bit later, the city of Dieppe celebrated its 50th anniversary and invited the public to submit projects it would possibly finance. I submitted a proposal saying I would go to schools and have a public display about silk moths and butterflies. They accepted that, and I bought some breeding stock from Bill. That got me into rearing silk moths and, later, butterflies, mainly black swallowtails at first.
When did you begin to focus on monarchs?
I was always interested in monarchs, but I didn't know where to find milkweed. Then about 10 years ago, some people pointed me to where I could get some. I planted a milkweed patch in my backyard, and that's how I got going.
How does your breeding process work?
Wild monarchs arrive pretty consistently in the first week of July in this area. I used to keep a watch at some hot spots I know out in the country. I'd catch females and bring them to my set-up here at home. I built cages with potted milkweeds in them, and I put the females in the cages to deposit eggs, which protects them from predators. Now the monarchs come to my milkweed patch at home. I don't have to go elsewhere to get them.
For egg depositing, I've also moved from cages to a big, screened tent over some milkweed. After the females deposit their eggs, I put the eggs in small containers so I don't lose them to predators or parasites. When they hatch, I transfer the caterpillars over to cages with milkweed. When they pupate into butterflies, I basically open the cage door and let them go. It works well. In the wild, there's only about a two per cent survival rate. I get about 80 per cent that survive from egg to adult.
Are you able to follow up on your monarchs?
I'm registered as a way station with Monarch Watch. I also tag monarchs. If one of the tags is found when the monarchs arrive in Mexico after their migration, Monarch Watch will let me know. I haven't had any returns yet, but tens of thousands of monarchs get tagged and only hundreds are found every year, so I'm not surprised. I take it as a good sign, actually, as most of the tags are recovered from monarchs that have died.
You're also involved in public education about monarchs. Is that right?
I'm involved with our local nature clubs. I also give talks at schools, camps and various groups. In July and August, when the monarchs are emerging from their chrysalis, people come to my place and I show them how to tag butterflies. I keep a spreadsheet to track who tagged a monarch. If the tag is recovered, I can let that person know. I encourage people to breed monarchs on a small scale, or even to simply plant milkweed so the monarchs have more places to deposit their eggs.
How many monarchs have you raised and released to date?
Last year, there were a little more than 400. Since I started? A couple of thousand. I'm giving them a little boost. My biggest goal now, though, is to educate people about the plight of the monarchs, to at least get them to plant milkweed as a minimum.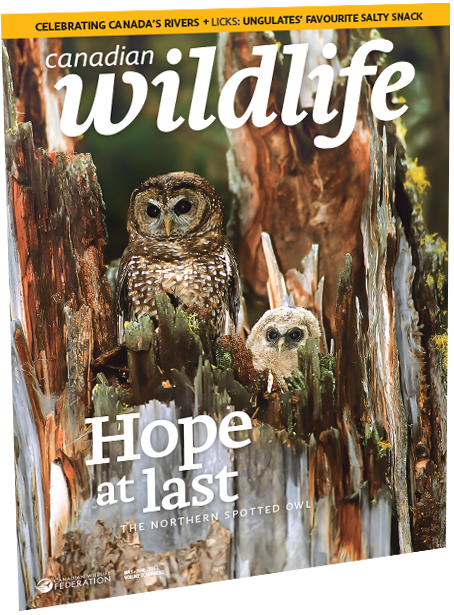 Reprinted from Canadian Wildlife magazine. Get more information or subscribe now! Now on newsstands! Or, get your digital edition today!