July 1, 2014
By Jay Ingram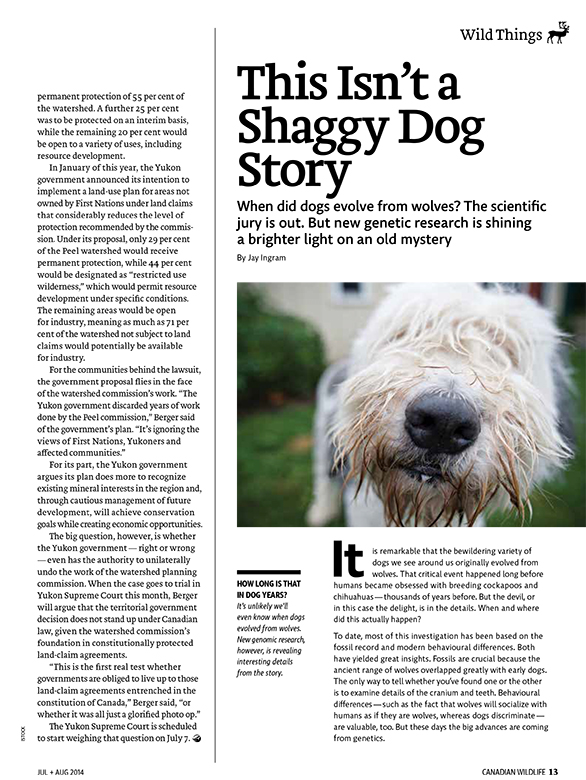 When did dogs evolve from wolves? The scientific jury is out. But new genetic research is shining a brighter light on an old mystery.

It is remarkable that the bewildering variety of dogs we see around us originally evolved from wolves. That critical event happened long before humans became obsessed with breeding cockapoos and
chihuahuas — thousands of years before. But the devil, or in this case the delight, is in the details. When and where did this actually happen?

To date, most of this investigation has been based on the fossil record and modern behavioural differences. Both have yielded great insights. Fossils are crucial because the ancient range of wolves overlapped greatly with early dogs. The only way to tell whether you've found one or the other is to examine details of the cranium and teeth. Behavioural differences — such as the fact that wolves will socialize with humans as if they are wolves, whereas dogs discriminate — are valuable, too. But these days the big advances are coming from genetics.

Lone(ly) Wolf?

For the past few years, scientists have tracked a wolf roaming alone on the California-Oregon border, further west by miles than any other. The wolf, dubbed OR7, has generally been considered a mere loner. But maybe not. Camera traps recently recorded 0R7 with a second wolf that appears to be a mate. Researchers are now watching for pups.

Dogs and wolves may have interbred many,many times over the millennia

One recent investigation compared detailed genome scans of domestic dogs (the boxer is the standard) and three wolves, one from each of the three best candidates for the place where dogs first appeared (China, Croatia and Israel). A basenji, a dingo and a jackal were also studied and, by virtue of their different geographical habitats and histories, served as crucialreference points.

The time and place the first dog appeared obviously can't be known precisely; like all evolutionary events, it took place over long stretches of time, although to be honest, the time frame for wolf-to-dog is, in evolutionary terms, a blink of an eye. The best guess for time of emergence, according to this canid genome study, is somewhere between 11,000 and 16,000 years ago. That's a conservative estimate compared with 33,000-year-old fossils from Siberia that look like dogs. But those earliest traces are generally described as proto-dogs — they're not quite there yet.

The combination of full genome mapping and the statistics that accompany it allowed the researchers to draw several conclusions. One was that there was a huge population crash among wolves (a "bottleneck" as scientists like to call it) right around the time that dogs were emerging from wolves. It appears not to have been the result of hunting, but rather of undetermined environmental factors. (The period of time marked the conclusion of the last ice age.) But that means there was much more genetic variation in the wolf population that gave rise to dogs than there is today. It also raises the possibility that the specific variety of wolf that gave rise to dogs is extinct, meaning the wolves and dogs we know today both descended from a mystery canid of which we
are not aware.

The timing of the emergence of dogs is also important. There had been research concluding that the most accurately dated dog bones (not joking) date back farther than the first signs
of agriculture in human society, around 12,000 years ago. This conclusion was thrown into question by one genetic study showing that dogs possess a starch-digesting enzyme, amylase, and wolves don't. This implied that the rise of dogs had to have coincided with humans becoming farmers. Hunter-gatherers don't leave behind starch-containing refuse, such as rice or root vegetables, for bold canids to consume. Farmers do. However, the most recent genome work found evidence of amylase genes in wolves, and huge differences among dogs, throwing into doubt the argument that domestication had to wait for agriculture. That said, it should be acknowledged that the omnivory of dogs has been an important step in their domestication.

It's not unrealistic to think that there might be multiple origins for today's domestic dogs, or that dogs and wolves have interbred many, many times over the millennia. Both ideas make teasing the truth out of the genetics more difficult. But there's no reason it can't be done. Anyone who has followed the unfolding story of how the Neanderthal people are related both to us and the relatively newly discovered Denisovans knows this much: when it comes to recovering genetic material, even an ancient toe bone can yield tremendous detail. There is no reason similar techniques couldn't apply to the dog.

So, when you look at your dog, look both beyond and close up. Beyond, because whatever breed you have, unless it is a husky or a malamute, it's difficult to imagine yours is related to the first dogs that were so like wolves. And closely, because it's the fine details of behaviour that illustrate where nature — that is, genes — have done their best work.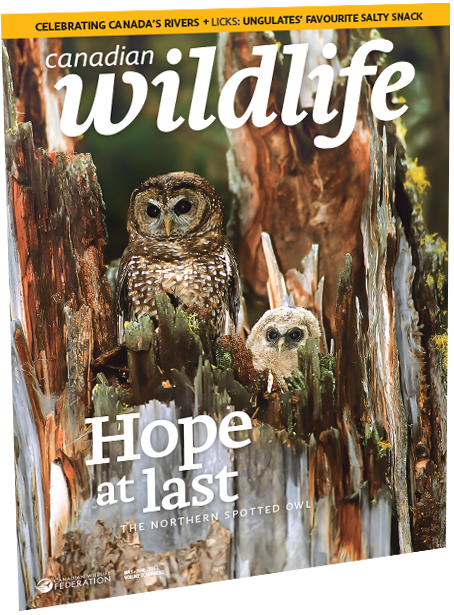 Reprinted from Canadian Wildlife magazine. Get more information or subscribe now! Now on newsstands! Or, get your digital edition today!