May 1, 2014
By Cooper Langford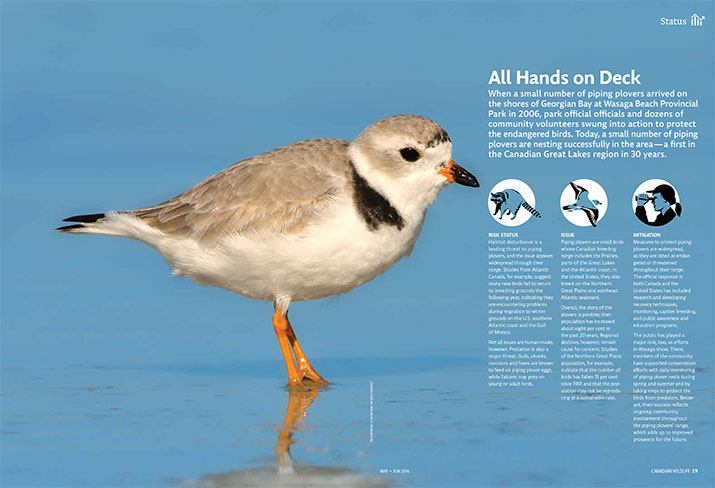 When a small number of piping plovers arrived on the shores of Georgian Bay at Wasaga Beach Provincial Park in 2006, park official officials and dozens ofcommunity volunteers swung into action to protect the endangered birds. Today, a small number of piping plovers are nesting successfully in the area — a first in the Canadian Great Lakes region in 30 years.


RISK STATUS



THE ISSUE



MITIGATION

Habitat disturbance is a leading threat to piping plovers, and the issue appears widespread through their range. Studies from Atlantic Canada, for example, suggest many new birds fail to return
to breeding grounds the following year, indicating they are encountering problems during migration to winter grounds on the U.S. southern Atlantic coast and the Gulf of Mexico. Not all issues are human-made, however. Predation is also a major threat. Gulls, skunks, raccoons and foxes are known to feed on piping plover eggs, while falcons may prey on young or adult birds.

Piping plovers are small birds whose Canadian breeding range includes the Prairies, parts of the Great Lakes and the Atlantic coast. In the United States, they also breed on the Northern Great Plains and northeast Atlantic seaboard. Overall, the story of the plovers is positive; their population has increased about eight per cent in the past 20 years. Regional declines, however, remain
cause for concern. Studies of the Northern Great Plains population, for example, indicate that the number of birds has fallen 15 per cent since 1991 and that the population may not be reproducing
at a sustainable rate.

Measures to protect piping plovers are widespread, as they are listed as endangered or threatened throughout their range. The official response in both Canada and the United States has included
research and developing recovery techniques, monitoring, captive breeding, and public awareness and education programs. The public has played a major role, too, as efforts in Wasaga show. There,
members of the community have supported conservation efforts with daily monitoring of piping plover nests during spring and summer and by taking steps to protect the birds from predators. Better
yet, their success reflects ongoing community involvement throughout the piping plovers' range, which adds up to improved prospects for the future.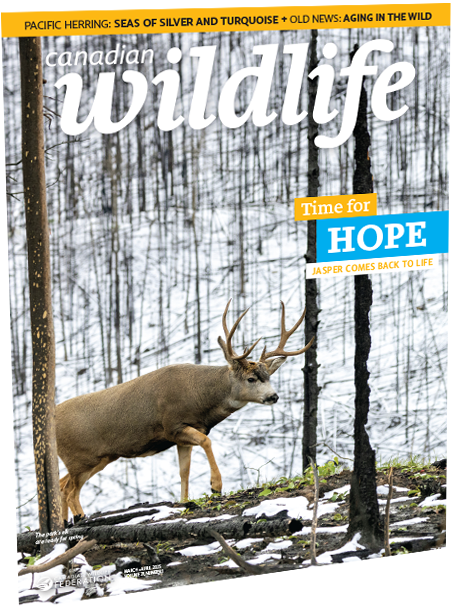 Reprinted from Canadian Wildlife magazine. Get more information or subscribe now! Now on newsstands! Or, get your digital edition today!