July 1, 2014
By Katharine Fletcher Photograph by Tony Fouhse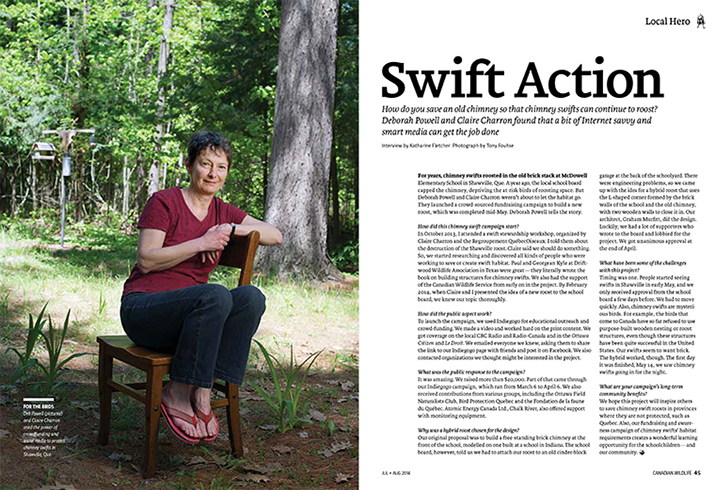 How do you save an old chimney so that chimney swifts can continue to roost? Deborah Powell and Claire Charron found that a bit of Internet savvy and smart media can get the job done.

For years, chimney swifts roosted in the old brick stack at McDowell Elementary School in Shawville, Que. A year ago, the local school board capped the chimney, depriving the at-risk birds of roosting space. But Deborah Powell and Claire Charron weren't about to let the habitat go. They launched a crowd-sourced fundraising campaign to build a new roost, which was completed mid-May. Deborah Powell tells the story.

How did this chimney swift campaign start?

In October 2013, I attended a swift stewardship workshop, organized by Claire Charron and the Regroupement QuébecOiseaux. I told them about the destruction of the Shawville roost. Claire said we should do something. So, we started researching and discovered all kinds of people who were working to save or create swift habitat. Paul and Georgean Kyle at Driftwood Wildlife Association in Texas were great — they literally wrote the book on building structures for chimney swifts. We also had the support of the Canadian Wildlife Service from early on in the project. By February
2014, when Claire and I presented the idea of a new roost to the school board, we knew our topic thoroughly.

How did the public aspect work?

To launch the campaign, we used Indiegogo for educational outreach and crowd-funding. We made a video and worked hard on the print content. We got coverage on the local CBC Radio and Radio-Canada and in the Ottawa Citizen and Le Droit. We emailed everyone we knew, asking them to share the link to our Indiegogo page with friends and post it on Facebook. We also contacted organizations we thought might be interested in the project.

What was the public response to the campaign?

It was amazing. We raised more than $20,000. Part of that came through our Indiegogo campaign, which ran from March 6 to April 6. We also received contributions from various groups, including the Ottawa Field Naturalists Club, Bird Protection Quebec and the Fondation de la faune du Québec. Atomic Energy Canada Ltd., Chalk River, also offered support with monitoring equipment.

Why was a hybrid roost chosen for the design?

Our original proposal was to build a free-standing brick chimney at the front of the school, modelled on one built at a school in Indiana. The school board, however, told us we had to attach our roost to an old cinder-block garage at the back of the schoolyard. There were engineering problems, so we came up with the idea for a hybrid roost that uses the L-shaped corner formed by the brick walls of the school and the old chimney, with two wooden walls to close it in. Our architect, Graham Murfitt, did the design. Luckily, we had a lot of supporters who wrote to the board and lobbied for the project. We got unanimous approval at the end of April.

What have been some of the challenges with this project?

Timing was one. People started seeing swifts in Shawville in early May, and we only received approval from the school board a few days before. We had to move quickly. Also, chimney swifts are mysterious birds. For example, the birds that come to Canada have so far refused to use purpose-built wooden nesting or roost structures, even though these structures have been quite successful in the United States. Our swifts seem to want brick. The hybrid worked, though. The first day it was finished, May 14, we saw chimney swifts going in for the night.

What are your campaign's long-term community benefits?

We hope this project will inspire others to save chimney swift roosts in provinces where they are not protected, such as Quebec. Also, our fundraising and awareness campaign of chimney swifts' habitat requirements creates a wonderful learning opportunity for the schoolchildren — and our community.